Chicago Bears at Houston Texans: Staff predictions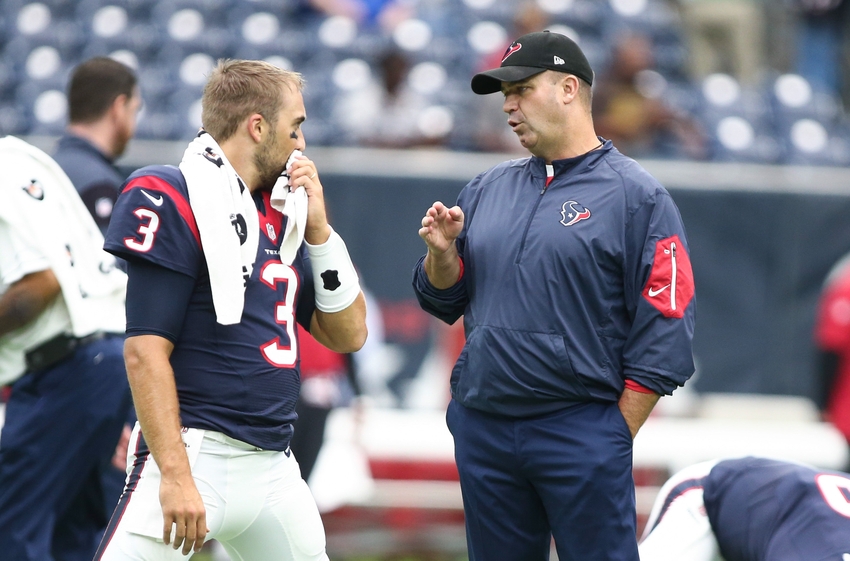 The members of the Toro Times give their predictions for the Houston Texans Week 1 game at home against the Chicago Bears
Game: Bears at Texans
Outlook: There will be a palpable and nervous excitement on Sunday as the Texans take on the Bears in their season opener. Everyone is anticipating the return of all-world defensive lineman J.J. Watt and seeing what Brock Osweiler will be able to do in his first regular season game as a Texan.
However, I think the Bears are going to have a strong bid to take the excitement out of NRG stadium and pull off the upset. Bears defensive coordinator Vic Fangio is one of the best in the business and should be able to design some schemes to frustrate Osweiler and the young group of receivers he has on the outside. However, the Bears struggled to stop the run last year and that is where Lamar Miller will step up. I see over 100 yards on the ground for him in his Houston debut.
The key to this game for Chicago is going to be Jeremy Langford. The former Michigan State star takes over for Matt Forte, and he should be able to exploit some holes in the Houston run defense. If he has a productive day and Cutler avoids turning the ball over, the Bears will have a chance. However, against the Texans secondary with the rush that will be there, I think Cutler throws one early that leads to Texans points and one late that ends any hopes of a comeback.
Score Prediction: Texans 24, Bears 16
Game: Bears at Texans
Outlook: There's going to be a lot of excitment in NRG Stadium as the Texans open the 2016 season with a retooled offense and hoping that the defense can remain strong. J.J. Watt will make his season debut after missing the whole preseason, so he will be kept to some sort of play limit as he tries to get into game shape.
That will mean Jadeveon Clowney will have to step up as a pass rusher to help the defense with Watt taking some plays off. But the Bears have Jay Cutler, who is one of the most consistently inconsistent quarterbacks in the NFL. He will not win the game for Chicago.
Meanwhile, watch Bill O'Brien to open up the playcalling to show the full speed of the Houston offense. Will Fuller and Braxton Miller will get the ball on almost every drive and don't be surprised if one of them catches a 40-plus-yard pass in the game.
Texans should win going away.
Score Prediction: Texans 31, Bears 17
Game: Chicago Bears at Houston Texans
Outlook: The Houston Texans start their defense of the AFC South crown. They won that distinction on the heels of a second straight 9-7 season for head coach Bill O'Brien. Look for them to be even better this season after replacing Brian Hoyer with Brock Osweiler and adding offensive threats like WR Will Fuller, RB Lamar Miller and WR Braxton Miller.
Look for those guys to explode in Week 1 against a soft Chicago Bears defense. There is no one that can keep up with DeAndre Hopkins, and adding all the other playmakers is a huge bonus for the Texans.
Defensively the Texans should have J.J. Watt, but he won't be 100 percent. That's fine because Jay Cutler isn't a great quarterback anyway and Whitney Mercilus and Jadeveon Clowney will bring enough pressure on their own as Watt works back into shape.
Final Score Prediction: Texans 27 – Bears 13
This article originally appeared on