Chicago Bears: 5 Likely Scenarios After 2016 Season Ends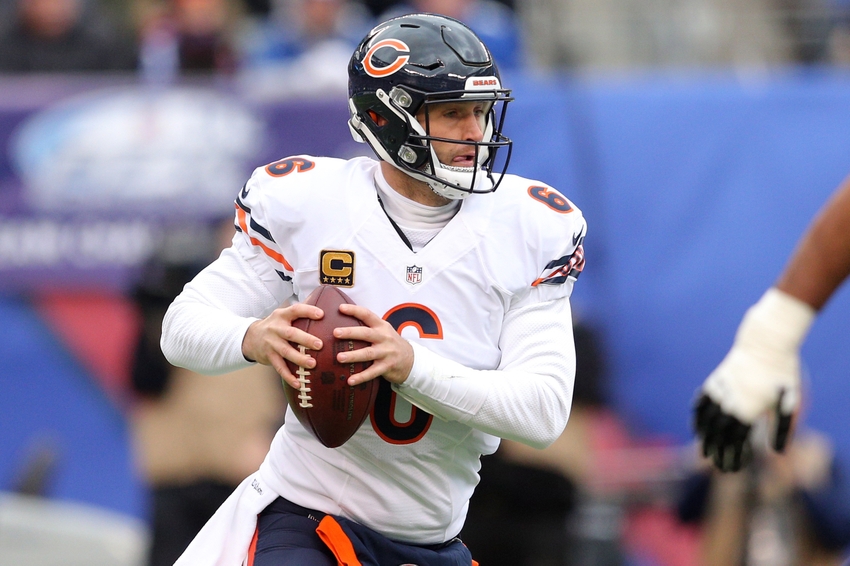 The speculation is already running rampant around the Chicago Bears regarding what their plans will be for the 2017 off-season.
First, second and maybe even third on the agenda? What will they do about quarterback Jay Cutler and head coach John Fox? Most agree movement of some kind is needed at one or both of those positions. What exactly those moves should be have been a major topic of debate. There are a number of ways the Bears could go. Predicting them is pointless, but figuring out the possibilities isn't.
This will be an exploration of five potential scenarios that Chicago can choose to go with this coming off-season. Each of them bring certain benefits, drawbacks and realities to the organization that must be considered carefully.
Scenario #1:  Jay Cutler cut/traded and John Fox retained
Right now this feels like the most credible scenario at present time. Several writers with close ties to the Bears including Dan Pompei have said they have a hard time believing John Fox will be fired in 2017. For one they know constantly changing coaches is never a recipe for success but also they're still paying Marc Trestman from when they fired him last year. Ownership probably isn't eager to dump his contract this quickly. Allow him one more chance to get it right.
On the flip side there are other strong rumors that Fox is anxious to move on at quarterback. He may have denied the questions but there were whispers that he's "done" with Cutler. The only reason he went back to the veteran was out of necessity after Brian Hoyer got hurt. He understands the importance of the quarterback position and likely feels this ship can get back on course if he just figures that problem out. In other words a trade or high draft choice.
Scenario #2:  Jay Cutler retained and John Fox fired
This might seem incomprehensible to many Bears fans but it's actually not. There have been plenty of signs and whispers that Cutler is in good standing with team ownership. They like him. More than anything this would explain how he's survived through some pretty forgettable seasons. He played much better in 2015 but a series of circumstances led to his regressing this year. That may be a bit of a weak argument but there are valid reasons to keep him.
Odds are the Bears will grab a quarterback in the 2017 draft. While it's becoming commonplace for teams to start rookies right away, that's not always the preference. Nor is it always a good idea. Having a veteran "bridge" quarterback in place would be favorable until that young gun is ready. As for Fox, he's never successfully developed a drafted quarterback in his head coaching career. There's no reason to expect he'll do any better next year or the year after that.
Scenario #3:  Jay Cutler cut/traded and John Fox fired
This is essentially Ryan Pace taking full control of the situation. He has a locker room that appears divided between those who support Fox and those who support Cutler. Rather than just pick a side to run with, the young GM decides it's better to just remove the problem entirely. Cutler is shipped out and Fox is sent packing. Thus he's given a free hand to remake the team how he wants it, this time with a little more experience under his belt than in 2015.
The benefits of this approach would be pretty straightforward. Pace would be able to bring in a head coach whom he believes can successfully develop a quarterback. That coach would then be able to pinpoint a quarterback in the upcoming draft he feels can thrive in his system. Thus the Bears avoid the messy possibility of having to fire the head coach just one season into that quarterbacks' career, just like what happened with Rex Grossman.
Scenario #4:  Jay Cutler retained and John Fox retained
This one would probably be the hardest to stomach. Blame has to be thrown somewhere for this teams' ugly season. Usually it has to be the quarterback or the head coach. If the Bears were to keep both regardless, if they were to change nothing they would risk doing the worst thing possible:  alienating the fans.
The Cutler and Fox relationship clearly isn't working. In just two years together they've won exactly 7-of-20 games. There is absolutely no reason to expect that will change in another season. If there were progress seen that's one thing but it's only gone downhill. Chicago expects some sort of change. If they don't get any at all, then the Bears could expect a significant rebellion in the way of reduced sales and game attendance. Fans are loyal but even they have a breaking point. This franchise hasn't cultivated a "lovable losers" tag like the Cubs used to. A certain expectation has always followed the Bears.
Why should they throw their money away on a team going nowhere if nothing is going to change?
Scenario #5:  Jay Cutler cut/trade, John Fox fired, and Ryan Pace fired
Otherwise known as the "firesale." Put simply the Bears tear it all down and start from scratch. They dump Cutler, Fox and even Pace in one fell swoop. Admittedly this scenario is on the outer fringes of possibility. For starters there are strong indications the ownership like Pace and have no plans to remove him. Besides that it would be a costly move in terms of money, something this team doesn't throw away willingly. Is there some possibility? Yes. Can it be counted on? Not a chance.
The benefits of this move would only happen if the Chicago Bears somehow had an opportunity to get a top executive on the market. Similar to what the Cubs did with Theo Epstein. Since those odds are long in the extreme, it's safe to not waste time thinking about it. The idea behind this move would be akin to a tearing down of an old housing structure and building a brand new one. Glamorous in theory but something that takes a long time to pull off.
This article originally appeared on