Chicago Bears 2017 NFL Mock Draft: 1st Round Maneuvering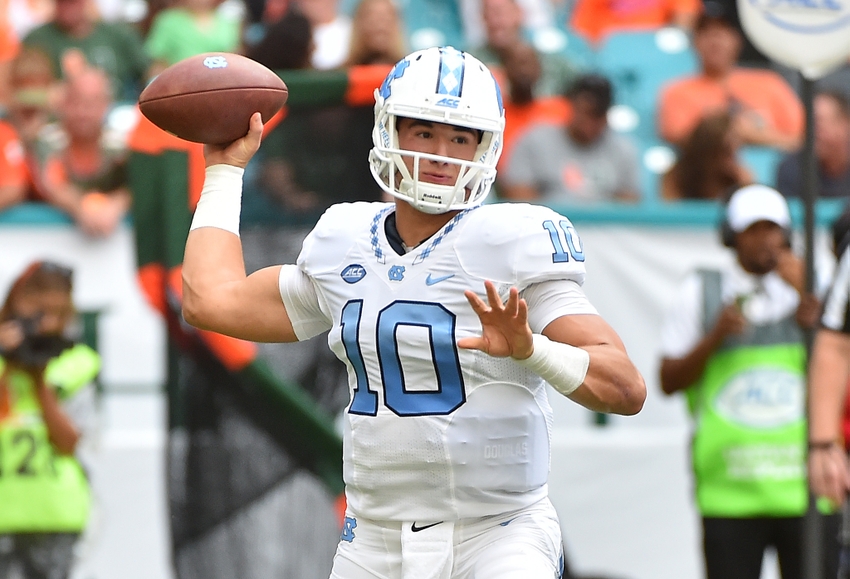 The Chicago Bears look like they're in line for their highest draft pick in over a decade. Current estimates say they hold the 5th overall choice at present.
How will this impact their game plan? Impossible to say at this point. One can imagine though that quarterback, pass rusher, offensive tackle, tight end and corner are of course on the to-do list. Here is the teams' latest mock draft with a new potential scenario that could play out.
1st Round (via CAR)


Bears get
#8 pick, 2nd rounder in 2017 and 3rd rounder in 2018
1
Derek Barnett
DE,

Tennessee
The Bears defense is getting an eyeful of their biggest problem week after week. Put simply they just don't have enough bodies for the pass rush. Injuries have played a part. Pernell McPhee has missed a lot of time with a knee issue. Lamarr Houston tore his ACL. Now 1st round pick Leonard Floyd is dealing with a calf problem. It might seem counterproductive to go after the same position again, but the value of a good pass rush cannot be understated and the 2016 class has lots of good options.
Unlike Floyd this past draft, Derek Barnett comes with a lot more proven production at the job. He had nine sacks as a freshman, 10 sacks as a sophomore and has five so far as a junior. This isn't counting the additions 42.5 tackles for a loss. The guy just knows how to get into the backfield and make plays. He's a good athlete with a high motor and strength. The instinct is evident on every snap. Vic Fangio needs somebody he can count on. Barnett looks every bit the type.
1st Round (via OAK)


Raiders get
#36 pick, 4th rounder in 2017 and 6th rounder in 2018
1
Mitch Trubisky
QB,

North Carolina
The Jay Cutler era is all but over. He may still get a chance to play again in 2016, but the odds are fading. It seems like the team is content to ride out the rest of the schedule with Brian Hoyer. Admittedly the 30-year old veteran has performed far above expectations. That being said it's hard to believe he is viewed as the future. GM Ryan Pace signed him as a backup and still hasn't had the chance to get a quarterback of his choosing. Most feel that time is almost at hand.
There is no question the Bears are due for drafting a quarterback. They haven't taken one above the 5th round since 2005. Opinions vary on the quality of the 2017 class as yet. Not surprising since it's still early in the process. However, there are plenty of intriguing talents. One fast riser in the group is North Carolina junior Mitch Trubisky. He's got size, a decent arm, throws accurate passes and seems comfortable from within the pocket. Never one to panic much. The talent is there, so the Bears decide to cash in by jumping back into the 1st to get him.
2nd Round (via CAR)
2
Adam Bisnowaty
OT,

Pitt
The calls for offensive tackle help will not cease until March and April. Watching five games of Bobby Massie starting can have that effect. Chicago has a chance to field a great offensive line. Josh Sitton, Cody Whitehair and Kyle Long make up a formidable interior. The problems have been almost exclusively on the edges. Massie continues to struggle, looking like the worst of the free agent moves by Pace in the off-season. Charles Leno hasn't been nearly as bad but he is hardly looking like a franchise staple.
This team needs stability and reliability on the edges if they're going to move forward with a young quarterback. Adam Bisnowaty is a lynch pin for one of the best offenses in college football. He's an athletic and sturdy blocker who does his best work in pass protection. That said he has some nasty to him, as evidenced by a willingness to get physical in run blocking. Some might view him as undersized at the moment, but he should have the frame to bulk up.
3rd Round
3
Quincy Wilson
CB,

Florida
Cornerback is one position that remains somewhat unsettled for the Bears. Kyle Fuller and Tracey Porter were nice 2015 stories but it looks like their days are numbered. Beyond them there is plenty of promise but few sure things. Bryce Callahan looks like a keeper but can't stay healthy. Jacoby Glenn has good moments but is inconsistent. Deiondre Hall has intriguing size but is still quite raw. Leaning on them to pan out isn't the best policy, even if the pass rush were to improve.
Jalen Tabor is the one at Florida getting the attention of late. That said it's so easy to overlook his wing man Quincy Wilson. He has that intriguing 6'1" frame defensive coordinators want and the athleticism to go with it. Maybe not a burner in terms of speed but he can make plays on the football. A good athlete who boasts strong instinct. In fact some believe he could end up being better than Tabor. Either way, Florida is known for producing quality NFL corners and he's no exception.
4th Round
4
Cole Hikutini
TE,

Louisville
Ryan Pace took heat for trading Martellus Bennett, but that overshadows how hard he tried to find a replacement. He understands well that the position is less than ideal at this point. Zach Miller is a nice, able veteran but he's also getting older and an injury risk. There is zero depth of note behind him on the roster too. That almost guarantees that the Bears will be active in their search for help at that position in 2017. Perhaps another free agency-draft combination that Pace likes to employ.
One of the more quiet names out there is Cole Hikutini. He's proven himself quite the playmaker in that prolific Louisville offense and a favorite target of Lamar Jackson. At 6'5" he is an inviting big target but is also a good athlete, showcasing an ability to get himself open as a receiver. The reason he falls to the 4th round? Not much of a blocker. That's not how the Cardinals have preferred to use him. So it may take some time before that becomes a part of his game.
5th Round
5
Derrick Nnadi
DT,

Florida State
Lost in the concerns surrounding the Bears pass rush is the fact their run defense hasn't really improved that much. They're still giving up well north of 100 yards per game. That can't make head coach John Fox happy. Part of the reason why is the injuries in the front seven to key guys like Eddie Goldman, Pernell McPhee and Danny Trevathan. Maybe that will help, but when in doubt the best thing to do is load up on the beef. That means adding more size and strength up front.
Derrick Nnadi has really begun to come on of late for the Seminoles. He may not be a standout pass rush but the young man making a specialty out of blowing up run plays. Teams that try to pound it anywhere in his vicinity have limited success at best. He may not be tall but he uses his natural leverage to great effect. If nothing else he's a solid nose tackle option who can help against the run. That said there is latent ability still to uncover if given the proper coaching.
7th Round
7
Tyree Robinson
S,

Oregon
For two years the Bears have been searching for something specific at the safety position. So far they haven't found it. Adrian Amos and Harold Jones-Quartey are both fierce hitters who can tackle well. The problem is neither of them can fulfill the other responsibility of forcing turnovers. Combined the two of them have one interception in two seasons. Chicago really doesn't have a true free safety. Maybe one of their rookies, Deon Bush or DeAndre Houston-Carson may yet be the answer but not so far.
What sticks out about Tyree Robinson at Oregon are two things. He has a nose for the football demonstrated by three interceptions last season, and he's 6'4". That's not a type-o. Robinson is a definite standout when it comes to his size. It's hard to say where he's at given the atrocious defense he plays on but the special physical traits make him a major upside choice this late in the draft. If the mental capabilities can catch up, he'll be quite a spectacle on Sundays.
This article originally appeared on