Chad Kelly's Draft Stock Takes A Massive Hit With ACL Tear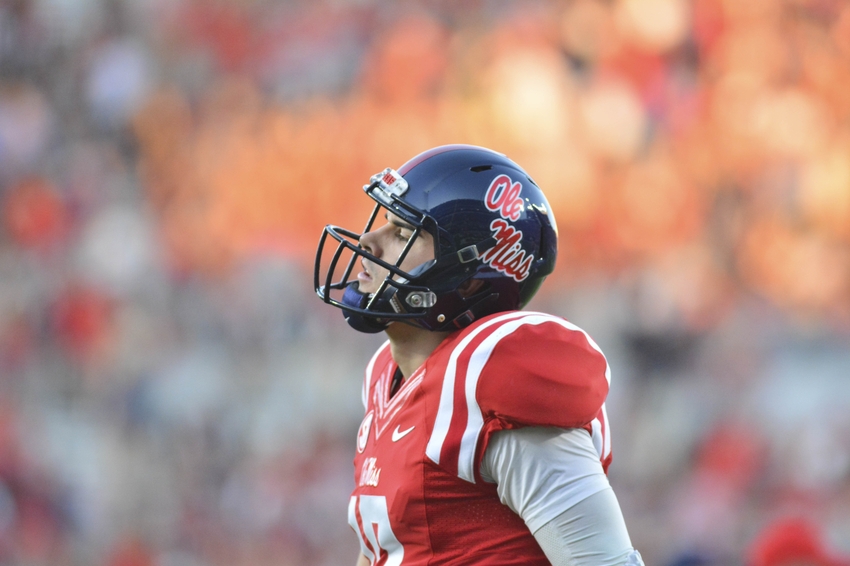 A quarterback class that many personnel around the league already considered weak just took a big hit. Ole Miss quarterback, Chad Kelly, will miss the remainder of his senior season, effectively ending his troubled college career.
Chad Kelly tore his ACL and damaged his meniscus in Saturday's 37-27 victory over Georgia Southern. Kelly will undergo knee surgery in the coming days to repair the damage.
Before the injury he completed 62.5% of his passes for 2,758 yards, 19 touchdowns and eight interceptions through the air. He added 332 yards and five touchdowns on the ground.
Kelly's injury may be another big blow to his draft stock. He probably won't be 100% if he is even able to participate in workouts, the combine, or any physical activities when the time comes around. If his stock will be dependent on tape and interviews, it would be bad for him.
Chad Kelly has issues on and off the field that will be brought up in the draft process. Whether it was his fight at his brother's high school game, his arrest history, being kicked off the team at Clemson, or poor decision-making on the field.
His troubled past may come back to haunt him. He's currently listed as the fourth best QB prospect, and the 42nd overall prospect (via CBSSports).
Kelly's current backup is freshman, Jason Pellerin, who has only attempted 13 passes completing only five. In relief of Kelly against Georgia Southern, he went 1/5 for 19 yards with an interception.
They also have a talented freshman in Shea Patterson, whom Hugh Freeze hasn't ruled out playing yet.
This article originally appeared on