Chad Greenway: Minnesota Vikings 'embody coach Zimmer'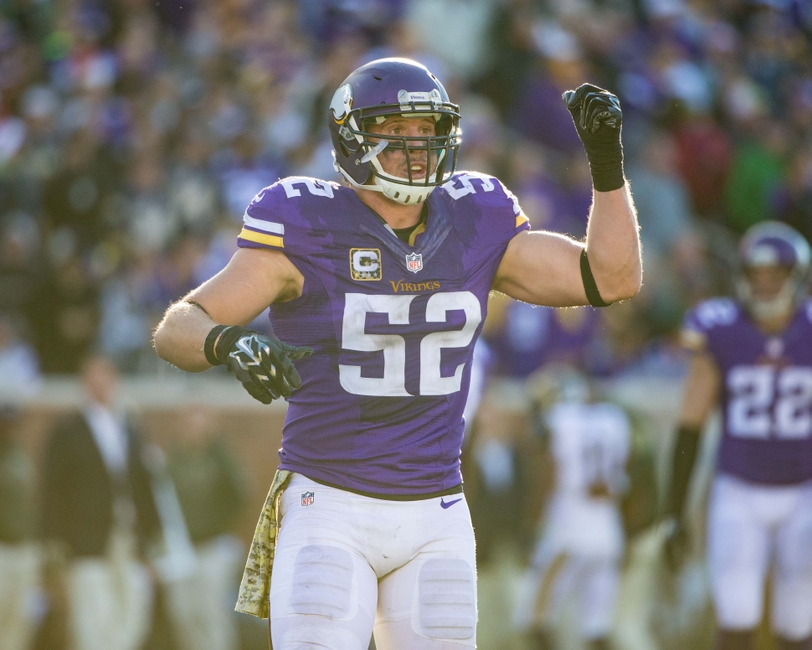 The Minnesota Vikings defense is one of the most athletic and dynamic groups in the NFL, and Chad Greenway says that is thanks to head coach Mike Zimmer.
When it comes to the Minnesota Vikings, the first thing that should come to mind is the defense. Filled with young, athletic players, this squad has made opposing offenses who are explosive in many ways look inept on a regular basis.
But it's more than just youth and athleticism that has created success. Veterans like Terence Newman, Brian Robison, and Chad Greenway are vocal leaders for the squad and the tone of the entire unit is set by head coach Mike Zimmer.
There is no denying the impact Zimmer made on the Vikings defense. He took over an underachieving unit that was close to last in the league in most statistical categories and made significant changes to the schemes, worked with the current personnel, and brought in some of his own guys through free agency and the draft.
"We have grit in this organization and this team," Greenway said in an article on Vikings.com. "It's what we're made of. We embody Coach Zimmer."
Chad Greenway has seen it all with the Vikings defense. Despite leading the league in tackles in 2010 and doing a great job for many years, he has been a part of some of most frustrating games in Vikings history.
However, history doesn't always repeat itself. The franchise knew changes were necessary and the players have completely bought into everything coach Zimmer has brought to the table.
"I think the team has always, throughout my career in college, pro and even high school, I think teams tend to follow the leader a little bit and that message," Greenway continued. "We all come from where we came from and have been coached different ways and you always mold yourself into what that coach is telling you. No one wanted to be here more than Zim'. I can tell you that much, and we respect him so much for what he's done for this organization."
This may be Greenway's last season with the Minnesota Vikings, but he can retire knowing the future of the franchise's defense is in good hands with all of the talented players the team has brought in and head coach Mike Zimmer at the helm.
This article originally appeared on