Carson Wentz Tosses Touchdown After Eagles Interception vs Bears (Video)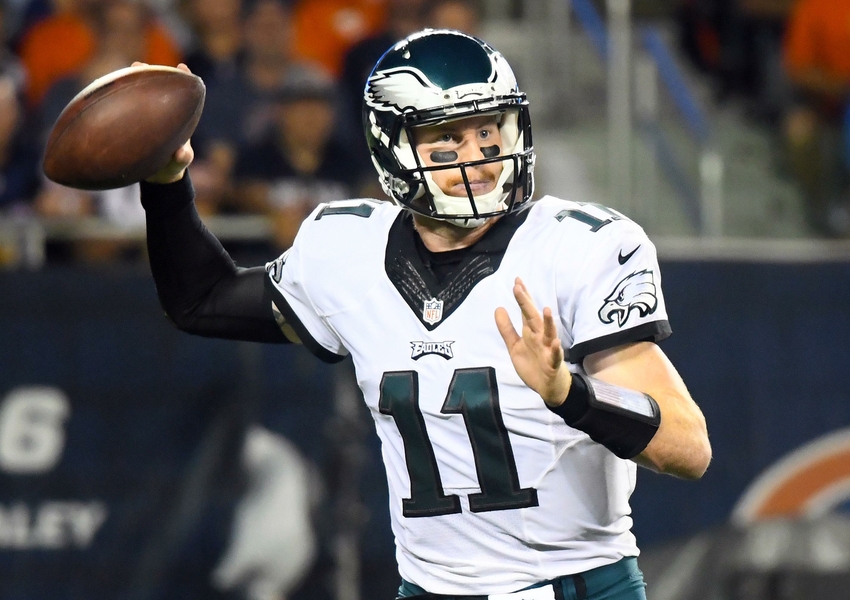 Carson Wentz has played well, but he finally threw his first touchdown in the third quarter after the Philadelphia Eagles defense picked off Jay Cutler.
Philadelphia Eagles fans were excited for Carson Wentz's second NFL game, as he took on the Chicago Bears on Monday Night Football.
Wentz dazzled in his NFL debut, throwing two beautiful touchdown passes and looking impressive as he led his team to victory. Many felt that a big part of his successes were in large part to the Cleveland Browns being bad, however Wentz has answered the bell in Week 2.
He looked in command on the first drive and hasn't looked back. If you watch the rookie play whilst not knowing he is a rookie, he has looked like a veteran. The Eagles have been pumped that their rookie has played so well, but their defense helped him out big time against the Bears.
Obviously, Jay Cutler should have never thrown the ball, but he did. And the Eagles made him pay. Free agent linebacker Nigel Bradham made a great interception and a solid return behind it.
That gave Wentz the ball with momentum and the rookie kept the good times rolling.
He throws a nice screen pass to tight end Trey Burton, who punches it in for six. The touchdown was the third of Wentz's career. Philadelphia's offense had only scored one touchdown prior to the pass from Wentz. However, he did have an easy touchdown dropped by Jordan Matthews at the end of the first half.
In just his second game, Wentz has shown he is truly the real deal in Philly.
This article originally appeared on