Carson Wentz Throws A Bomb, Leads to Eagles Touchdown (Video)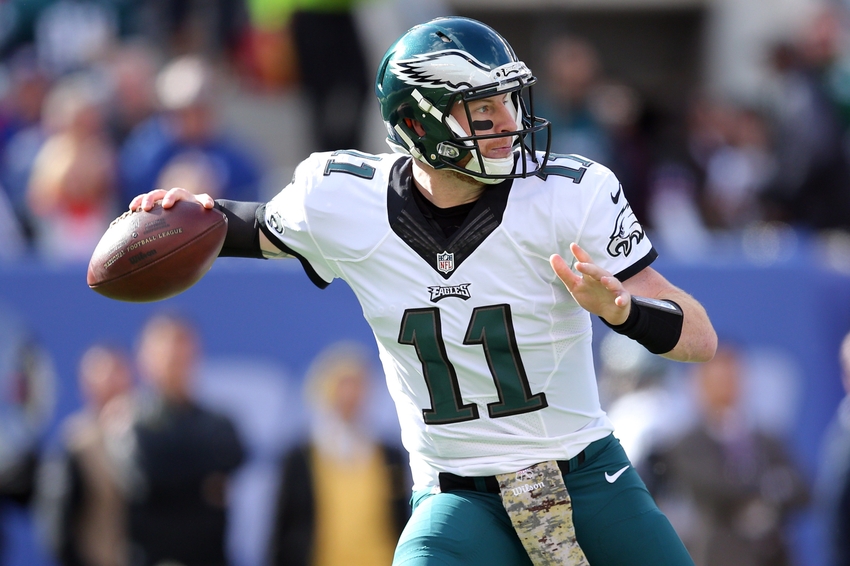 Carson Wentz threw a long pass, which led to the Philadelphia Eagles first touchdown of the day.
It was a long day for Philadelphia Eagles quarterback Carson Wentz before even halftime. He started the game throwing an interception, which led to a New York Gaints touchdown. On the following drive, Wentz threw another interception, which led to another Giants touchdown.
Many people are already jumping off of the Wentz Wagon because of his Week 8 performance against the Dallas Cowboys. In the game, Wentz did not attempt a pass over 20 yards and people have been very vocal about that. They feel that he is a "dink and dunk" quarterback that can't succeed throwing vertical passes. Some would say it is the play-calling, but most of the blame goes to the Eagles wide receiver core. They do not have a real deep-that target, which makes it hard for head coach Doug Pederson to call shots down the field.
Philadelphia had an interesting week, as their wide receiver Josh Huff was arrested for an off-field incident early in the week. The Eagles decided to release Huff, leaving an open spot on the Eagles active roster. With only three wide receivers left, the Eagles activated Bryce Treggs.
Treggs is a name that Eagles fans have been calling for, since he ran a 4.39 40-yard dash at his Pro Day. The rookie was activated for the game against the Giants and it looks as if the Eagles fans were correct, he can fly.
Off of the play action, Wentz stepped up and let it rip, showcasing his arm talent. The ball could have had a little more air under it, but Treggs did a great job tracking it for a 58-yard gain. This is something the Eagles offense is missing, especially as it lead to a rushing touchdown two plays later.
Ryan Mathews did a nice job of bouncing outside and getting into the end zone. The Eagles are going to need more of Wentz to Treggs if their offense is going to succeed.
This article originally appeared on