Carson Wentz Starts Hot, Throws Touchdown Pass (Video)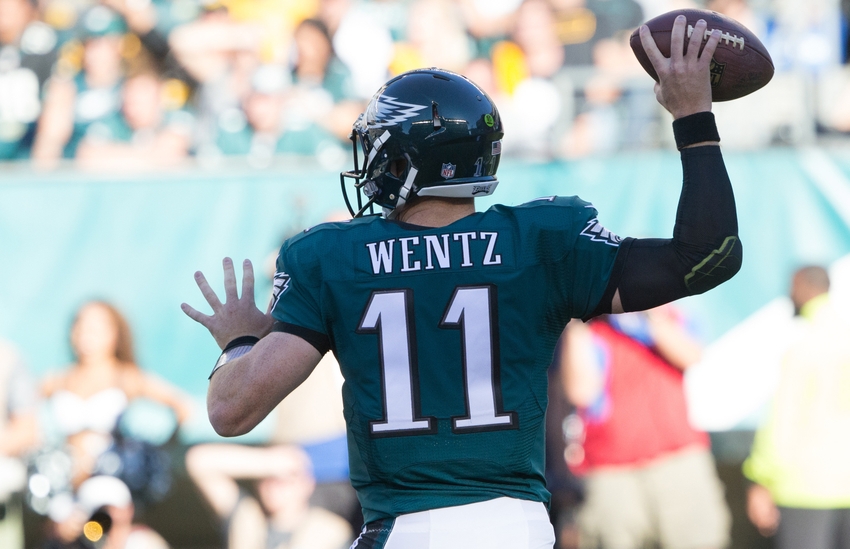 The Philadelphia Eagles rookie phenom, quarterback Carson Wentz, is at it again against the Pittsburgh Steelers.
After his impressive performances in Week 1 and Week 2, Philadelphia Eagles quarterback Carson Wentz has started well in Week 3. The 2016 first round pick, No. 2 overall, had a lot of doubters entering the league. Coming from North Dakota State University, many felt that his level of competition would impact his ability to play in the NFL.
Luckily for the Eagles and their fans, the rookie has looked like he's been playing NFL players his whole career. The rookie has been poised and in command throughout his first NFL action, however many fans have argued that it's been two games. They have also argued that the teams he has played (Cleveland Browns and Chicago Bears) in his first two weeks, are not very good.
The biggest test of his young career would come Week 3 against the Pittsburgh Steelers, whom many feel have a legitimate defense. Well, though his first two drives, Wentz has been balling.
The rookie led his team to a field goal on their opening drive, but followed that up with a beautiful touchdown pass on the second possession.
Wentz stands tall in the pocket and delivers a beautiful strike to his wide receiver Jordan Matthews. After this touchdown pass, Wentz was playing lights out. He has completed 11 of his 14 passes for 133 yards and touchdown.
For all of the people who had questions about Wentz, he has been answering them with his dominant play.
It has truly been "All business" for the rookie. And that business is making this Eagles team look like contenders
More from NFL Spin Zone
This article originally appeared on