Carson Wentz Shows Off Wheels, Dives for Touchdown (Video)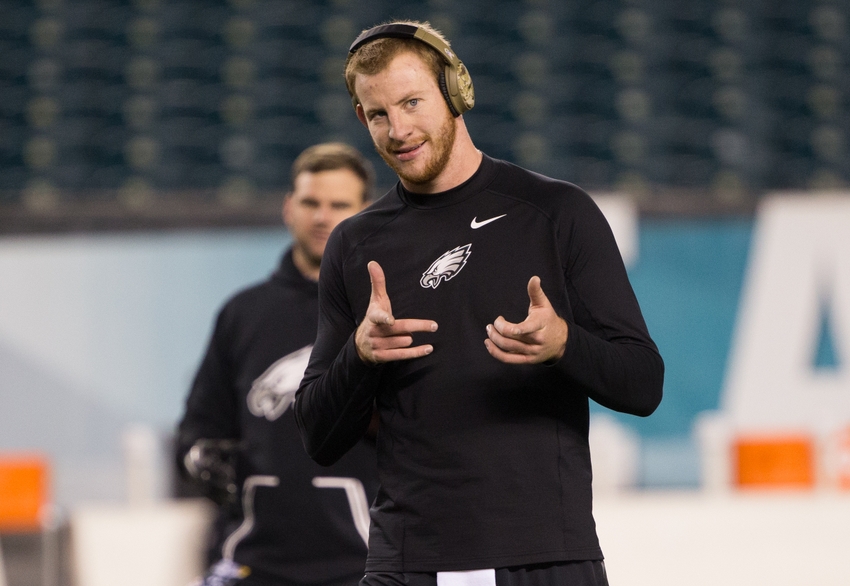 Carson Wentz put his body on the line for the Philadelphia Eagles first touchdown of the game on Monday Night Football.
The Philadelphia Eagles defense started the game by getting dominated by Aaron Rodgers and the Green Bay Packers offense. Rodgers attacked the Eagles secondary right away with quick strikes that led to big chunks of yardage. He then found wide receiver Davante Adams for a 12-yard touchdown. It capped off a 10-play, 75-yard drive that took up 5:09 of clock.
It looked as if the Eagles did not show up, but their offense showed that they were ready to play in a shootout. Rookie quarrtacbk Carson Wentz started the game with a 9-yard completion and did not look back.
He hit five more passes for 61 yards to end the drive 6-of-6 for 70 yards. Four of his passes went to his wide receiver, Dorial Green-Beckham, who turned them into 53 yards. It was an impressive start for the rookie, but he made the start even better when he put his body on the line for his team.
Wentz took matters intones own hands (well, legs) as he rolled right and decided to tuck the ball and run. With three defenders closing in, he dove into the end zone to get the Eagles on the board. People forget that Wentz is an athletic quarterback, mainly because he chooses to win from the pocket. However, he has the wheels to get things done on the ground.
The drive went 11 plays, 81 yards, and took up 6:11 of the first quarter. It seemed like the game would be a shootout and the rookie quarterback had his gun ready to go.
More from NFL Spin Zone
This article originally appeared on