Carson Wentz Puts Eagles Up 10 With First Touchdown Pass (Video)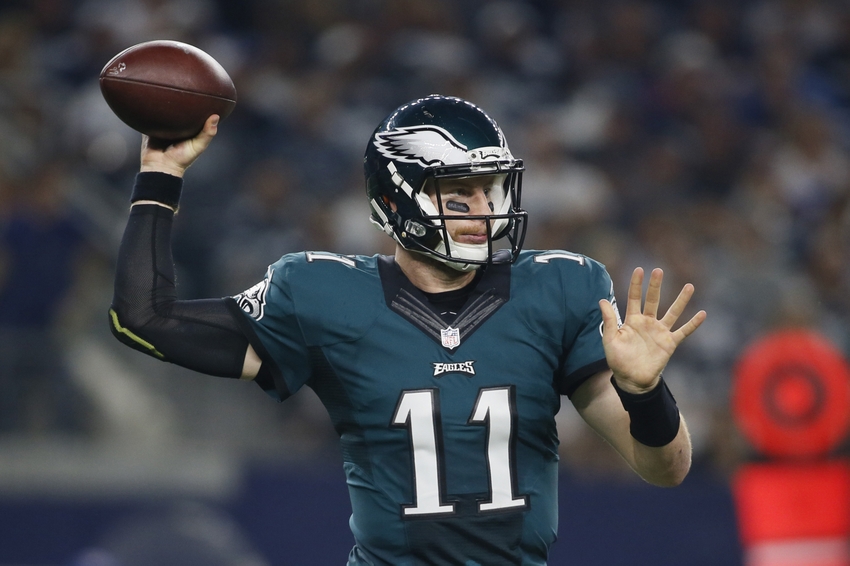 Carson Wentz threw his first touchdown of the night, which put the Philadelphia Eagles up 10 over the Dallas Cowboys.
The Philadelphia Eagles and the Dallas Cowboys came into Week 8 both starting rookie quarterbacks in the same game for the first time in the history of Cowboys vs Eagles. Philly drafted Carson Wentz No. 2 overall in the 2016 NFL Draft while Dallas drafted Dak Prescott with the 135th pick in the same draft.
You can debate which quarterback you would rather have, but you can't debate that both of these young men have bright futures in the NFL. Prescott has been impressive with his ability to take care of the football while taking what the defense is giving him. His offense is filled with weapons and he has just taken the wheel and drove this team to a 5-1 record.
Against the Eagles at the end of the first half, Prescott made the worst throw of his career. The interception allowed the Eagles to take the lead, which hurt, but it was only 13-10. Philadelphia got the ball to start the half, and they came out aggressive, mainly because their quarterback was slinging the football.
Wentz looked the part, once again, and was hitting his receivers on perfect passes. He was converting on third down, but it was a new-look Eagles offense. Usually they take their time and put together long, methodical drives. This drive went 12 plays, 69 yards, and only took 4:12.
It ended with a touchdown pass from Wentz to wide receiver Jordan Matthews.
Wentz threw a rocket that almost took Matthews' arms off. It capped off an impressive drive and put the Eagles up 20-10.
This article originally appeared on