Carson Wentz proved he's the real deal by blowing out Steelers and electrifying Eagles
What's that they say about the third time?
It's the charm, of course, but according to the "first time is chance, second is coincidence" maxim, the third time also shows a pattern. So while Carson Wentz's debut was impressive and his follow-up got people talking, game No. 3, in which Wentz and the Philadelphia Eagles handed the 2-0 Pittsburgh Steelers a 34-3 loss — their worst defeat in 27 years — is the one that officially starts Carson-mania around the NFL.
With Wentz at the helm and Doug Pederson on the sideline, the Eagles are 3-0, becoming the second rookie coach/quarterback tandem to start that way in history.
Wentz's 74-yard touchdown pass to Darren Sproles is the one that jumps off the screen and will be the highlight this week, not because it was a classic long bomb that hit its target in stride and had Wentz running down the field with one finger wagging. No, this was a poise play. The Eagles led 13-3 just after halftime and were staring at a third-and-8 that, if unsuccessful, would have given the ball back to Pittsburgh with a chance to cut what had been a one-sided game to, somehow, a one-score game.
Stephon Tuitt broke through the line on a stunt and had a straight shot to Wentz, who sidestepped him so casually you'd have thought he was wearing a don't-touch-me red practice jersey. Wentz tucked the ball, cut right, did a little pump fake, kept running and, possessing total awareness about where he was on the football field (in this case, a yard-and-a-half short of the line of scrimmage) threw a 20-yard floater to a wide open Sproles. The running back then did what he's been doing for over a decade and zig-zagged through the defense for a touchdown. Finding Sproles and throwing a perfect touch pass on the run was impressive enough, but it was all the more impressive given that Wentz seemed to know where each of his receivers was on the field and how covered eash was. In short, he made a tough play for any quarterback look simple.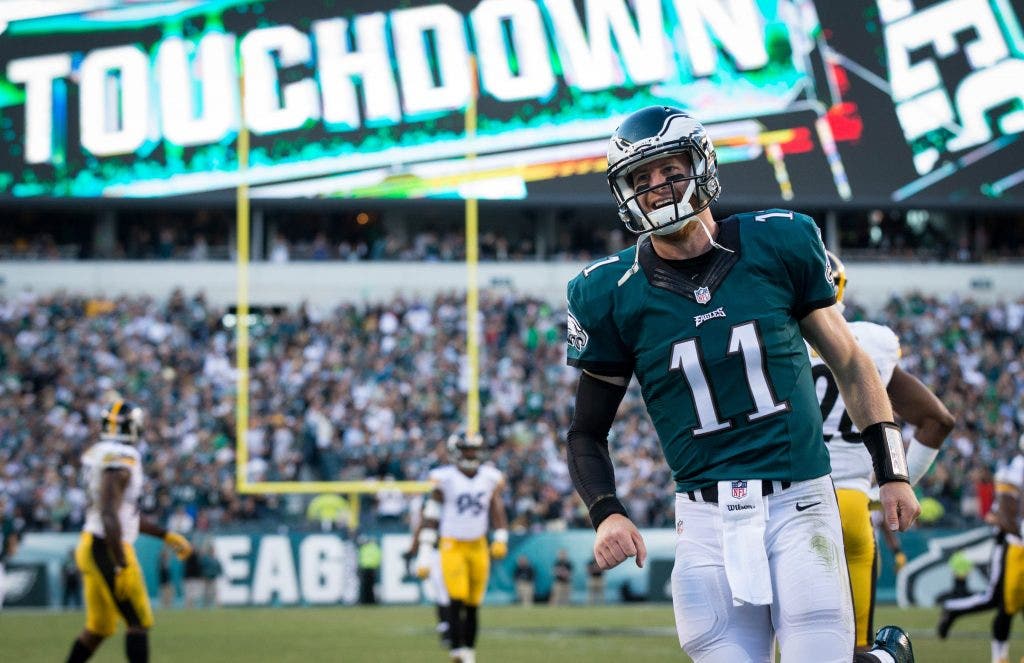 In the part of the game that mattered, Wentz was 21 for 28 for 277 yards with two touchdowns and no interceptions. He had been 26th in the NFL in yards-per attempt, suggesting a low degree of difficulty on his passes, but his total will shoot up this week. And, yes, you can say 73 of those yards came on a short pass and the YPA shouldn't be as high, but that's malarkey. And who cares? Wentz is 3-0. Anyway, if you want to get into that game, Eagles receivers have dropped at least three passes of 40-plus yards the past two weeks, including a possible 41-yard touchdown by Dorial Green-Beckham on Sunday.
So how good are the Eagles? They're better than anyone thought Sunday morning but probably not quite as good as they're being made out to be Sunday night. Wins over the Browns and Bears weren't thought to be good predictors of what was to come, but apparently they were — and then some. And, to take nothing away from Wentz, the best part of this team is its defense, which has now given up 10, 14 and three points in its first three games.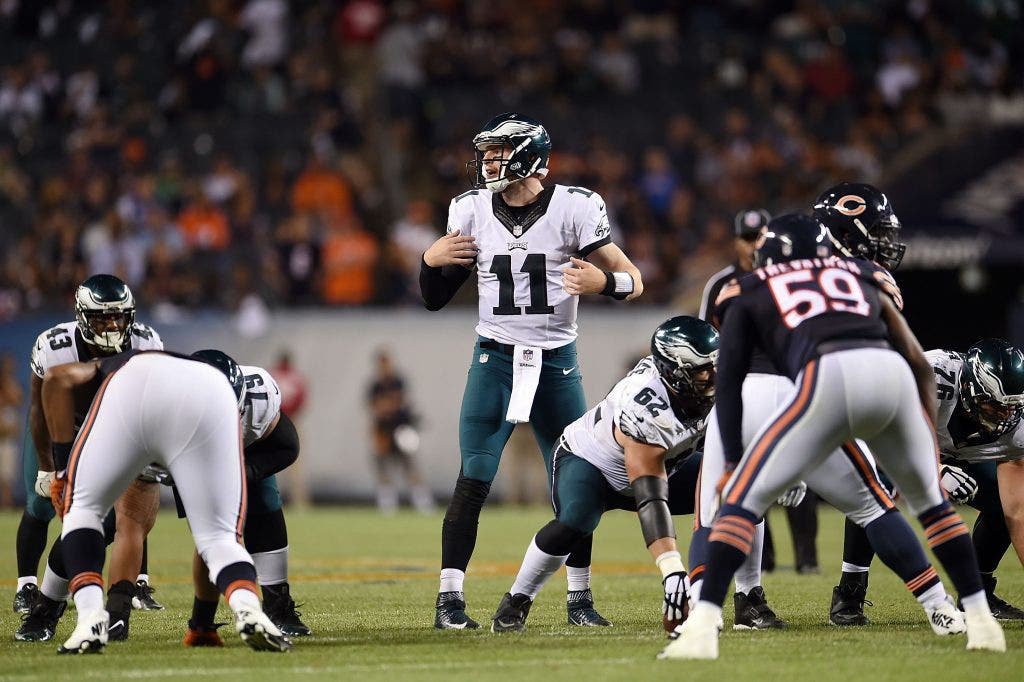 The necessary "hold up" caveats apply, of course. Chip Kelly's offense looked great through three games and then the NFL figured him out. Robert Griffin III was a Rookie of the Year revelation and had a 14-0 playoff lead over the mighty Seattle Seahawks before getting hurt in 2012. Pittsburgh's defense is not the Pittsburgh defense we've become accustomed to — it entered the game ranked 31st against the pass. And the other coach/QB duo to start 3-0 was Rex Ryan and Mark Sanchez. But those are reasons you shouldn't put it in cruise control, not a justification to pump the brakes. Remember, this is no coincidence.
It's now Carson Wentz's Philadelphia Eagles and the Philadelphia Eagles' NFC East. The only thing that could slow their momentum is a bye week which, unfortunately for them, they get in Week 4. (It's way too early for any team to have a bye.)
Don't insult Wentz by saying he has a bandwagon. Hopping on a bandwagon implies you'll get off it one day, and through three weeks of his NFL career there's no reason to think that's going to happen any time in the near future.