Carson Wentz is not the Eagles' problem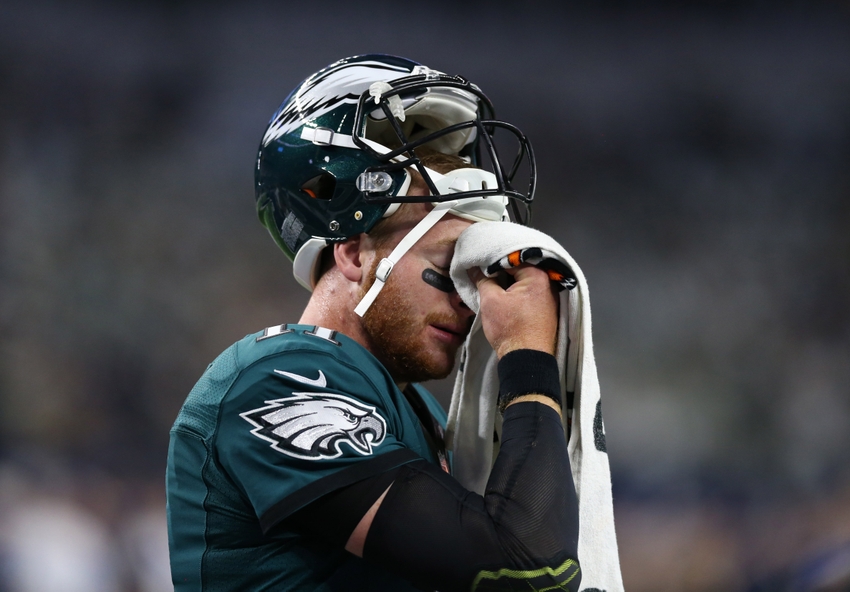 Carson Wentz isn't bad. His team is bad.
The Philadelphia Eagles have been horrible recently. After an exciting 4-2 start to the season, the Eagles have managed to win only one game in their last five tries. During that stretch, Carson Wentz hasn't been particularly good, throwing three touchdowns to five interceptions with a lackluster 75.8 quarterback rating.
Wentz has clearly hit a wall since his hot start, but he is not the problem with this Eagles team.
In case you haven't noticed, Carson Wentz has zero weapons at his disposal. Nelson Agholor is a lost cause, Josh Huff isn't even on the team anymore and Dorial Green-Beckham is inconsistent and unreliable. Jordan Matthews, Wentz's top target, left the Eagles' game against the Green Bay Packers with an ankle injury. If the injury causes Matthews to miss a significant amount of time, Wentz's top receivers will be DGB, Bryce Treggs and undrafted rookie Paul Turner.
More from Inside the Iggles
Let's also not forget the foul play of the offensive line. Jason Peters leads the league in false start penalties, Jason Kelce has taken major steps back since his Pro Bowl campaign in 2014 and Lane Johnson is suspended and won't be back until the Eagles face the Baltimore Ravens in Week 15.
For the Eagles to play the way they did at the beginning of the season, they need weapons, which they currently do not have. Wentz and head coach Doug Pederson are doing their best to work with what they've got, but there is only so much they can do at this point.
The Eagles' strength this season has certainly been its aggressive defense, but even that has failed in recent weeks. In the Eagles' first six games, they recorded 20 sacks. In their last five games, they've recorded only six sacks.
It goes beyond the struggles on offense.
The Eagles likely aren't making the playoffs this season and they may not even finish above a .500 record. But putting the blame on Wentz is reckless and irresponsible.
The team has a lot of work to do. Not just the quarterback.
This article originally appeared on