Carson Wentz Hits Darren Sproles For Sick 73-Yard Touchdown (Video)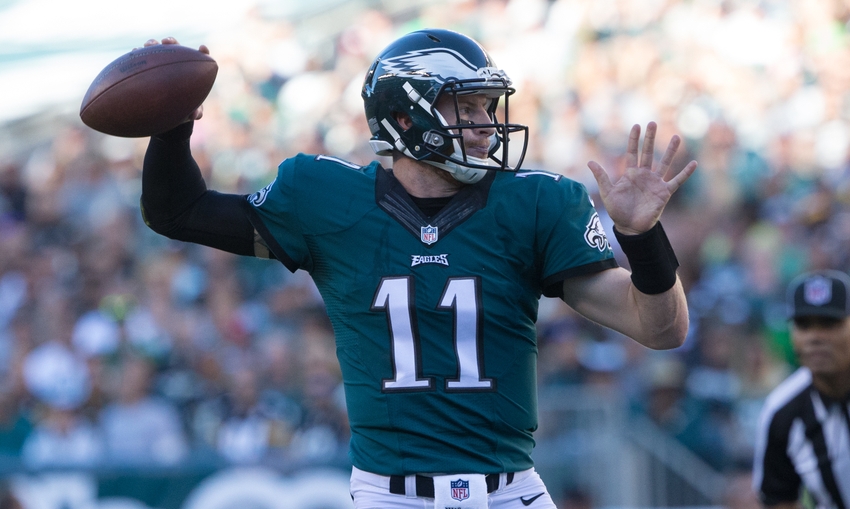 Carson Wentz avoided the rush, but Darren Sproles did the rest on a sick 73-yard touchdown.
The Philadelphia Eagles started strong in the first half, leading the Pittsburgh Steelers 13-3 behind the arm of their rookie quarterback Carson Wentz. The big talk all week was whether the 2-0 Eagles were a real team or a team that had an easy schedule. They defeated the Cleveland Browns in Week 1 and then defeated the Chicago Bears in Week 2, on Monday Night Football.
They had the Steelers stroll in to Philly for a big Week 3 matchup.
After all the questions, the Eagles have had the answers so far. Wentz had an impressive first half, capped off by a beautiful touchdown pass to wide receiver Jordan Matthews.
Obviously adjustments would be made at halftime, so it remained to be seen if Wentz could stay hot or cool off. Well, he didn't just stay hot, he got even hotter.
On third-and-eight, with the pass rush closing in on him, Wentz made the first guy miss and stepped up in the pocket. It looked as if he would tuck the ball and run, but he kept his eyes downfield and found running back Darren Sproles running down the sideline.
Sproles did the rest, making some nifty moves on his way to an impressive 73-yard touchdown. Sproles made one defender look silly multiple times before he made a beautiful cut to the middle of the field on his way to the end zone.
The play was beautiful for both Wentz and Sproles. That catch got put Sproles at six receptions for 128 yards and a touchdown. It also put Wentz at 21-for-28 for 263 yards and two touchdowns.
This article originally appeared on