Carson Wentz and the Philadelphia Eagles take on the Chicago Bears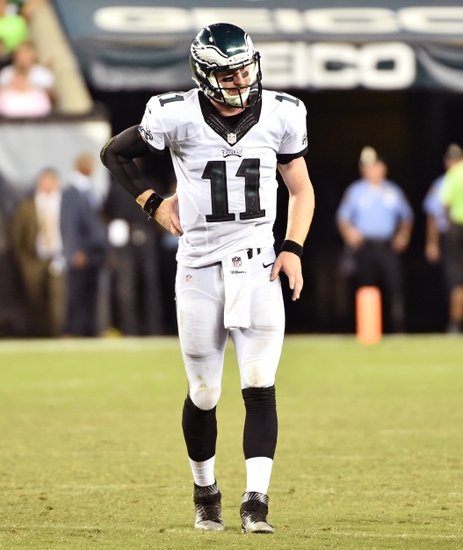 Carson Wentz is looking to build off his strong start as the Philadelphia Eagles face the Chicago Bears.
The Philadelphia Eagles shocked a lot of people when they decided to trade Sam Bradford 1 week before the start of the regular season. This decision led to them naming rookie Carson Wentz the starter.
Wentz then went on to have an excellent game against the Cleveland Browns. The Browns don't have a top-notch defense but the fact Wentz performed at such a high level in his first start was impressive.
Things get a little tougher this week with Wentz facing the Chicago Bears in the national spotlight on Monday Night Football. Chicago's defense is slightly better than the Browns especially in the front-7.
More from With the First Pick
Wentz can expect to face more pressure with the likes of Willie Young, Lamarr Houston and Leonard Floyd. Inside linebackers Danny Trevathan and Jerrell Freeman have also shown the ability to get after the quarterback.
Chicago's secondary isn't loaded with talent but they do have Tracy Porter who is a crafty veteran. He's the type of defensive back who isn't afraid to take chances if it means he has a chance to create a turnover.
It'll be interesting to see what type of gameplan the Eagles develop in order to help their young quarterback. They will likely look to ground game rolling early as it was a major part of the team's success against the Browns.
The combination of Ryan Mathews, Kenjon Barner, Wendell Smallwood and Darren Sproles combined to carry the ball 32 times for 132 yards.
This game is just another chance for Wentz to learn and develop. He'll  have his share of ups and downs this season, but so far is off to a great start.
This article originally appeared on