Carlos Hyde's fine shows what's wrong with the NFL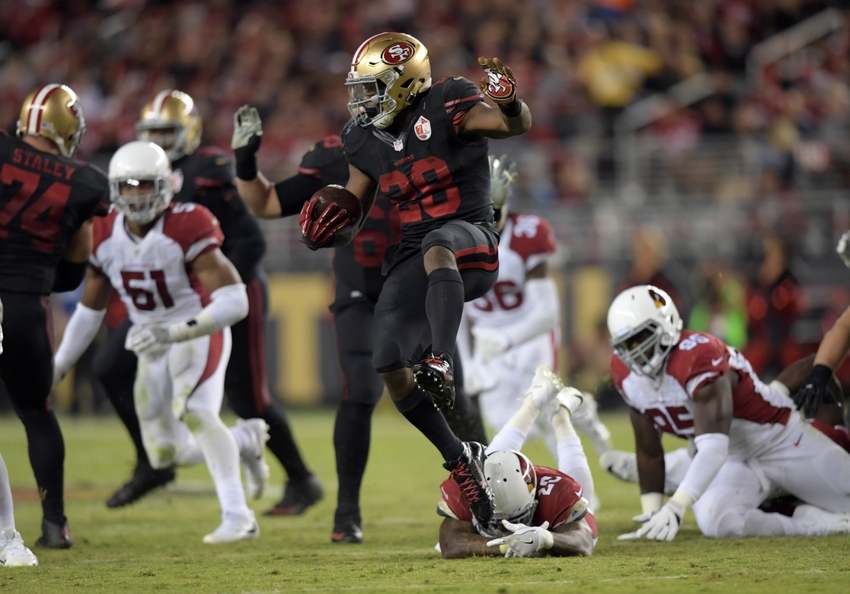 San Francisco 49ers running back Carlos Hyde was fined for flexing his muscles at an opponent in last week's loss to the Arizona Cardinals. This fine shows what is wrong with the "No Fun League"
The National Football League has cracked down on celebrations and what is deemed "Unsportsmanlike Conduct" this season. Flags and fines have both been up significantly from previous seasons. While it makes sense that the NFL wants to present a good example for lower levels of football, taking fun out of the game is doing the opposite.
It is one thing to hit an opponent or make an aggressive act. It is quite another to celebrate by flexing your muscles after a big play, as San Francsico 49ers running back Carlos Hyde did last Thursday against the Arizona Cardinals. Hyde was flagged on the play and subsequently fined $9,115.
Not cool, NFL, not cool.
Football is a game with emotions — high emotions, often. Yes, it is important to keep these in check. Clearly fights should not be breaking out and cheap shots are one of my least favorite parts of the game. "Taunting" can also be problematic, but the NFL is taking things too far.
Did Hyde try to incite a fight? No. He simply celebrated his success with a "gun show" while, presumably, trash-talking a small bit.
What is wrong with that?
In the NFL's eyes, apparently, everything.
More from Niner Noise
The NFL should set an example for kids, yes. Taking fun out of the game is not the way to do it.
All statistics, records and accolades courtesy of Pro-Football-Reference.com and Sports-Reference.com unless otherwise indicated.
This article originally appeared on