Cardinals at Falcons: Preview, Predictions, and More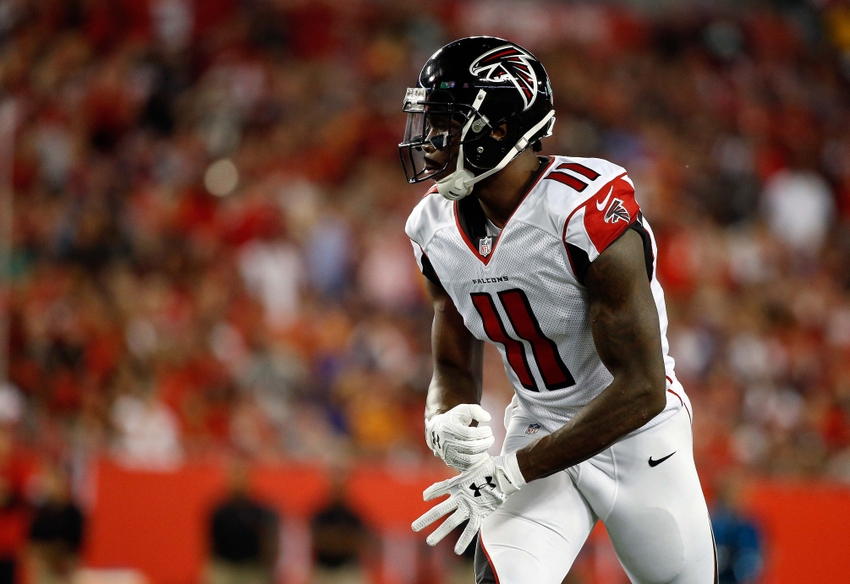 Atlanta Falcons vs. Arizona Cardinals
Time is running out for the Arizona Cardinals to turn their season around. At 4-6-1, the Cardinals can somewhat proudly say they held their own in a 6-6 tie with the juggernaut Seattle Seahawks. But the preseason Super Bowl contenders seem too far behind Seattle in the division to come back. Arizona has lost games off of untimely errors from Carson Palmer, who just can't get it done at the end of games anymore.
Meanwhile, the Atlanta Falcons sit atop the NFC South with a 6-4 record. Although they have indisputably been the best team in the division this year and boast a marquee win over the Denver Broncos, the Falcons aren't in a commanding lead. The Carolina Panthers are two games back, while the Tampa Bay Buccaneers are somehow breathing down Atlanta's neck at 5-5.
The Falcons are in a good spot at home and coming off of a bye, but the Cardinals are always a scary opponent due to their natural talent. Star offensive players Larry Fitzgerald and David Johnson has been as good as ever, and they alone can be enough to upend teams.
That said, there's a reason why the Cardinals only wins have been over the San Francisco 49ers (twice), New York Jets, and Buccaneers. The teams they are beating have been among the worst in the league, because their victory over the Bucs came when the team was sliding.
If Arizona loses this game, they aren't quite "done." The remainder of their schedule looks light, since their only top opponent is the Seahawks. That said, are they better than future opponents in the Miami Dolphins and Washington Redskins? At this point, I don't think so. We saw what the Cardinals were made of in their loss to the Minnesota Vikings last week and they honestly don't look like playoff material.
Keys to Victory
There's a lot to talk about in Arizona, but let's briefly get back to the Falcons. They will face a defense that is ninth in the NFL in scoring and the Cardinals have done a tremendous job of defending No. 1 receivers. Per Football Outsiders, they are fourth in DVOA allowed against these types of players.
Julio Jones is impossible to cover, but if Patrick Peterson and the Cardinals do smother him, it will be interesting to see how many looks Mohamed Sanu garners. Sanu hasn't done much this season with a 39/430/3 line, but he brings more to the table than numbers. Last season, we saw how poor the Falcons were outside of Jones at the wide receiver position, as they were forced to give significant snaps to players like Roddy White.
Sanu is light years ahead of players like White and, previously, Harry Douglas at supporting a No. 1 receiver. He is a good athlete who can get open downfield with smooth routes. He's also done a better job at making timely plays than I expected. In Week 9, he had nine catches on ten targets. In Week 10, he had five receptions on seven targets. Watch for him as an X-factor.
The Cardinals have allowed the fewest yards per game this season and they have been an elite defense against the run and pass. This is a team capable of stifling Devonta Freeman and Tevin Coleman, who form one of the NFL's premier rushing duos.
If the Cardinals want to win this game, they have to recognize the fact that Carson Palmer is a big mistake just waiting to happen. In order to offset that, they can't let the Falcons control the pace of the game by moving the chains through the air and on the ground with their running backs.
Odds
Point Spread: Atlanta -6
Moneyline: Atlanta -240, Arizona +200
Over/Under: 51
Prediction
I think the Cardinals will surprise some people by taking this game. The Falcons defense is one of the worst in the league, which doesn't bode well for defending Michael Floyd, Fitzgerald, and Johnson. This game could be a classic, but I think Bruce Arians and the Cardinals do enough to shock us. The Falcons don't force enough turnovers, so Palmer could escape this game with just one interception.
Pick: Arizona Cardinals: 31, Atlanta Falcons: 28
This article originally appeared on