Cardell Hayes found guilty of manslaughter in Will Smith case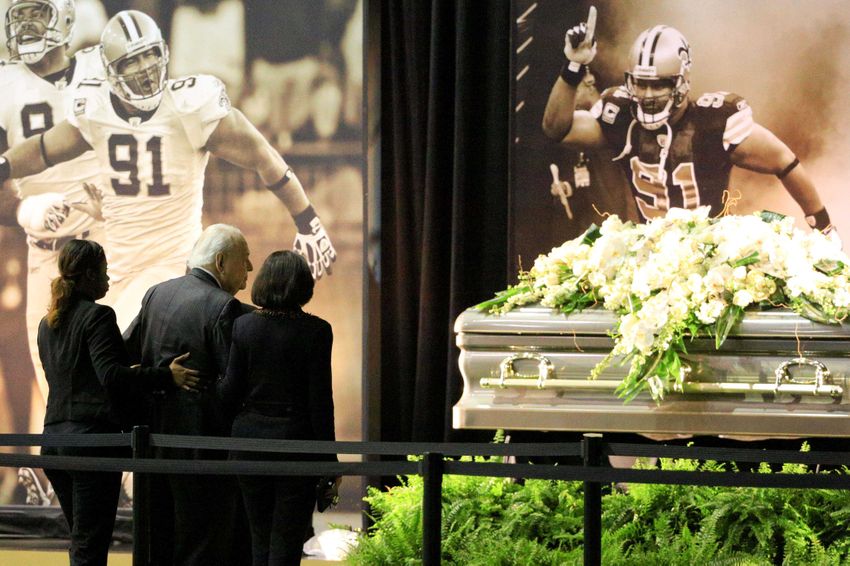 After the shocking death of retired New Orleans Saints defensive end Will Smith, the defendant Cardell Hayes has been found guilty of manslaughter.
Earlier this year, the NFL and sports world mourned the unexpected and tragic death of former New Orleans Saints defensive end Will Smith. He was murdered in an incident stemming from a traffic mishap.
The murder suspect who was immediately taken into custody, Cardell Hayes, was found guilty of manslaughter Sunday and will now face 20-40 years in prison, according to Yahoo! Sports columnist Dan Wetzel:
Cardell Hayes has been found guilty of manslaughter in the killing of ex-NFL star Will Smith. Lesser charge but faces 20-40 years in prison.

— Dan Wetzel (@DanWetzel) December 12, 2016
Hayes, 28, was a former college football player. Smith, who was 34 at the time of his death, played  nine NFL seasons with the Saints, earning a Pro Bowl appearance in 2006. He also won a national championship in college while playing for Ohio State in 2002.
On April 9, 2016, Smith was driving his Mercedes SUV in New Orleans and got into a traffic collision with Hayes' Hummer. Smith allegedly rear-ended Hayes, but Hayes responded by rear-ending Smith's Mercedes in return.
The final collision forced Smith's Mercedes to crash into the car in front of him and broke the rear window. Hayes and Smith exchanged words, at which point Hayes pulled out a handgun, killing Smith and injuring his wife.
During the investigation, a nine-millimeter handgun was found in Smith's car, and it was fully loaded. Hayes was charged with second-degree murder, though he claimed it was in self defense, but the jurors went with the lesser charge of manslaughter.
The postmortem toxicology report showed Smith has a blood alcohol content of .235 the night of his death, which is almost three times the legal limit in Louisiana. It was a tragically sad incident all around, and Sunday's verdict after a weeklong trial will do little to heal those pains.
Hayes faces up to 40 years in prison and will be sentenced on Feb. 17.
More from FanSided
This article originally appeared on