Can the Kansas City Chiefs win the Super Bowl?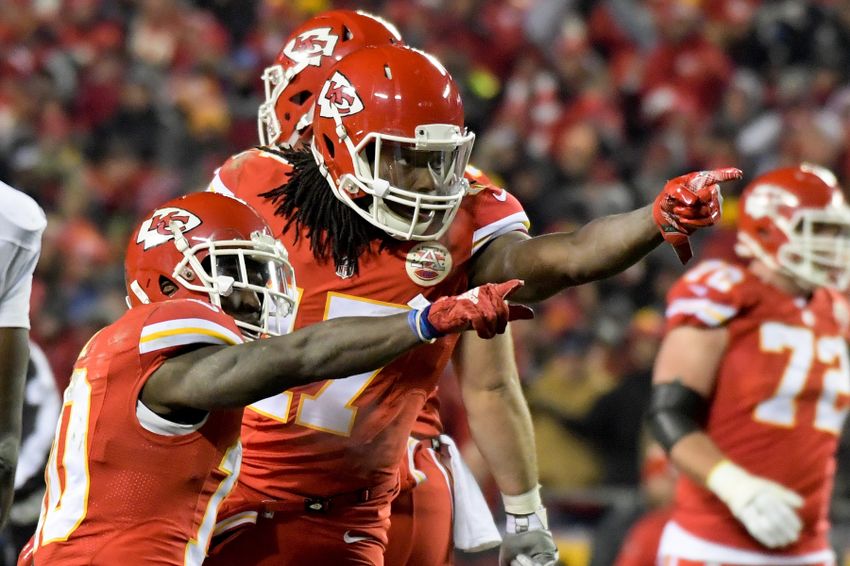 The Kansas City Chiefs scored another huge victory on Thursday night as they defeated the Oakland Raiders 21-13. It was just the latest of several impressive wins that the Chiefs have accumulated during the 2016 season. The Chiefs now have a resume that boasts two wins over the 10-3 Raiders, a road win against the 8-5 defending Super Bowl champion Denver Broncos, a road win over the 8-5 Atlanta Falcons, and a road win over the defending NFC champion Carolina Panthers. They have one of the four best records in all the NFL and have won 20 of their last 23 regular season games. That is the resume of a team that MUST be considered a contender to win the Super Bowl. Period.
I don't think you can make an intelligent argument for the Chiefs not being in the Super Bowl discussion. When you have one of the best records and have impressive statement wins you're in the discussion. So why are there some people that still don't believe (both inside and outside of the Chiefs Kingdom)? As I see it most people see three major obstacles standing in the way of the Chiefs being able to hoist the Lombardi Trophy at the end of this season.
1. Alex Smith and the low scoring offense
2. Andy Reid and his play calling/clock management
3. The defense's reliance on big plays/turnovers
So are these legit concerns? Are they greater obstacles to overcome than those of the other top teams? Let's take a second to address each of them starting with Alex Smith and the offense.
Let's get this out of the way to start with….
It is easier to win a Super Bowl with an all time great quarterback. No one will argue that fact. Having an all time great quarterback makes winning easier and can make up for other roster deficiencies. Alex Smith is not an all time great quarterback. So the Chiefs don't have that luxury. However, that doesn't disqualify them from Super Bowl contention. Teams have made and won Super Bowls with worse quarterbacks than Alex Smith.
One needs to look no further than last year's Super Bowl champions to prove that point. Yes, Peyton Manning is one of the all time great quarterbacks, but he was that in name only last season. Manning's play on the field was not good at all. Here are Peyton Manning's numbers last season compared to Alex Smith's numbers so far this season.
2015 Peyton Manning: 59.8% completions, 224.9 yards/game, 6.8 yards/attempt, 9 TDs, 17 INTs, 24 passes of 20+ yards
2016 Alex Smith: 67.3% completions, 235.9 yards/game, 7.1 yards/attempt, 12 TDs, 5 INTs, 32 passes of 20+ yards
There is simply no argument here, Alex Smith in 2016 is a far superior quarterback than Peyton Manning was in the Broncos' Super Bowl winning season last year. So clearly you can win a Super Bowl with Alex Smith as your quarterback. The actual question is how good of team do you need around him in order to win the Super Bowl? We'll get to the defense in a minute, first let's look at the offense around him.
I would argue that the Chiefs have as good of playmakers (when healthy) as Denver did last year. In 2015 Denver's three top pass catchers were Demaryius Thomas, Emmanuel Sanders, and Owen Daniels. Their running backs were CJ Anderson and Ronnie Hillman. I would put the trio of Travis Kelce, Tyreek Hill, and Jeremy Maclin right there with Denver's. The Broncos get an edge at wide receiver but the Chiefs have a huge advantage at tight end with Kelce. Then at running back the duo of Spencer Ware and Charcandrick West may be slightly below Denver's duo last season, but if Jamaal Charles were to be back by the playoffs then that deficit would be surpassed. So I would argue that the Chiefs do have the playmakers needed to win the Super Bowl. Travis Kelce is emerging as THE best tight end in the NFL now that Gronk is out and Tyreek Hill has proven to be a huge big play weapon.
When looking at the overall production on offense here is how the Chiefs stack up with last year's Denver team.
2015 Denver Broncos: 22.2 points/game, 355.5 yards/game, 5.4 yards/play, 35% third down conversion rate
2016 Kansas City Chiefs: 23.2 points/game, 332.5 yards/game, 5.4 yards/play, 35% third down conversion rate
Those are pretty similar numbers. The Broncos have an advantage in yards per game but otherwise they look very similar on paper. My opinion is that this KC offense can win a Super Bowl if they get a great performance out of their defense.
Let's move on to the second question about these Chiefs.
I don't think that there is any arguing that Andy Reid is one of the best coaches in the NFL. He's currently third in career wins amongst active coaches and since he's only a few wins behind Jeff Fisher its only a matter of time before he will be in second place behind Bill Belichick. His career winning percentage of .602 ranks higher than that of many Hall of Fame coaches including Bill Parcels, Chuck Noll, and Jimmy Johnson. The only thing Andy Reid is missing from his resume is a Super Bowl win.
So is there something about Andy Reid that prevents his regular season success from carrying over into the playoffs? Is Andy Reid a reason to believe in the Chiefs Super Bowl chances or a reason to doubt them? I think all of us have at some point criticized Reid for his play calling or clock management and deservedly so. He does sometimes overthink play calls and has made head scratching decisions regarding time outs. He is also one of the best teachers in all the NFL, a tremendous game planner who seems to be able to design plays to attack almost any defense, and is almost universally beloved by his players.
So again the question is do Reid's pros outweigh his cons when it comes to KC's Super Bowl chances? I believe that no matter how frustrated we as fans may be at certain play calls or clock snafus that Reid is still a HUGE plus for the Chiefs. The NFL head coaching position is often a revolving door and for a coach to have the sustained long term success that Reid has is proof that he is a positive.
Look, Andy Reid could make a decision in a playoff game that costs the Chiefs. However, even if that happens I believe that his leadership, knowledge, teaching skills, and game planning expertise still put the Chiefs at an overall advantage against most other head coaches. I mean, the Broncos won the Super Bowl with Gary Kubiak. Anybody want to make the argument that Kubiak is a better coach than Andy Reid? I'm sure not going to.
Bottom line is that while its easy to get frustrated in the heat of the moment on game day we all need to remember what Reid has done both in his career and in his time since arriving in Kansas City. The Chiefs have a great coach and while he has his flaws they are greatly outweighed by all the positives that he brings to the table.
Finally, let's talk about the defense.
The Kansas City Chiefs have relied heavily on the play of their defense in 2016 but is the defense up to the task of carrying the team to a Super Bowl win? While I made the case for Alex Smith and the offense being good enough to win a Super Bowl that came with a disclaimer that they would need a great defense to help them pull it off.
So do the Chiefs have a great defense or just an opportunistic one? Is there a difference?
Since we've been talking a lot about how the Chiefs compare to last year's Super Bowl winning Broncos team and that team was carried by their defense, it stands to reason that we should look at how the Chiefs defense stacks up with them.
2015 Denver Broncos: 18.5 points allowed, 283.1 yards allowed, 4.4 yards/play allowed, 35% third downs allowed, 1.69 turnovers/game forced, 56.5% red zone TDs allowed
2016 Kansas City Chiefs: 19.6 points allowed, 374.1 yards allowed, 5.5 yards/play allowed, 45% third downs allowed, 1.92 turnovers/game forced, 46.7% red zone TDs allowed
If you spent much time watching these two teams play over the past two seasons these numbers should come as no surprise. The Broncos of 2015 were much better at shutting teams down early in possessions. The difference in yards per game allowed is staggering with KC giving up 91 more yards per game. The difference in third down defense is just as staggering and again it clearly shows that teams are moving the ball much easier against the Chiefs. However, that huge advantage in yards and third down conversions is only making a difference of 1.1 points per game.
That is because the 2016 Chiefs defense is better at forcing turnovers and keeping teams out of the end zone after they get down into the red zone. The turnovers forced numbers aren't that drastic of difference but the red zone defense is. That is why I don't think you can dismiss this 2016 Chiefs defense as relying on turnovers. Yes, they do force a good amount of them, but the real strength of this defense seems to be their ability to shut teams out of the end zone. The win over the Raiders was a perfect example of that. The Raiders won the turnover margin by three and all three of those turnovers were in KC territory. However, the Chiefs only allowed six total points off of those three turnovers and that was the difference in the game.
Good red zone defense isn't "fluky". A team may not always be able to rely on forcing turnovers, but consistently good red zone defense is something that a team can rely on come postseason time. The Chiefs defense is also trending in the right direction as the season winds down. Over their past nine games since their bye week the Chiefs are only allowing 16.5 points per game. If they keep that up going into the playoffs this defense is absolutely good enough to carry this team.
No team is guaranteed anything once the NFL playoffs start and the Kansas City Chiefs still have work to do to lock up their spot (especially if they want to win the division and secure a first round bye). However, as I stated at the beginning of this piece I don't think you can make an intelligent argument that the Chiefs don't belong on the short list of Super Bowl contenders.
You can make a list of potential issues with every team in the NFL. The question isn't does a team have some issues because they all do. The question is if those issues are impossible to overcome. I've made my case for why KC's issues are not too big to overcome. I would add to those arguments that the Chiefs also have an X-factor come playoff time in that their special teams play may be the best in the NFL. When you factor all those things in I believe that the Chiefs Kingdom should be all in on these 2016 Chiefs. I don't know what will happen but I'm excited to see how things play out as the Chiefs chase what would be their first Super Bowl in my lifetime.
So what do you think Addicts? Are you believers in this team? Do you agree with my answers to some of this team's biggest questions? Do you think any one perceived flaw is too big to overcome? I'd love to hear your thoughts in the comments below.
As always, thanks for reading and GO CHIEFS!!!!!!!
More from Arrowhead Addict
This article originally appeared on