Can the Detroit Lions actually go 0-16… again?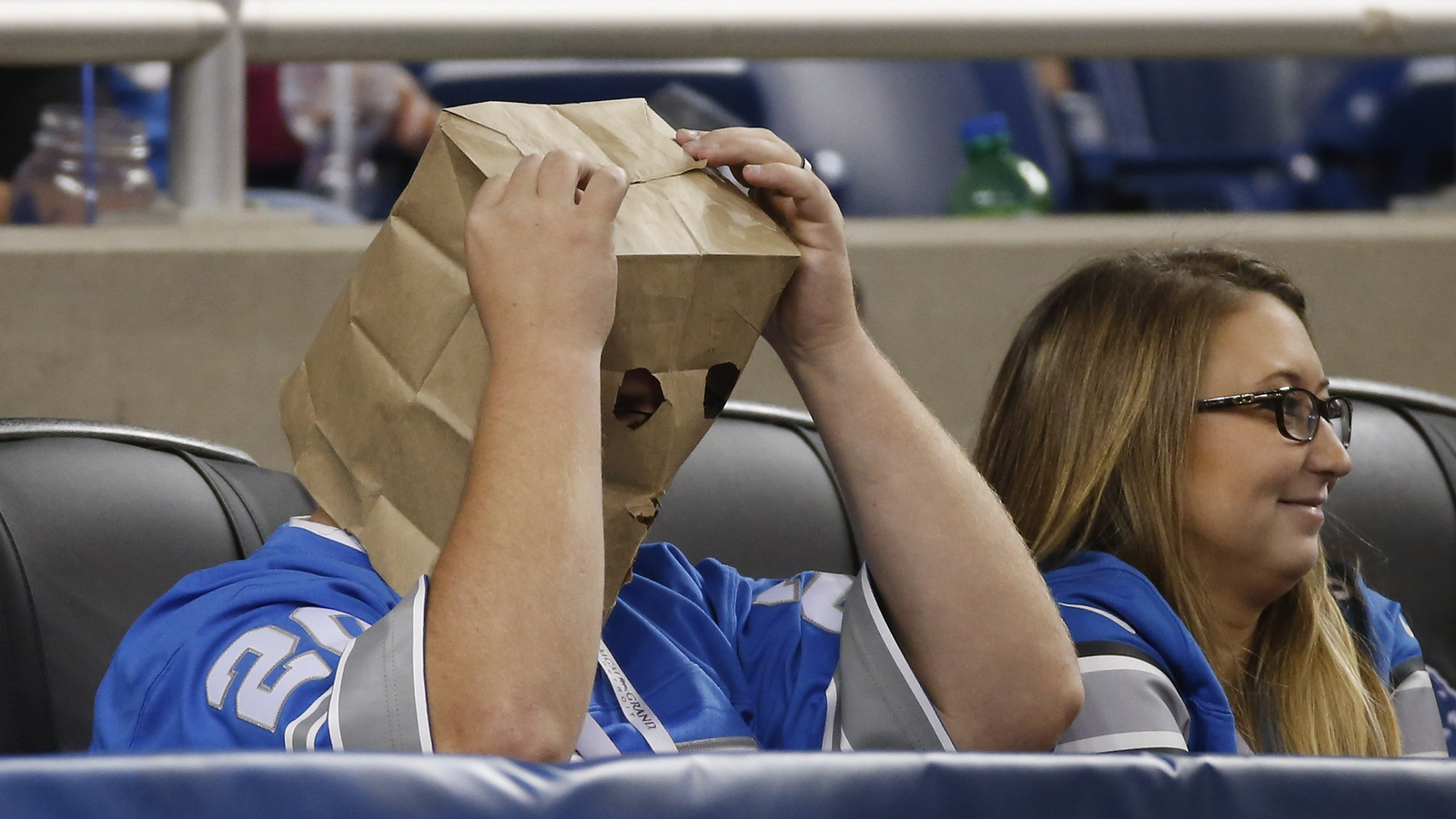 The 2008 version of the Detroit Lions remain the only NFL team to go through a 16-game schedule without winning a single game.
That season saw five different quarterbacks take snaps under center, including Dan Orlovsky and Drew Stanton. So when fans in Detroit witnessed both Orlovsky and Stanton actually see the field on Sunday, it had to bring back some horrific memories.
While the latter took over for Carson Palmer in a game the Arizona Cardinals had wrapped up, Orlovsky was called on to replace an ineffective Matthew Stafford in what would end up being a 25-point Lions loss.
If history did indeed repeat itself on Sunday, can it continue to follow the Lions for the remainder of the year — in the end, leading to another 0-16 campaign?
It seems like a dumb question. With the level of talent the Detroit possesses, it should actually be battling for a playoff spot this season. Here's a squad that was one bad call away from potentially heading to the divisional round of the playoffs last year.
Losing Ndamukong Suh to the Miami Dolphins in free agency was a big deal. Seeing Joique Bell not be able to participate in off-season activities after undergoing surgeries on his Achilles and knee was also a big deal.
Still, there was a reasonable expectation that Detroit could potentially make it difficult for the Green Bay Packers in the NFC North heading into the season. Instead, Jim Caldwell's squad finds itself with a 0-5 record heading into Week 6. It does so after putting up a humiliating performance in a 42-17 loss to the Arizona Cardinals last week. It does so with Matthew Stafford finding himself at a crossroads after being benched in that very same game.
The playoffs are obviously a lost cause here. Since the AFL-NFL merger in 1966, no team has earned a trip to the second season after starting the regular year with five consecutive losses. It's now all about individual players (and potentially a head coach) saving face in the remaining 11 games of the season. That in and of itself could force the Lions into a situation where the model of team continuity is thrown out the window — impacting the squad's ability to remain competitive on a consistent basis.
Outside of Caldwell actually losing his locker room (a real possibility), Detroit's remaining schedule isn't necessarily favorable to it finding a way to win multiple games. If this team loses to the Chicago Bears at home on Sunday, it will then be tasked with hosting a much-improved Minnesota Vikings squad and traveling to Arrowhead to take on the Kansas City Chiefs in order to avoid a 0-8 start heading into a Week 9 bye.
After that, it gets pretty brutal. In Detroit's final eight games, it will be tasked with taking on the Green Bay Packers (twice) and the Philadelphia Eagles. In addition to this, Caldwell and Co. will also have to travel to take on the the St. Louis Rams, New Orleans Saints and Bears as part of that eight-game stretch.
Realistically, Detroit's best opportunity to win a game comes this week against Chicago. After that, it's at home against the San Francisco 49ers in Week 16.
Everyone is going to want to place the blame on Stafford for the Lions' lack of success this season. An in reality, it's well warranted. Since taking over the starting job as a rookie in 2009, Stafford boasts a horrendous 3-32 record against teams that finish that particular season with a winning record, including an 0-18 mark on the road. This season alone, Stafford is 0-5 against squads that were projected to finish the year above .500.
The thought of quarterback wins — a stat that attempts to add credence to some sort of built-in narrative — is ridiculous. Just as Russell Wilson isn't the primary reason the Seattle Seahawks have earned two consecutive Super Bowl appearances, Stafford shouldn't be the fall guy for Detroit's lack of success this season.
In order for a team to start 0-5, and for an article like this to even be considered legitimate in mid-October, there has to be a whole heck of a lot going on. Quarterback is just one piece of that five-week old pie that now has a toxic look to it.
From an offensive scheme that refuses to utilize Calvin Johnson to the best of his ability to a running back situation that's the worst in the NFL, there's a lot of blame to go around here.
How in the world can the Lions coaching staff see Johnson lined up against Richard Sherman on a consistent basis in Week 4 and decide not to line him up on the opposite side of the field against Cary Williams?
At running back, rookie Ameer Abdullah was benched Sunday after fumbling two times. While he may continue to ride the pine, Detroit is looking forward to getting Joique Bell back into the fold after he's struggled with early-season injuries. That's until we realize Bell has fumbled nine times in the past two seasons.
Outside of that, the only other option here is a rookie in Zach Zenner — a preseason sensation that likely isn't much more than that.
Defensively, the Lions have given up 345-plus yards in each of the first five games. This comes on the heels of the team yielding that many yards just six times last season.
When your offense can't move the ball on the ground (dead last in the NFL) and you turn the ball over at a ridiculous clip (15 times in five games), you are going to lose a ton of football games. Add in a defense that has regressed and a horrendous coaching performance from a schematic standpoint, and you find yourself in the situation the Lions are heading into Week 6.
Unless Detroit can find a way to win one of its next three games prior to a Week 9 bye, the talk will definitely turn to whether this team will actually win a game this year.
With a favorable home game against Chicago coming up, maybe the Lions will find themselves on the right side of the ledger for the first time all year. If not, questions will be raised about Caldwell's job security, Stafford's presence as the team's quarterback moving forward and the Lions' own ability to win a darn football game.
While we can stop short of saying the Lions can go through the entire 2015 season without a win, these factors listed above tell us a story of a team that is a hot mess heading into mid-October.
Check out Vincent's other work on eDraft.com and follow him on Twitter @VincentFrankNFL
More from Yardbarker: