Can Beckham Make Huge Impact On Giants Special Teams?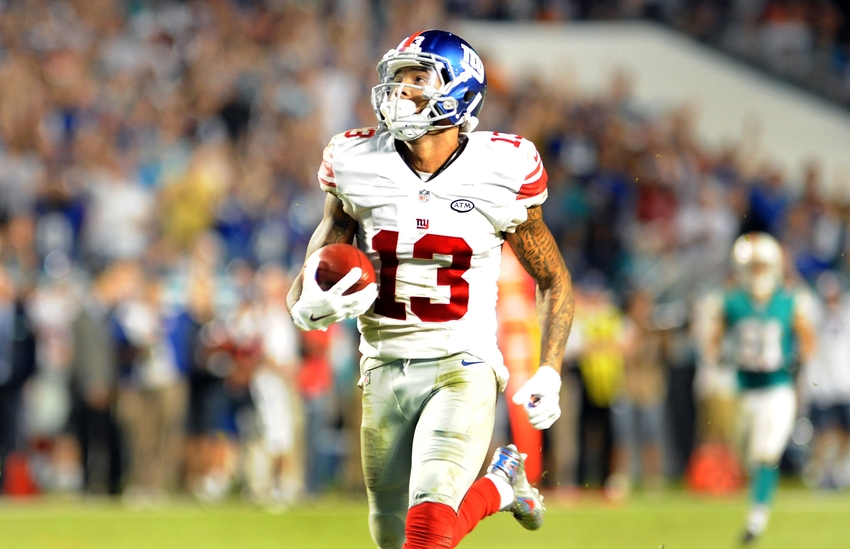 At this point in the season, the New York Giants must go to battle with the hand that general manager Jerry Reese dealt them. Perhaps the team gets running back Shane Vereen back from his triceps injury. But other than a potential Vereen return, the die is cast on offense and defense. One area where an upgrade can take place is on special teams. Can play-maker extraordinaire Odell Beckham, Jr. can be the tonic that invigorates that dormant unit?
Not So Special Teams
A brief look at the special teams return statistics shows a struggling unit. According to NFL.com, the G-Men are ranked 31st in both average kickoff and punt return average. New York averages only 6.1 yards per punt return, with a long return of 22 yards. They average 19.0 yards per kickoff return, with a long of 42 yards.
Dwayne Harris, signed last year in large part for his special teams explosiveness, has handled only 16 punts this season. Harris averages 6.4 yards per punt return, according to ESPN. Last season Harris averaged 10.0 yards per return on 34 punt returns. To get to the same number of returns as last season, Harris will have to average almost four punt returns per game.
In a smaller sample size of six returns, Bobby Rainey has not been much better. Rainey averages 6.5 yards per punt return, with a long of 15 yards. He also had a potentially crucial fumble last week against the Cleveland Browns.
Einstein defined insanity as trying the same thing over and over again, and expecting a different result.
Can Beckham Rescue Special Teams?
According to his LSU biography, Odell Beckham, Jr. earned the 2013 Paul Hornung Award as college football's most versatile player. He was also an All American kickoff and punt returner in college.
The New York Daily News indicated on Nov. 28, 2016 that head coach Ben McAdoo would not commit to having Beckham be the permanent punt return specialist. Then again, vocal commitment has not been the hallmark of the McAdoo-era either.
"We'll take a look at it. We'll talk to him in the game plan meetings this week," McAdoo said.
The lack of return yards is one thing, but ball security must be a given. This is where both Rainey and Harris have lost the confidence of the coaching staff.
"He's sure-handed back there," McAdoo said of Beckham, knocking on the wooden podium. "He's electric with the ball in his hands."
That's a combination too difficult for McAdoo to pass up.
More from GMEN HQ
This article originally appeared on