Cameron Erving fighting back against Cowboys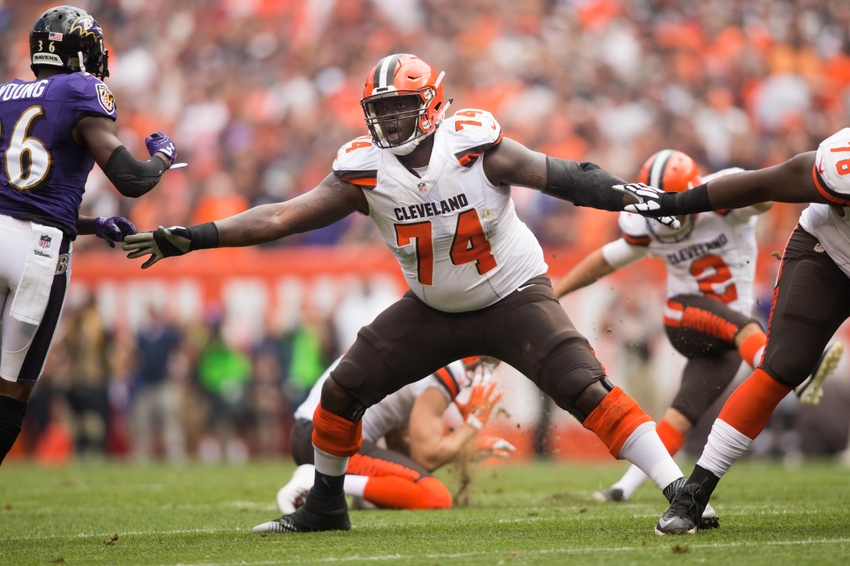 The Cleveland Browns lost big to the Dallas Cowboys. The lone bright spot was the ejection of Cameron Erving for fighting.
The Cleveland Browns put forth yet another clunker of a game against the Dallas Cowboys. But let us be honest, we all expected the Browns to lose in the fashion they did. To drone on about how bad the game was is pointless.
Instead, let us focus on the one spectacular moment that should give all Browns fans hope for the future. Cameron Erving was ejected along with David Irving for fighting. It was the singular moment of the game in which the Browns chose to fight back.
The play came on a third and eight on the opening drive of the game. The Browns were on the Cowboys 13-yard line looking to score. Cody Kessler took the snap from shotgun. The Cowboys only rushed three, dropping eight into coverage.
When it became clear no one was open, quarterback Cody Kessler scrambled to his right leaving the pocket. He was immediately chased by defensive lineman David Irving and linebacker Justin Durant. They chased Kessler as far as the numbers before Kessler decided to reverse direction and run toward the other side of the field.
Meanwhile, Cameron Erving was blocking David Irving at the snap. Erving was set to protect a position directly behind him. He did an effective job. When Kessler took off, he had no choice but to let Irving follow.
However, Erving made a very intelligent play by following David Irving as he pursued Kessler. When Kessler reversed directions, Irving turn his body to pursue when Cam Erving absolutely leveled him. A review of the tape clearly shows that the hit was clean and legal. Erving's hit came when Irving was directly facing him. Irving had time to brace for the hit.
"He came at me on the blind side," Irving said after the game. "We wound up wrestling around, I wound up on top. I tried to get up a couple times. He was actually holding me down a little bit. Then it escalated. The refs came, teammates came, it escalated, I wound up getting my helmet ripped off. No hard feelings, it's football. It happens."
The hit was vicious, knocking Irving off his feet to the ground. But the hit was legal and, quite honestly, exactly the type of play any coach wants to see an offensive lineman make. It took great effort, a strong desire to protect the quarterback and a diabolical mean streak. Most importantly, it sent the message every offensive line must send to a defense: we control this game, you will do as we dictate.
To understand why this was the singular most interesting and best play of the entire game, one must first understand that the Browns are the absolute laughingstock of the NFL right now. Nobody wants to be the one who got beat, or blocked or knocked down or in this case, taken to the school of hard knocks by the Browns or Cameron Erving.
David Irving's pride was hurt that he got legally smashed by Cameron Erving. He then proceeded to start a fight with Erving by punching him repeatedly on his helmet. This action alone should have gotten David Irving ejected.
Cam Erving's response to David Irving's fighting is the real gem of the play.
The Browns are 0-9 and are well on their way to "0 and 16 in 2016". This team has taken so many lumps, beat downs and butt kickings it would be normal to expect them to take this butt kicking in stride, to simply roll over and take it one more time.
The only reason David Irving had to start a fight was embarrassment. He was embarrassed that Cameron Erving of the Cleveland Browns just gave him a beat down. He was determined to set the Browns and Erving back into their place as the losers of the NFL. He was determined to show Erving who was the master and who was the servant. Normally the Browns just take it without saying much.
But not Cameron Erving – not today.
Say what you will about Erving's play, he has been heavily criticized and rightfully so. But on this day, on this play, Cameron Erving fought back. He would not simply take another beating. He would not roll over and let David Irving punch him around. No! He had enough. He was going to fight back.
Yes, the fight itself was stupid. It got his team a personal foul penalty. More importantly it got Cameron Erving ejected. No, he cannot continue to get kicked out of games. He knows this.
"There is a chance Cam would have probably stayed out there if he did not throw the helmet. He has to keep his poise," Browns coach Hue Jackson said. "That is one thing I talked to him about when he came over. Let us not retaliate because somebody is doing something. You have to be smart enough to hold your cool because it hurts our football team. We can't afford to lose a guy that is a starter."
On the other hand, it is about damn time someone fought back! The only way the Browns are going to get out of the role of the losers of the NFL is to fight back. Cameron Erving, by choosing to fight back, has given Browns fans something to cheer for. In fact, fans should thank Erving by starting a GoFundMe account to pay any fines Erving might accumulate for Sunday's fight.
If no one else, Cameron Erving will fight back against the loser label. He will fight back against the idea that the Browns are the losers of the NFL.
It is this fighting spirit that justifies rooting for this team the rest of the year.
Fight on Cameron Erving! Fight on!
More from Dawg Pound Daily
This article originally appeared on