Cam Newton's post-game clothes are ridiculous (Photo)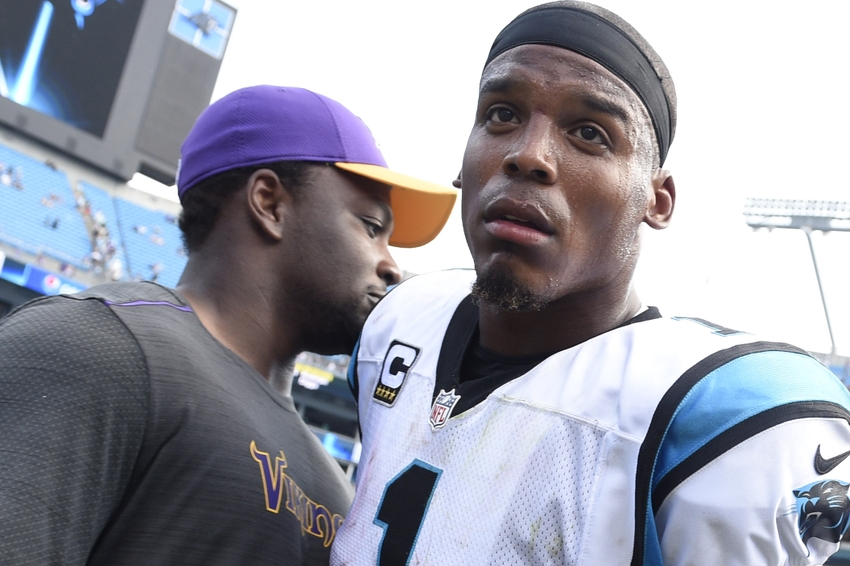 Cam Newton looked like a cross between the Mad Hatter from Alice in Wonderland and Fred Flintstone with his crazy post-game getup after Sunday's loss.
The Carolina Panthers got smoked at home in Week 3 to the Minnesota Vikings, 22-10. This was the Panthers' first loss in Charlotte in a year and a half. Quarterback Cam Newton looked dreadful with three awful interceptions, but not as bad as he did during the post-game press conference.
Newton is known for his ultra-confident demeanor on and off the field. He has so much fun playing football that it can come across as arrogant on occasion. Newton loves to wear ridiculous clothing just like Oklahoma City Thunder point guard Russell Westbrook does in the NBA.
So much going on here… pic.twitter.com/NuTm2w9Kpf

— The Cauldron (ICYMI) (@CauldronICYMI) September 25, 2016
Newton must have felt supremely confident to wear what he did on Sunday afternoon, especially after getting crushed by the Vikings. Not that Newton guaranteed a victory over the Vikings or anything, but looking like a cross between the Mad Hatter from Alice in Wonderland and Fred Flintstone has to say he felt pretty good about a Panthers' win on Sunday.
More from FanSided:
10 Best NFL QB/Head Coach combos
10 craziest NFL fan bases
Each NFL team's best draft pick
This isn't the first time that Newton will wear something on the cutting edge of fashion to a Panthers press confidence, nor will it be the last. However, when was the last time somebody wore something this heinous after being sacked eight times in a game and pick off thrice? Let's just say that Sunday was a first.
Carolina will enter Week 4 at 1-2. If either the Tampa Bay Buccaneers or the Atlanta Falcons win during Week 3, Carolina won't be in first place in the NFC South. The Panthers will have to travel south down I-85 to play the Falcons in Atlanta next Sunday at the Georgia Dome. Last season, the Panthers' lone regular season loss came at the Georgia Dome to the Falcons.
This article originally appeared on