Cam Newton: Broncos' Darian Stewart and Brandon Marshall fined for head shots on Cam Newton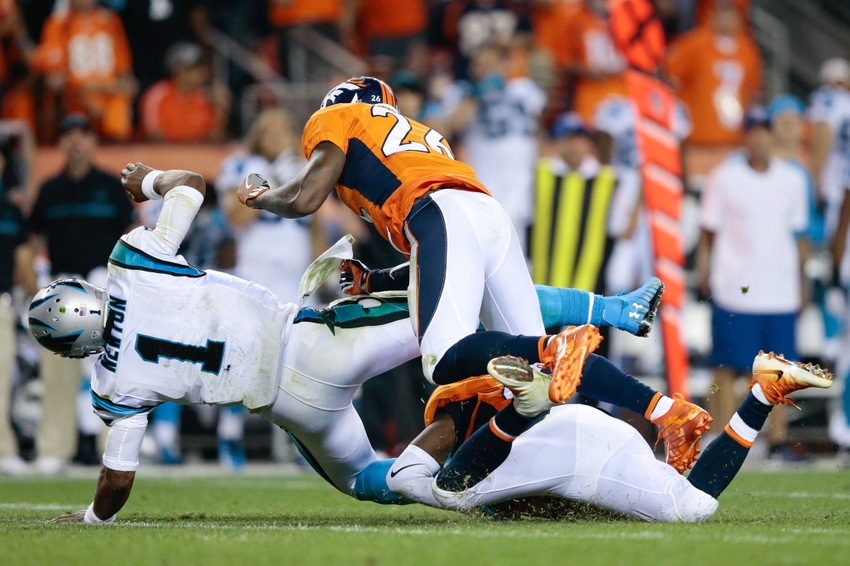 The NFL has finally acted to fine two of the hits leveled against Cam Newton's head against the Broncos.
Last Thursday night, the Denver Broncos defeated the Carolina Panthers 21-20. Panthers' placekicker Graham Gano missed a field goal with a few seconds left in the game. Some people, including myself, believe this game was mismanaged by the officials due to the frequent hits to Cam Newton's head that were not called.
The people who share this belief have their wishes granted. According to a source who told ESPN, Broncos' safety Darian Stewart (No. 26 shown above who hit Cam Newton) was fined $18,231 for hit to head on Panthers' quarterback Cam Newton. Broncos' linebacker Brandon Marshall was fined $24,309.
Call it 'a day late and a dollar short.' These non-calls by the referees influenced the outcome of the game. Nearly a week later, the NFL wants to put their foot down when the damage has been done already.
Add insult to injury (literally more so than figuratively), the NFL is looking into concussion protocol on Cam Newton. It is quite possible that the Carolina Panthers may get fined amidst all of this mularkey. What about the referees? Yes, they have a tough job, but shouldn't they receive fines for their non-calls?
In regards to the game, it was obvious that the Denver Broncos were targeting Cam Newton. Hitting a quarterback is one thing, but hitting a quarterback in the head is different. The non-calls by the referees illustrated a lack of respect for Cam Newton, the reigning NFL MVP from last season.
In addition, the non-calls showed how trivial the well-being of the football players are considered during the game by the referees. Retroactive fines for players is fine, but when these occurrences determine the outcomes of games, then there needs to be harsher consequences.
More from Old North Banter
This article originally appeared on