C.J. Prosise Drawing Lofty Comparisons in Seattle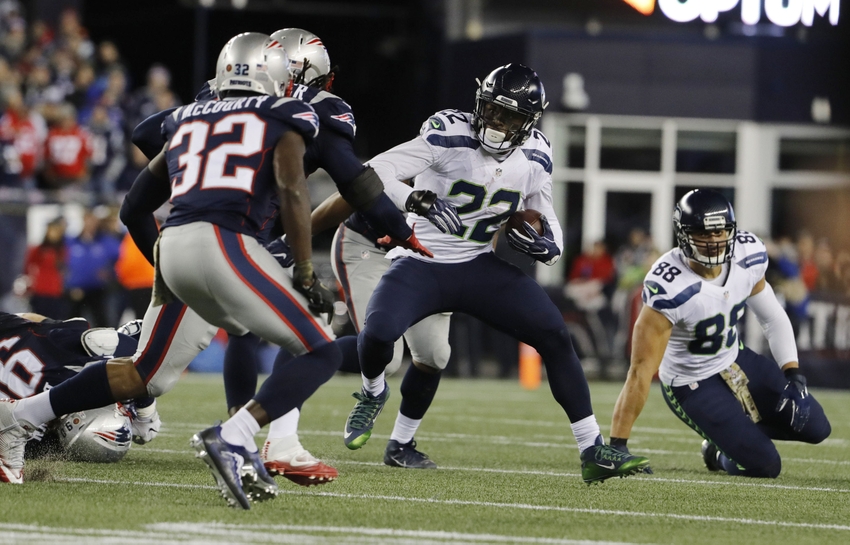 The Seattle Seahawks drafted RB C.J. Prosise in the third round of the 2017 NFL Draft. And now, the team is making room for him as he draws lofty comparisons.
C.J. Prosise looked like a good RB prospect to me when I saw him at Notre Dame. He has great vision, patience, can change direction quickly, break tackles and blocks well. And that's before I mention the former WRs ability in the passing game.
At 6'1″, 220 pounds, he also has the size to take the pounding so he is a bell-cow type RB. But the first year into Marshawn Lynch's retirement, the Seahawks wanted to run the ball by committee. And you guessed it, Prosise was in the back of that committee.
The Seahawks didn't use him much in the first nine games of the season. But in the 10th game of the season, Prosise had a huge impact, the kind that led to Christine Michael getting cut. And it just might be the type of impact that makes him the bell-cow in Seattle.
During the first nine games, Thomas Rawls proved that he gets broke off (injured) too much. And Michael didn't have the patience to let the play develop. Rawls is ready to return from his latest injury and Michael is gone so Prosise may be ready for Prosise status.
He's drawing lofty comparisons too as WR Doug Baldwin told ESPN.com, "He reminds me a little bit of Arian Foster, just with his ability to make plays outside of the box and in the passing game. Similar to Matt Forte as well. But he's also a very aggressive runner.
"So he's got a lot of talents to him." That's huge for us because it adds another element that defenses have to account for. And when you add that to it, it opens more things up for myself, for Jimmy [Graham], for Jermaine [Kearse] and Tyler [Lockett] and Paul Richardson.
"And it's going to be very hard for defenses to stop us if you add that element to it."
We'll that is what it looked like against the New England Patriots in Week 10!
More from With the First Pick
This article originally appeared on