Buy or Sell: Oakland Raiders vs. Carolina Panthers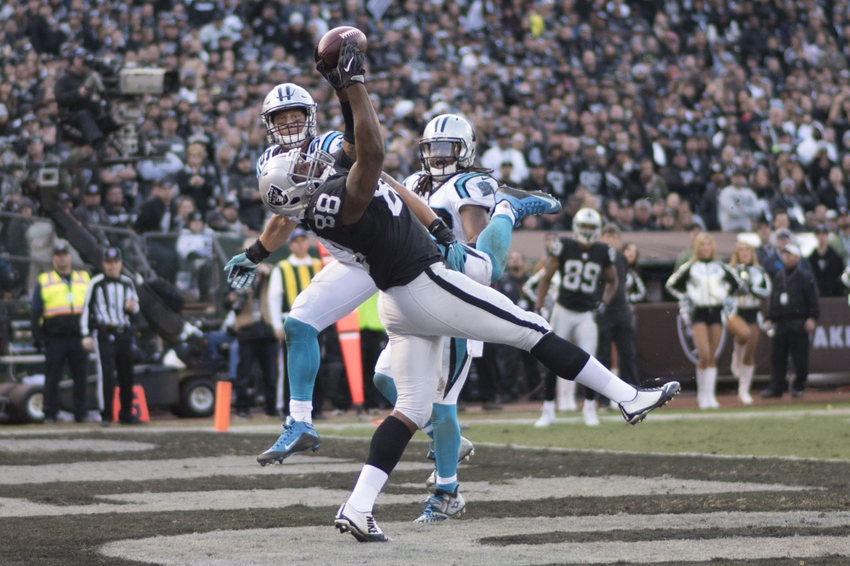 The Oakland Raiders (9-2) rallied back from an eight-point deficit in the fourth quarter to ultimately bring down the Carolina Panthers (4-7), 35-32, picking up their fifth consecutive win and their first winning season in 14 years.
In what some are calling the Pinky Game, the Oakland Raiders rode a roller coaster of emotions and misfortune before finally finishing the game on top.
Now on the cusp of a postseason run, we take a look at the legitimacy of this historic Raiders team.
A statement will be given, and the answer will be given in a Buy/Sell format.
Khalil Mack and Bruce Irvin are Exceeding Expectations
Buy.
After getting off to a relatively slow start, Raiders edge-rushers Khalil Mack and Bruce Irvin have hit their stride just over halfway through the season, and they have yet to reach full speed.
With just under a minute left in the contest, Mack stood tall against former NFL MVP Cam Newton and Carolina's dangerous offensive attack, putting a halt to the Panthers' efforts with a strip-sack on 4th down with just under a minute left in the contest.
Mack offered his condolences to Newton in the only way any defender should.
Former University of Miami (Fla.) receiver and longtime Washington Redskin Santana Moss said it best.
"Big time players make big time plays in big time games."
Prior to his game-clinching takedown, Mack had five solo tackles, three QB hits, an interception and a touchdown, propelling him even further into the DPOY conversation.
After returning his second quarter interception for his first career touchdown, Mack added to the milestone with his first career leap into the Black Hole, leaving his counterpart Irvin eager to make a big play.
Because he wasn't able to find his way into the end zone, Irvin's leap into the sea of silver and black is still on hold, but the first-year Raider did leave his mark.
Irvin bullied every tackle that stood in his path, accumulating four combined tackles, three QB hits, and a sack.
Outside of Mack and Irvin, the Raiders' defense has dropped the ball on multiple accounts, but Mack, Oakland's unparalleled leader on the defensive side of the ball, will continue to do everything in his power to perfect his defense.
"You can tell there's a lot of things we need to work on," Mack said, via Raiders.com. "I'm a perfectionist. Whether it's communication, whether it's coverage and filling holes on run downs. It's all those things that you think about and I can't help but think about that even though we did get the win. There's a lot of corrections. We have to help this team defensively a lot more."
Great players make their teammates look better. Mack and Irvin should continue to do just that.
Send Derek Carr's Glove to Canton
Biased Answer: Buy; Realistic Answer: Sell,
 Because it was merely a regular season matchup, the infamous glove that Raiders quarterback Derek Carr wore to shield his banged-up pinky in the second half likely won't see the field again let alone Canton. However, his performance remains a Hall of Fame effort.
In the conversation for this season's MVP honors, Carr completed 26 of 38 passes for 315 yards and two touchdowns despite playing nearly the entire second half with a recently dislocated pinky and glove on his throwing hand.
The former Fresno State product had a moment, and in said moment, he thrived, effectively pushing his MVP campaign to new heights.
"I think the personality of this team is this- I've said it before and I'll say it again, because I really believe in it and mean it, Coach Del Rio taught us how to compete last year and we learned that," Carr said when asked if there is a "no excuse" personality with the team now. "This year, we're learning how to win and what it takes. There were so many PowerPoint presentations we saw in the off-season of just little situational football- and that matters. What it takes to win in those situations, decisions you have to make during that time, I really believe in that process he created. I believe that our identity is just a team that works hard and believes in one another."
Carr revealed veteran grit on Sunday in his willingness to get back on the field, rejoining his teammates in the huddle to do more than just compete. He knew the win was within reach, and he grabbed it, glove and all.
Clive Walford's Role Should Continue to Expand
Buy.
With backup offensive linemen Menelik Watson and Denver Kirkland seeing snaps at tight end to give Oakland's offense added help when run blocking and in pass protection, some have lost sight of 2015 third-round pick Clive Walford.
Beneath a positive light, the former University of Miami (Fla.) product made his way back into the eyes of the Raider Nation with his efforts against Carolina.
Walford brought in just three of four targets for 43 yards, but he turned his final two receptions of the affair into career defining moments.
Trailing by eight points in the fourth quarter, Carr converted a long third down attempt with a 14-yard pass to Walford to extend the Raiders' comeback efforts and push their offense inside the red zone. Just one snap later, Walford bested his defender in the air for a 12-yard score, allowing Oakland to ultimately tie the contest with a successful two-point conversion.
Previously knocked for his inconsistent hands, Walford has experienced his fair share of scrutiny within his sophomore season with Oakland, but he assuredly landed on the Raider Nation's good side after his heroic efforts, leaving the door open for his role to expand towards the end of the season. 
Matt McGloin Earned his $2.5M Salary
Buy.
Carr went down with what looks like a significant injury to his throwing hand, pushing backup quarterback and former undrafted free agent Matt McGloin to make his season debut on the following series.
With an 11-point lead and just over 10 minutes left in the third quarter, 95 percent of the fans in attendance failed to find even a slight silver lining in McGloin's return to the gridiron.
The other five percent that still has strong feelings for the former Penn State product whispered, "he's got this."
Their optimism was short-lived, as McGloin failed to produce a first down on his only drive on the contest, leaving the game with a bang after taking a jaw-dropping hit from the blindside from Panthers safety Tre Boston as he released the ball.
"Hey Carr is your finger good yet?" Matt McGloin #CARvsOAK pic.twitter.com/3lVpkbhDaU

— @tzb3 (@tzb3) November 27, 2016
After peeling himself off the turf, McGloin lucked out, as Carr ignited a standing ovation from the crowd with his return from the locker room, leaving McGloin to feel much safer on the sidelines.
Because he avoided turning the football over and took a devastating hit in Carr's absence, McGloin has already earned his $2.5 million yearly salary. He might need to allocate a significant portion to seeing a chiropractor, though.
Raiders Can Have Deep Postseason Run Without a Strong Ground Game
Sell.
For the second consecutive week, Oakland struggled to get anything going on the ground, as their once dominant, bruising rushing attack looked much more like a one-sided pillow fight, and the Raiders didn't even have the top bunk.
Raiders lead back Latavius Murray had some success in short yardage situations late in the game, but he finished the contest with just 45 yards on 19 carries (2.4 yards per carry) and a touchdown.
With fellow Raiders running back DeAndre Washington missing the game as a healthy scratch, Oakland's Jalen Richard filled in as the primary backup, and even he couldn't provide a spark on the ground.
Richard carried the ball seven times for 23 yards.
With opposing defenses making a clear effort to attack the Raiders' offensive line in the run game, Oakland's offense has suffered at times, and though Carr and company are capable of getting the job done solely through the air, having a one-dimensional offense will cost the Raiders in the postseason.
In Oakland's dominant offensive performance against the Denver Broncos earlier this season, Murray eclipsed 100 yards rushing and added three touchdowns to his stat line, and his teammates followed suit, pushing the Raiders' rushing total to a season-high 218 yards.
If Oakland hopes to have success against some of the elite run defenses in the AFC beyond the regular season, they must look to make the necessary adjustments to get the "Tay Train" back on track.
http://justblogbaby.com/2016/11/28/oakland-raiders-bringing-true-meaning-to-just-win-baby/
This article originally appeared on