Buffalo Bills: Who are fans voting as this year's offensive MVP?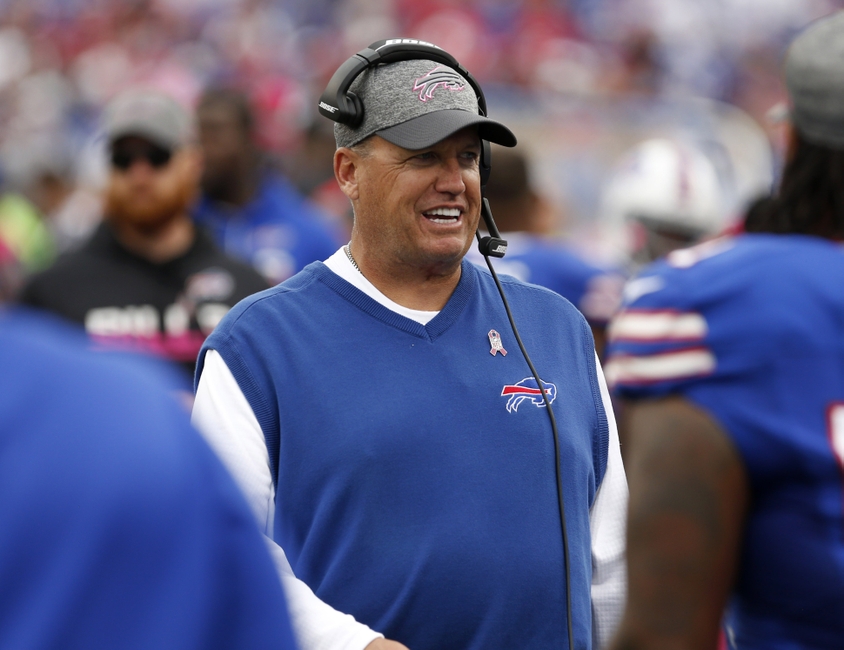 BuffaLowDown took to Facebook to see who the fans are voting as this year's Buffalo Bills' MVP so far this season. The results are…
No, it's not Rex Ryan.
The Buffalo Bills' offense has seen their fair share of ups and downs this season. While the running game flourishes, the passing game is limited with a depleted wide receiving crew.
After the Bills defeated the Cincinnati Bengals 16-12 on Sunday, BuffaLowDown took to social media in order to find out who the fans are voting to be the Bills' offensive MVP through 10 games this season.
We broke the decision down to four different players for fans to vote on: Tyrod Taylor, Eric Wood, LeSean McCoy and Richie Incognito. They were all well-deserving of the award after 10 games, but only two of the candidates have played in every game.
Injuries have bugged the Buffalo Bills all season long and have definitely changed the way this offense operates. Without their top weapons on offense, they have to change gameplan completely and it has basically become a weekly thing at this point.
However, with the amount of talent in this league, injuries can't be an excuse for any team because it's up to the next man to step up when needed. That hasn't completely been the story for the Bills in all areas.
Back to the vote.
Out of 47 total votes, I must say it was quite a landslide victory. Let's start with the Fourth Place winner:
4th Place
Richie Incognito – Left Guard
One of the main reasons the Buffalo Bills have the running game they have is because of their offensive line.
I don't know if you've noticed it, but just about every time the Bills' run the ball their seems to be a hole. A lot of that is made possible because Richie Incognito never seems to stop moving.
He's everywhere, helping LeSean McCoy, Mike Gillislee or Tyrod Taylor bust through the opponent's front seven. He's easily one of the hardest workers on this team and deserves every bit of credit he receives.
He also continues to shape himself into a great example for the youth in his community and continuously shows his support for our military, military families and veterans. He's one of the great leaders on this offense, as well as off the field.
Incognito placed fourth in this list with just 3 votes, but there's no doubt he's a leader on this Buffalo Bills' offense.
Let's move on to the third place finisher.
Who placed third in this year's offensive MVP race after 10 games this season?
After Richie Incognito's three votes, 44 remain between Eric Wood, LeSean McCoy and Tyrod Taylor as we start to figure out who the Buffalo Bills' offensive MVP has been so far this season.
After closing the polls, Eric Wood came out in third place in front of Incognito.
3rd Place
Eric Wood – Center
Eric Wood is another leader on this offense that helps it move and run the ball they way the Buffalo Bills do. He's one of the many colorful personalities on this offensive line and is a big reason we sport one of the top offensive lines in the league.
The Bills drafted Wood out of Louisville in the 2009 NFL Draft — with the 28th pick in the first round. Ever since, he has become one of Buffalo's most dependable and talented players.
Unfortunately, Eric Wood suffered a broken leg in the Bills' Monday Night Football matchup with the Seattle Seahawks right before the team's bye week. He had surgery on the leg immediately and was ruled out for the rest of the season.
It was a huge blow to this offense, who relied on his abilities at center heavily. The team is now forced to rely on Ryan Groy at the position, who played 65 snaps vs. the Cincinnati Bengals last week — 100% of the team's offensive snaps.
Eric Wood will be heavily missed the rest of the season, as the Buffalo Bills prepare for a chance at a late run for the playoffs. He placed third in our Offensive MVP voting through 10 games with 6 votes.
Richie Incognito and Eric Wood combined for 9 of the 47 total votes. That leaves 38 votes remaining between Tyrod Taylor and LeSean McCoy. Let's see who the runner-up was.
Who placed second in this year's offensive MVP race after 10 games this season?
It was expected that this race would be won by either Tyrod Taylor or LeSean McCoy. The two faces of this offense — with Sammy Watkins being another one — are sure to be the fan's favorites this season.
With 38 votes left, Tyrod Taylor took 14 of them to secure second place in the voting.
2nd Place
Tyrod Taylor – Quarterback
Tyrod Taylor has received a high amount of criticism this season for not living up to his expectations. Sure, there are a few areas that he needs to improve on, but he's got a few traits about him that most quarterbacks can't say they've mastered.
There's no doubt Tyrod Taylor is the most mobile quarterback in the league and can give himself extra time moving out of the pocket — that's when he doesn't decide to just take the ball himself. With his help, the Buffalo Bills' own the No. 1 rushing attack in the league. He has 401 yards rushing on 63 carries this season, including 4 touchdowns.
Although his rushing does effect his potential through the air, averaging 6.3 rushing attempts per game to just 18 passing completions per game.
One thing he does very well is not turn the ball over. Whether it's due to his accuracy or due to not being extremely aggressive, not turning the ball over is a good habit to get into. Since becoming the Buffalo Bills' starter, he has only been intercepted 10 times in 24 games (4 INT this season).
Because of the way Tyrod Taylor works on the field, the Bills are one of the scariest offenses to face due to the versatility of their offense. Just watching it on the TV is fun because you see all the different formations they run and for being in his second year as this team's starter, you have to give Tyrod Taylor a lot of credit for being able to run this offense the way he does.
Most quarterbacks wouldn't be able to work in this offense and that's why the Bills need to continue to build around him.
That brings us to our Offensive MVP through 10 games…
Who placed first in this year's offensive MVP race through 10 games?
With Richie Incognito getting 3 votes, Eric Wood getting six votes and Tyrod Taylor grabbing 14 votes, that left one Buffalo Bills' player with a whopping 24 votes!
If he can stay healthy these last six games, there's a chance he carries this on through the end of the season.
First Place
LeSean McCoy – Running Back
LeSean McCoy is not the leading rusher in the NFL, in fact he is 483 yards away from that crown.
However, there could be a debate that if he hadn't missed as much time this season due to injuries, then he could be in that chase up there with Ezekiel Elliott (1,199 yards) and DeMarco Murray (1,000 yards).
Right now, McCoy sits at 716 yards on the season and 9th in the league in yards this season. Looking at the rest of the top-10, though, he has the least amount of attempts (138 attempts) and the second-best yards per carry average.
If McCoy were to have as many attempts as David Johnson (197 this season), then McCoy would have a total of 1,024 yards. That would put him second behind Elliott and move Murray to third. Keep in mind, that 197 attempts would still be less than Elliott's number of attempts this season (243) and Murray's (212).
Just for giggles, if he was given 243 attempts like Elliott, he would have a whopping 1,263 yards — 64 better than Ezekiel.
LeSean McCoy also added 7 rushing touchdowns so far this season (tied for 7th in the league) and 7 rushes of more than 20 yards (third in the league). With only one fumble this season, he has helped attribute to the team's incredible ability to hold onto the football. Many people forget the importance of that.
McCoy has proved that he is still a threat in this league — a big threat — but now he has to prove that he can stay healthy. He could be one of the best backs in this league, but it doesn't do anyone any good if he's not playing.
It looks like he'll be ready to go against the Jaguars on Sunday after dislocating his thumb last week. We'll need his talent to bring home a win and keep playoff hopes alive.
More from BuffaLowDown
This article originally appeared on