Buffalo Bills: Who are fans voting as this year's defensive MVP?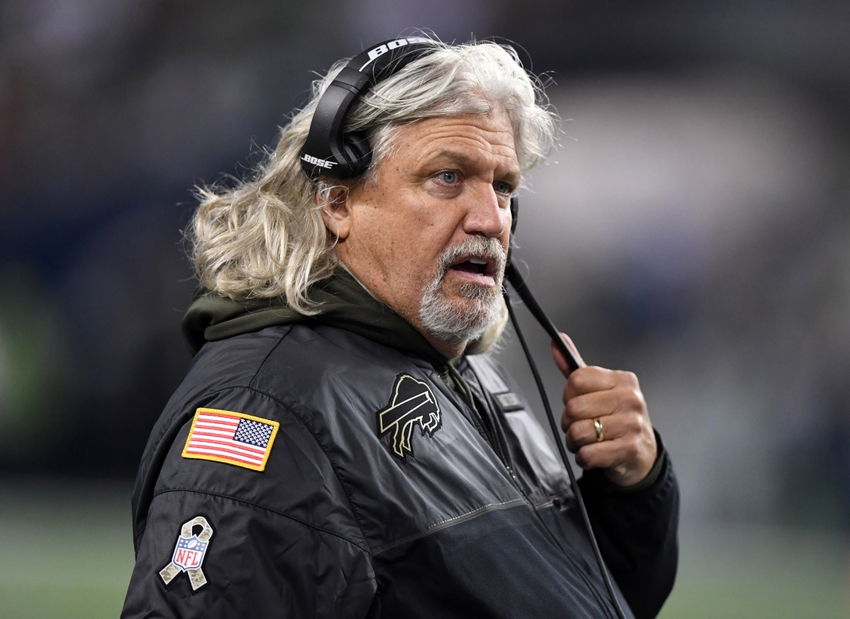 BuffaLowDown took to Facebook to see who the fans are voting as this year's Buffalo Bills' defensive MVP so far this season. The results are…
No, it's not Rob Ryan.
The Buffalo Bills' defense — much like the offense — has seen their fair share of ups and downs this season. The front seven has done their part on a consistent basis, while the secondary has failed to meet expectations this year.
After the Bills defeated the Cincinnati Bengals 16-12 last Sunday, BuffaLowDown took to social media in order to find out who the fans are voting to be the Bills' defensive MVP through 10 games this season. After several days of accumulating votes, we have the results.
The decision came down to four different players on the Bills' defense, none of which were members of the secondary: Jerry Hughes, Zach Brown, Kyle Williams and Lorenzo Alexander. They were all well-deserving of the award after 10 games and have easily been the some of the most reliable guys on this team.
Much like the offense, the defense has sustained a large number of injuries. Luckily, most of the injuries to the defense occurred before the regular season started — giving the backups time to adjust to the starting position. In fact, two of those backups (free agent pick ups this summer too) were nominees for our defensive MVP voting. Nice job, Whaley.
With the offense, the Buffalo Bills have had difficulty replacing their injured players — with the exception of Mike Gillislee, who has been the perfect replacement for LeSean McCoy. On defense, the next man up has always stepped up and it's part of what makes Rob Ryan's defense so fun to watch.
Back to the vote.
Our voting for the defensive MVP had a much better turnout than the offensive one and featured a total of 110 votes — more than double of the offense. And this one was an even bigger landslide victory. Let's start with the Fourth Place winner:
4th Place
Jerry Hughes – Linebacker
Jerry Hughes found himself listed as an "honorable mention" for the league's MVP race early this season. He came out hot and has proven that offenses need to keep an eye on him and make sure their gameplan includes containing him.
That's always important for any defense — making the offense gameplan around you, not the other way around.
Jerry Hughes has been a very reliable part of this defense for the past three years. He hasn't missed a game since joining the Buffalo Bills and has continued that streak this season.
Part of what started the MVP talk early this season was his play through the first four games. He recorded 4 sacks, 16 tackles and one pass defended during that stint and was constantly making important plays for the Bills.
Since then, he has struggled to bring that "wow" factor, but has still made some important plays from time to time. In the next six games, he would only record one sack and 14 tackles, but did force a fumble vs. the Rams and blocked a punt vs. the Seahawks.
Jerry Hughes has slowed down a bit, but the attention he demands is a big reason why Zach Brown, Lorenzo Alexander and others continue to flourish with this team. He deserves a lot of credit for what he's done this season, which has become the expectation year-in-and-year-out.
Hughes placed fourth in this list with just 7 votes, but there's no doubt he's a leader on this Buffalo Bills' defense.
Let's move on to the third place finisher.
Who placed third in this year's defensive MVP race after 10 games this season?
After Jerry Hughes' seven votes, 103 remain between Kyle Williams, Lorenzo Alexander and Zach Brown as we inch closer to figuring out who the Buffalo Bills' defensive MVP has been as we prepare for our matchup with the Jacksonville Jaguars.
After closing the polls, Zach Brown came out in third place in front of Hughes.
3rd Place
Zach Brown — Linebacker
Zach Brown wasn't supposed to be what he has been this season.
Signed by the Buffalo Bills on April 4th, 2016, Brown was originally going to be the backup to rookie Reggie Ragland. However, Ragland suffered a season-ending surgery before the season even started — prompting Zach Brown into the starting position.
Since then, he hasn't missed any games this season and has recorded 101 tackles — career high for Brown — 3 sacks, 2 forced fumbles and 8 stuffs for combined losses of 12 yards. His 101 tackles currently ranks 5th in the NFL and is only 7 tackles behind leader Bobby Wagner.
He had a career game vs. our rival New England Patriots in Week 4, where he had 17 tackles,  one sack, 3 stuffs and 2 forced fumbles to lead the Bills to a 16-0 victory over the Pats. He has recorded more than 11 tackles in 5 games this season.
Zach Brown is a beast and hunts down any player trying to get past this defense. Whoever has the ball, Brown is tackling. He works well under the schemes created by Rex and Rob Ryan, proving once again that Doug Whaley knows who to scout and has done a lot to improve this team.
If the Bills want to win out the rest of their games, they're going to need the same type of play from Brown that we saw in the first half of the season. Time to shatter that career-high tackles in a single season record even more.
Zach Brown placed third in our Defensive MVP voting through 10 games with 14 votes.
Zach Brown and Jerry Hughes combined for 21 of the 110 total votes. That leaves 89 votes remaining between Lorenzo Alexander and Kyle Williams.
Let's see who the runner-up was.
Who placed second in this year's defensive MVP race after 10 games this season?
On a team with so many defenders doing their part, it's hard to tell who the most deserving is of the Buffalo Bills' defensive MVP so far this season. However, the fans have spoken and we are down to either Lorenzo Alexander or Kyle Williams.
With 89 votes left, Lorenzo Alexander took 34 of them to secure second place in the voting.
2nd Place
Lorenzo Alexander – Linebacker
Lorenzo Alexander has emerged as one of the leaders on this defensive front for the Buffalo Bills. Many Bills' fans were probably unaware of who Alexander was when the team signed him on April 12th, just a week after signing Zach Brown.
Alexander has spent 10 years in this league, so he's been around the block. He was originally signed by the Carolina Panthers as an unrestricted free agent in 2005, but never saw playing time with the Panthers or the Ravens in his first year with the NFL.
He would finally debut in Week 5 of the 2007 season with the Washington Redskins and would spend the next six years with the team. In that stint, he only missed a total of four games, which came in the first two seasons.
He would then travel to Arizona for a two-year stint with the Cardinals. He would play in just three games the first year, but would see 16 games the following season. Last season he was with the Oakland Raiders and played in 16 games as well, proving to be very reliable over his career.
Lorenzo Alexander hasn't had a season with more than 57 tackles, 2.5 sacks, three forced fumbles and one stuff throughout his NFL career.
This season with the Buffalo Bills, Alexander is on his way to squashing all of those stats. So far, he has accumulated 44 tackles, three forced fumbles, four stuffs and a whopping 10.0 sacks — which is good enough to be tied for first in the league.
There's no doubt Alexander's presence as a pass-rusher has been much-needed this season. After the Bills struggled to sack the quarterback last season — finishing with just 21 sacks as a team — Alexander has helped turn that around. The Bills already have 26 sacks this season.
That brings us to our Defensive MVP through 10 games…
Who placed first in this year's offensive MVP race through 10 games?
With Jerry Hughes getting 7 votes, Zach Brown getting 14 votes and Lorenzo Alexander grabbing 34 votes, that left one Buffalo Bills' player with a whopping 55 votes — exactly half of the 110 total votes!
He has been the man in Buffalo for the past ten years and continues to be productive every single year. That remained true this season.
First Place
Kyle Williams – Defensive Tackle
Kyle Williams was drafted by the Buffalo Bills in the 2006 NFL Draft in the fifth round with the 134th overall pick. He wasn't expected to go very high in the draft, considering his lack of size and athleticism, but would be named the Bills' starter during his rookie season.
It would only take Williams three years in this league to make his name on the Pro Bowl list as an alternate. He would find his way on the list again the following season, this time on the actual roster.
Signing a six-year deal with the Bills in 2011, he would continue to be the reliable and hard-working defensive tackle that this team drafted. Later that season, however, he would find himself on the IR after Week 9 due to a foot injury.
Last season, he was also forced to miss time when he left the team's Week 6 matchup with the Bengals. He would have meniscus surgery soon after and would be announced as out for the rest of the season.
Other than the two seasons that Williams was injured — which caused him to miss a total of 21 games — he would only miss three games the other 8 years combined. His highest stat totals in a single season are 77 tackles, 10.5 sacks, one forced fumble, two fumble recoveries, one INT and 11 stuffs for 29 yards.
This season, he is on pace for around 60 tackles, 6 sacks and 10 stuffs. That's close to all of his career bests, meaning this ageless wonder is having another bright season for this Bills' defense. The thing I like most about Kyle Williams is that he has continued to play well despite the constant change of coaches.
Plus, if you ever listen to any of his interviews, he'll be the first player to testify his love for Buffalo and their #BillsMafia. He's extremely humble and is a true testament of hard work paying off. He is most definitely deserving of this year's Defensive MVP award so far this season.
And I wouldn't be surprised if he keeps that title by the end of the season.
More from BuffaLowDown
This article originally appeared on