Buffalo Bills vs. Seahawks: Highlights, Stats and Reactions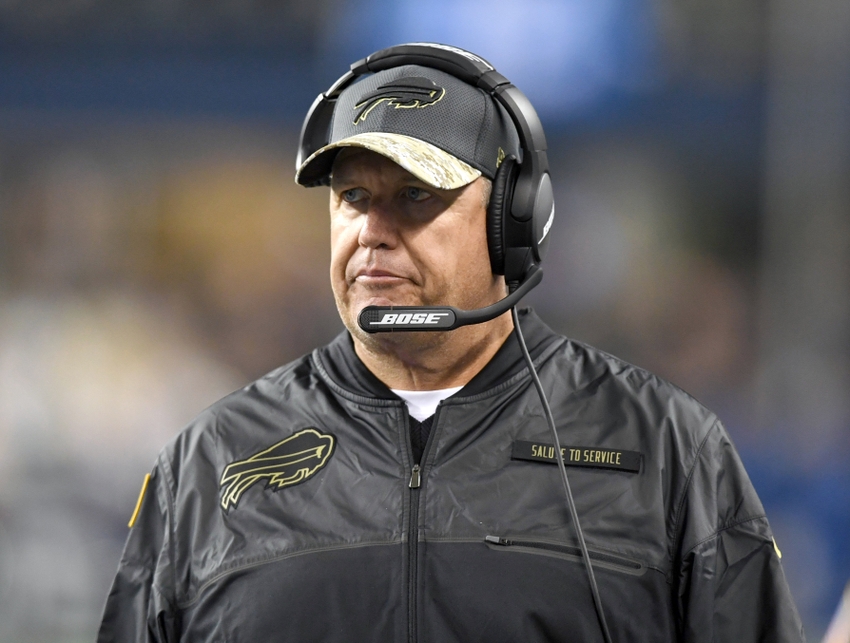 The Buffalo Bills have now lost three games in a row after winning four straight.
Both the Buffalo Bills and Seattle Seahawks came out of the gate hot. However, by the end of the game, Bills' fans were blaming the refs for blowing the game.
Let's get a quick recap with some highlights from Monday Night Football.
The Seahawks would start the game with the ball after Buffalo won the toss. The Bills' defense had a perfect start, forcing a three-and-out right when the game started. They followed that up with a blocked punt by Jerry Hughes that set up the Bills' offense on the 3-yard line.
The Bills would take a 7-0 lead not even two minutes into the game with a 3-yard touchdown run by Tyrod Taylor — his third straight game with a rushing touchdown. Unfortunately, Seattle wouldn't let Buffalo pull away and in less than a minute, scored their own 3-yard rushing TD from Russell Wilson.
The Bills' pursuing drive would go for a total of 14 plays over 10 minutes, featuring some key third-down conversions and excellent play-calling by Anthony Lynn — the Buffalo Bills' offensive coordinator. They would end the drive with a 5-yard touchdown pass to Justin Hunter, who has been a nice red-zone threat ever since he joined the team.
The Seahawks wouldn't budge, though, and would end up moving the ball much faster than the Bills. They tied the game up with a one-handed catch by Jimmy Graham for the first play of the second quarter.
Another long drive for the Bills, lasting over 5 minutes, would end with a field goal that put the Bills up 17-14 with 9:32 left in the first half. This is where the Seahawks would take over and make it difficult for the Bills the rest of the way.
The Seahawks would end the first half on a 14-0 run after a 3-yard touchdown run by Christine Michael and another one-handed touchdown catch by Jimmy Graham. Buffalo trailed the Seahawks 28-17 at the end of the first half, but not without some controversy on a missed field goal by Dan Carpenter that should've been called roughing the kicker.
The third quarter would be rather boring, with the Bills starting with the ball and a chance to dig into the Seahawks' lead. They started to move the ball well, but their drive would get cut short when Richard Sherman intercepted Tyrod Taylor's pass intended for Robert Woods.
The Seahawks would get the ball for their first drive of the second half, but would have trouble moving the chains and would be forced to punt after just 18 yards on 7 plays.
Buffalo would start to move the ball well again, turning the next drive into a 13 play drive that lasted almost 7 minutes. They wouldn't score before the end of the third quarter, but would continue the drive at the start of the fourth with a 13-yard catch by Robert Woods.
With the ball at the one-yard line, Mike Gillislee would punch it in to bring Seattle's lead to 28-23 — a two-point conversion would bring it to 28-25.
Seattle would respond with a field goal in the pursuing drive, giving Seattle a 31-25 lead with just under 10 minutes left to play.
Once again, the Bills would start to move the ball well, but would be stopped before anything happened. After wasting over 6 minutes, they were forced to punt. Luckily, they forced a three-and-out on the Seahawks, giving the Buffalo Bills under three minutes to score a touchdown.
After bringing the ball to the 8-yard line with 50 seconds remaining, Seattle would sack Taylor and put them in a fourth-and-goal situation at the 15-yard line. An incomplete pass to Robert Woods in the endzone would give Seattle the victory.
The Bills were so close.
Let's take a look at the final stats from the game.
The Buffalo Bills actually had a solid game when looking at the stats. If only it translated into a victory.
The Buffalo Bills had a solid running game, solid passing game and had some key plays on defense. However, none of it translated into a victory — although many fans are blaming the refs for the Bills' loss.
Let's dive into these stats and see who had a big game — wait until you see Robert Woods' stats!
Buffalo Bills' Statistics
Passing
Tyrod Taylor: 27/38, 289 yards, TD, INT, 5 sacks
Rushing
LeSean McCoy: 21 carries, 85 yards
Mike Gillislee: 8 carries, 32 yards, TD
Tyrod Taylor: 8 carries, 43 yards, TD
Receiving
Robert Woods: 10 receptions, 162 yards, 13 targets
Marquise Goodwin: 4 receptions, 43 yards, 5 targets
Justin Hunter: one reception, 5 yards, one target
Defense
Corey Graham: 7 tackles, one tackle for loss
Preston Brown: 6 tackles, 0.5 tackles for loss
Kyle Williams/Jerry Hughes/Lorenzo Alexander/Shaq Lawson: one sack
Seattle Seahawks' Statistics
Passing
Russell Wilson: 20/26, 282 yards, 2 TD, 4 sacks
Rushing
Russell Wilson: 3 carries, 10 yards, TD
Christine Michael: 5 carries, one yard, TD
Receiving
Jimmy Graham: 8 receptions, 103 yards, 2 TD, 8 targets
Doug Baldwin: 6 receptions, 89 yards, 6 targets
Defense
Bobby Wagner: 16 tackles, 0.5 sacks, one tackle for loss, 3 QB hits
K.J. Wright: 11 tackles, one sack, one tackle for loss, 2 QB hits
Richard Sherman: 5 tackles, one pass defended, INT
Cliff Avril: 3 tackles, 1.5 sacks, 1.5 tackles for loss, 3 QB hits
Let's move on to the reactions from the Buffalo Bills' locker room following the loss on Monday Night.
The Buffalo Bills didn't use it as an excuse, but had a lot to say about the officiating on Monday Night after a hard-fought game.
The Buffalo Bills fought hard for 60 minutes on Monday, there's no doubt about it. Although a few missed calls could've changed the whole game for Buffalo, they didn't let it excuse the loss.
The Bills will now enter their bye week at 4-5, a record no one would've though we'd have three weeks ago when we were 4-2. Sure enough, three losses later, here we are.
I've been hearing a lot of fans start to bash this Bills' squad, calling them "trash" among other not-so-friendly words. In my opinion, this team has been battling all season long — with the exception of one, maybe two games. When you take in all the injuries, changes and unexpected surprises this team has had to deal with, they're handling it very well.
Let's take a look at how they handled the loss last night in Seattle.
Rex Ryan started it off and kept everything rather short and simple — regarding the first half, Richard Sherman and Eric Wood.
LeSean McCoy also chimed in on the end of the first half, as well as losing Eric Wood to a broken leg:
Lastly, we have Tyrod Taylor, who stayed composed as usual:
Many fans are ready to tune this squad out and write them off.
Don't.
The Buffalo Bills will have some extra rest and extra training until their next matchup vs. the Cincinnati Bengals on November 20th.
7 straight wins, it's possible.
This article originally appeared on