Buffalo Bills vs. Seahawks Fantasy Football Passing Outlook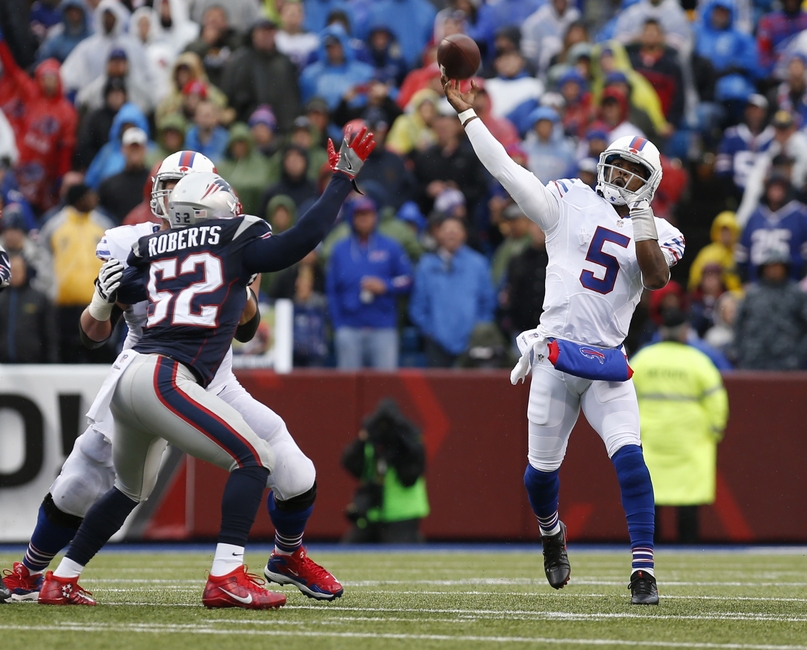 It's the Buffalo Bills vs. the Seattle Seahawks on Monday Night Football this week. The game figures to be a defensive battle so the fantasy football outlook for the passing game looks bleak.
At first glance of the stats, you'd assume that Russell Wilson is a much better quarterback than Tyrod Taylor in fantasy football. Wilson averages 243 yards per game passing while Taylor averages 174 yards per game. That assumption, however, would be wrong, very wrong.
Wilson is ranked the 31st best quarterback in average points per game in Yahoo Leagues while Taylor is ranked 17th in the same category. There are two major reasons for this. First, the Seattle Seahawks have struggled to score in the red zone leading to only five Russell Wilson passing touchdowns this season while Tyrod Taylor has nine.
The Seahawks are tied for 26th by teamrankings.com in red zone touchdown percentage at 47.62 percent compared to the Bills who are ranked fifth with a much better rate of 68.18 percent.
The second reason is that Wilson has been battling a number of ailments this season including a sprained ankle and a sprained knee which has limited his mobility. In his first four seasons in the NFL, he's averaged over 600 yards rushing per season. This year, he has just 44 yards and is on pace for a paltry 101 yards.
Taylor, on the other hand, has 319 yards on the ground so far this season and three rushing touchdowns. The ability for him to use his legs is what separates him from Wilson at the moment. Neither quarterback should be played in fantasy football this week as they both are going up against good defenses and neither proven to be top fantasy quarterbacks this year.
The Seahawks give up the second least points with just 15.6 per game and while the Bills are 13th, they haven't let up more than 19 points to a non-divisional opponent.
As for the receivers, the big story in Buffalo this week was the fact that they coaxed Percy Harvin out of retirement. Harvin is expected to play for Buffalo, but the reality is there's no way he's in football shape and if he sees the field for more than 20 plays it would be shocking. Still, he's worth keeping a close eye on during the game from a waiver wire perspective.
The rest of the Bills receivers don't merit playing either. Not only are they going against the Seahawks secondary, a.k.a. the "Legion of Boom", but they also are banged up and have been unproductive all year. Robert Woods is questionable but should play. His foot injury clearly limited him last week and it might be something that sticks with him for some time.
Want your voice heard? Join the BuffaLowDown team!
Marquise Goodwin is out of concussion protocol but even when he was healthy he was only good for the home run play and little else. The Bills most productive receiver might be tight end Charles Clay but he's only productive by Buffalo Bills' standards, not NFL standards. He's averaging just over 34 yards per game and hasn't found the endzone.
Meanwhile, Justin Hunter hasn't caught more than two balls in a game this year and Walter Powell, who was not expected to make the team in camp, was their top receiver last week which says all you need to know.
The Seahawks have two receiving threats who both merit a start against Buffalo. The Bills secondary has struggled this year mostly because of Stephon Gilmore's play at times and now because they are without safety Aaron Williams who was placed on injured reserve.
The first player to start is wide receiver Doug Baldwin who had his first 1,000-yard season last year and is on pace to top his that this year with 1,099 yards. He has caught forty percent of Russell Wilson's touchdown passes even though that's just two total touchdowns.
The other player who should be played is tight end Jimmy Graham. Graham is also on pace to get over 1,000 yards receiving this year which would be the third time he has done that in his career. He's also a big boy at 6'7″ and 265 pounds and the Bills struggled against Rob Gronkowski who is more dynamic but has a similar body type last week.
Neither team possesses a potent passing game and this Monday Night Football matchup could be a low scoring affair. For those reasons, the only two players involved in the passing game who should be played are Doug Baldwin and Jimmy Graham.
This article originally appeared on