Buffalo Bills vs. Patriots: Offensive and Defensive Grades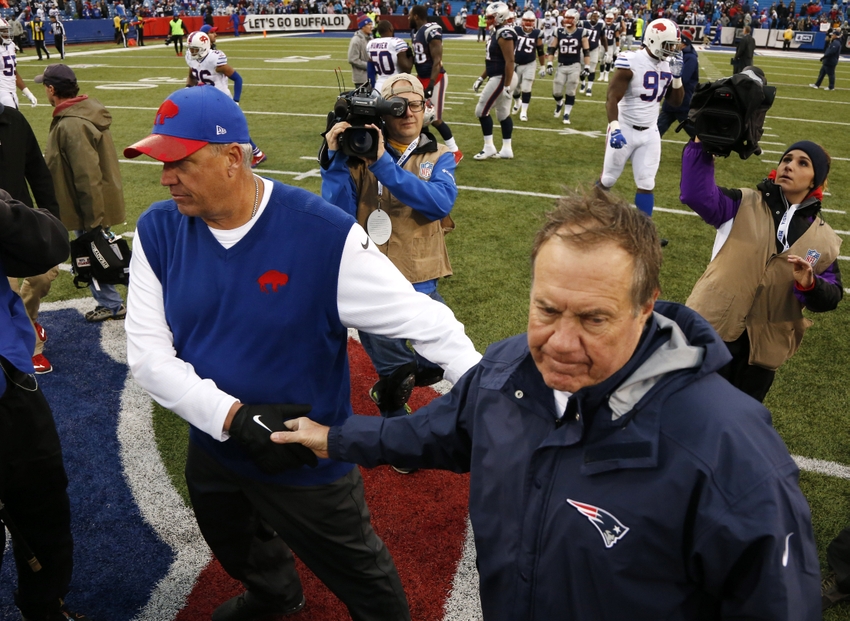 It was another tough loss for the Buffalo Bills, but we've shown that we can come back from losing 2 in a row. This time it's urgent, though.
Two weeks ago, the Buffalo Bills were quickly rising up the NFL power rankings. However, after two straight losses to teams in our division — Miami Dolphins and most recently the New England Patriots — that momentum has shifted in the opposite direction.
Buffalo Bills vs. Patriots RB Fantasy Football Outlook
Not many things went right for the Bills on Sunday. In fact, a lot of things went wrong for Buffalo on Sunday.
Tom Brady completely destroyed our secondary all game long, Tyrod Taylor's accuracy was terrible, receivers dropped the few chances they had, penalties dug the Bills in too big of a hole to dig out of and injuries continued to make everything worse.
On the bright side, Mike Gillislee was productive and Tyrod Taylor kept his streak of no interceptions going for the fifth straight game. We looked pretty good against the Patriots' run and we have a long week before our next game — Monday Night Football vs. Seattle Seahawks.
Coming into the game vs. New England, the Bills had 13 players on their injury report. Although most of them played, you could tell that the ones out there weren't themselves. Simply put, this Bills' squad looks nothing like they did during their four-game winning streak.
As much as I don't like grading the Bills on a bad performance, I must do it.
Before I start, here's how my grading is set up:
A – Couldn't have performed better.
B – Above average play.
C – Average play.
D – Needs to improve.
F – You said this is football? How do I play?
We shall begin with Tyrod Taylor and the offense.
The Buffalo Bills' offense put up 25 points on Sunday, but wasn't enough against the Patriots' high-powered stampede.
Once again, the Buffalo Bills' offense had trouble getting anything going in Sunday's matchup with the Patriots. It's now clear how much this offense relies on LeSean McCoy.
The Bills actually had a solid opening drive that included 10 plays going for 70 yards. In that opening drive, Mike Gillislee had a 28-yard rush and Jerome Felton had a 22-yard catch. However, the Bills couldn't get past the Patriots' 5-yard line and were held to a field goal.
Buffalo wouldn't score again until halfway through the second quarter when Gillislee used a 3-yard run to get in the endzone. At halftime, the Bills were trailing 24-10.
Still having troubles in the third quarter, the Bills found the endzone with 8 minutes left in the third when Tyrod Taylor ran it in for a 26-yard TD. The final touchdown for the Bills would come in garbage time with 30 seconds left in the game when Jonathan Williams scored a one-yard TD run.
Let's get to the Buffalo Bills' offensive grades for Week 8.
Passing
Buffalo Bills vs. New England Patriots
F
Before I say anything, one of the biggest reasons the passing game got an 'F' was because of the injuries they had at the WR position. With that being said, it's also worthy of noting that even with the receivers we had out there, Tyrod Taylor wasn't throwing them good passes. Put those two together and yes, you will have a bad passing attack every game. Taylor finished the game 19-38 for 183 yards. With a 50% completion percentage and less than 10 yards per completion, it's easy to see that there are some issues through the air for the Buffalo Bills. The amount of missed throws was too large. The Bills need to find a better way of utilizing Taylor's talent. With a depleted wide receiving corps, it's time to start getting our tight ends more involved. The re-addition of Percy Harvin should help, as well.
Rushing
Buffalo Bills vs. New England Patriots
B
The Bills' rushing attack was their only bright spot in this game, although it wasn't quite where we were at with McCoy. Coming into this game, I had a lot of faith in Gillislee as long as the coaches got him involved more. With 5 carries last game, they definitely gave him more touches with 12 vs. the Patriots. He turned that into 85 yards and one touchdown. Tyrod Taylor scored his second touchdown in as many games, adding 48 yards on 5 carries. Rookie Jonathan Williams scored a touchdown with 30 seconds remaining. Overall, the team ran for 167 yards on 26 carries and 3 TDs, averaging 6.4 yards per carry on the day. The Bills continue to have one of the best rushing attacks in the NFL, even without McCoy out there. No need to panic on this part of the Bills' game.
Receiving
Buffalo Bills vs. New England Patriots
F
Much like I noted in the passing grade, it's going to be really hard to produce when three of your best wide receivers are injured. Noted that Robert Woods did play on Sunday, but was clearly not 100% with his foot. However, there are no excuses in the NFL because when someone gets injured, it's time for the next man to stand up. Woods finished with 4 receptions on 7 targets and 50 yards. Behind that, it was very disappointing. Between Walter Powell, Justin Hunter and Charles Clay, these three players combined for 6 receptions and 72 yards — but were targeted 19 times! Powell alone only caught 3 of his 8 targets. Some of those were missed throws, but some were also dropped passes. In fact, too many were dropped passes. Reggie Bush was effective with 34 yards on 2 catches, while Jerome Felton added 26 yards on 2 receptions. Hopefully Percy Harvin can jump start this offense.
Offensive Line
Buffalo Bills vs. New England Patriots
C
The Bills were only sacked twice and finished with 167 rushing yards, yet the offensive line receives a 'C.' How come? Well, Rex Ryan touched base on it after the game, saying that the Bills' offensive line needs to protect Taylor better. If you were watching the game, you'll see what he meant. Taylor was constantly on the move and being rushed and sure, that's the kind of quarterback he is. However, it's a lot harder to throw when players aren't giving you room to throw. The reason they got a C was for their failed pass protection, but they didn't receive an D because of the job they did giving the running game holes.
Moving on to the defense…
The Buffalo Bills' defense was victim to a lot of blown coverage and way too many penalties vs. the Patriots.
It's very simple, the Buffalo Bills' defense allowed the Patriots to do whatever they wanted and it resulted in New England scoring touchdown after touchdown.
As we talked about in the last slide, the Bills' offense had trouble getting anything going. However, it didn't really matter how good the offense did because the defense was just allowing too many points.
Buffalo Bills vs. Patriots RB Fantasy Football Outlook
It got to a point — and Rex Ryan said it perfectly — that the Patriots were just too far gone.
Looking at the scoring for both teams, each time the Bills' scored, the Patriots would answer with AT LEAST two scores of their own.
It all started after our opening drive that ended in a field goal. In the final 5 minutes of the first quarter, the Patriots responded with two throwing touchdowns — a 9-yard pass to Danny Amendola and a 53-yard pass to former Buffalo player, Chris Hogan.
After the Bills answered with a Gillislee rushing touchdown, the Patriots once again answered with two scores. The first was another 53-yard passing touchdown, this time to Rob Gronkowski. That was followed up with a 51-yard field goal as time expired in the first half, bringing the Patriots' lead to 24-10.
That wasn't the end of the Patriots' little run, as they opened the third quarter off with a 12-yard passing touchdown to Julian Edelman, bringing the Bills down 21 points. Tyrod Taylor would finally put an end to the run with 8 minutes left in the game, but it was too late.
The Patriots would respond with two more scores — a one-yard rush by Blount and a 32-yard field goal by Gostkowski. Down 41-17, the Bills made it look less worse with 30 seconds left after their third rushing touchdown.
No defense will ever be happy after giving up 41 points — especially a defense that had given the Patriots hell 4 weeks ago.
Let's get to the defensive grades vs. the Patriots.
Defensive Line
Buffalo Bills vs. New England Patriots
B
The Bills' defensive line actually did a solid job against the Patriots on Sunday, which was Marcell Dareus' season debut. Dareus finished with 4 tackles, one sack, 2 tackles for loss and one QB hit. Adolphus Washington finished with 3 tackles and one tackle for loss. Kyle Williams added 2 tackles, one sack, 2 tackles for loss and 3 QB hits. The defensive line definitely gave Tom Brady and LeGarrette Blount a tough time — Blount only had 43 yards and Brady was hit 9 times/sacked five times. If only our pass coverage was better, we would've had a shot at winning this game.
Linebackers
Buffalo Bills vs. New England Patriots
B
Much like the defensive line, the Bills' linebackers did a good job at containing Brady and Blount. Zach Brown finished with 11 tackles, one sack and 1.5 tackles for loss. Preston Brown added 8 tackles, one sack and one tackle for loss. Shaq Lawson finished with 3 tackles, one sack and 2 QB hits. Sunday brought Shaq Lawson and Preston Brown got their first career sacks. Lorenzo Alexander snapped his six-game streak of at least one sack per game, but it was due to an injury (of course) that kept him sidelined for three quarters. All year long, this front seven for the Bills has been fantastic.
Defensive Backs
Buffalo Bills vs. New England Patriots
F
To me, there were two main reasons we lost this game vs. the Patriots: no passing game and the horrific performance by the secondary. Gilmore was terrible, allowing a 53-yard TD to Chris Hogan and committing very costly penalties that helped extend a few drives for the Pats. Nickell Robey-Coleman surrendered a 53-yard TD to Rob Gronkowski. Brady finished with 315 yards and four touchdowns vs. the Bills and looking at how the pass rush performed, it was almost completely due to the secondary allowing Brady to pick his spots with ease. This is a lot like what we saw vs. the Jets, but hopefully that means it's the wake-up call we need for another 4-game winning steak — and more. Remember, that's what we did after that Week 2 loss to the Jets. Keep your heads up, but we have to see better play from this secondary vs. the Seahawks with the whole nation watching — again.
Well, that does it for this week's offensive and defensive grades. Hopefully we have some better grades next week vs. the Seattle Seahawks — especially because the whole nation will be watching on Monday night.
Feel free to let me know which grades you agree/disagree with in the comments section!
This article originally appeared on