Buffalo Bills vs. Patriots: Odds, Injury/Weather Report, Predictions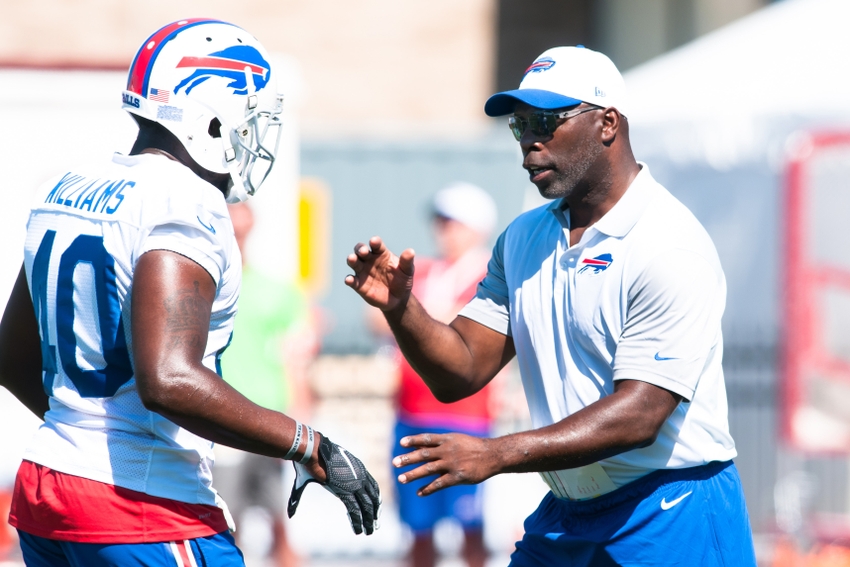 The Buffalo Bills travel to rival territory in New England as they take on the Patriots Sunday at 1 PM. Bills Mafia is looking to come out of this one riding a two-game winning streak.
It will be the first time the Buffalo Bills and New England Patriots meet this season when Buffalo travels to the Patriots' home turf on Sunday in a very important AFC East rivalry matchup.
The Bills are looking to surprise the NFL nation once again after their dominant 33-18 home victory over the Arizona Cardinals a week ago. Meanwhile, the Patriots are looking to cruise through their short stint without Tom Brady — coming into this game 3-0.
These two teams will always meet two times every year, but they usually aren't set up like the one we will watch on Sunday. For starters, the Bills have several key players injured/suspended, including Sammy Watkins, Shaq Lawson, Reggie Ragland, Marcell Dareus, Greg Salas, Cyrus Kouandjio and others.
Bills vs. Cardinals Fantasy Football Outlook
On the other hand, the Patriots are dealing with their fair share of injuries/suspensions — especially to their quarterback position. This will be Tom Brady's final game of his suspension, but both of his backups are injured and listed as gametime decisions. For the first time in a while, the Patriots are unsure of who will be their quarterback on Sunday.
To add to all of that, the Buffalo Bills have a chance to end New England's perfect start to the season by starting a two-game winning streak of their own. It's much needed for this fan base, which endured a horrific first two games of the season — a loss vs. the Baltimore Ravens and a loss vs. the New York Jets.
The good news is, the Bills are 1-0 after firing their offensive coordinator and seem to be enjoying a more simplified offense under Anthony Lynn. It's allowing Tyrod Taylor and LeSean McCoy to effectively control the game much better, which opens things up for the defense — something Rex Ryan is excellent at controlling.
It's not going to be an easy task, getting by the Patriots, but if we've ever had a good chance to beat them it's definitely now. Here's a look at the spread, money line and over/under for Sunday's Buffalo Bills vs. New England Patriots matchup:
Buffalo
Bills
Spread,
vs. Patriots
+7
Buffalo
Bills
Money Line,
vs. Patriots
260
Buffalo
Bills
Over/Under,
vs. Patriots
43
Now, let's move on to this week's weather and injury report.
Each side has very valuable players missing Sunday's game, so both teams will be looking for added help from their depth chart.
We're going to dive right into it.
First, the weather report for Sunday:
Foxborough, MA
Fog
High: 61 degrees / Low: 52 degrees
Precipitation: 15%
Humidity: 99%
Wind: 8 mph
Next, let's take a look at the very important injury report for both teams.
New England Patriots' Injury Report
The following players are listed as questionable for Sunday and were limited participants on Friday:
QB Jacoby Brissett (right thumb)
OT Marcus Cannon (calf)
G Jonathan Cooper (foot)
LB Jonathan Freeny (shoulder)
QB Jimmy Garoppolo (right shoulder)
TE Rob Gronkowski (hamstring)
LB Dont'a Hightower (knee)
CB Eric Rowe (ankle)
Now, let's move on to some predictions for the game.
We don't have a whole lot of predictions for you this week, but they look like quality predictions to me. Go Bills!
There are a lot of things that are going to play a major role in this game:
Who will the Patriots start at QB?
Will the Buffalo Bills' WR's step up in Watkins' absence?
Can the Bills' defense bring the same pressure they brought vs. Arizona?
Is Blount ready for a lot of goal-line touches?
The list could go on.
Rex Ryan even had to go undercover during a Julian Edelman interview, asking the Patriots' wide receiver if he was going to play quarterback on Sunday. Of course, we didn't really get a helpful answer to that.
Here's what LeSean McCoy had to say about playing the Patriots:
"Yeah they're a team that's been very well coached for a long time. I mean Belichick's one of the best for sure so he'll have a pretty good game plan for sure. As the offense we've got to go out there and execute. I think he'll make adjustments he'll bring things out we haven't seen and we'll bring some new things out that they haven't seen so it will be one of those types of games. I think with this game something that will be big is just the management of the ball. Management of the ball, throwing the field. Them not having their top guy out there on defense they'll do a lot of unique types of looks, blitzes, but you know as offense we're gonna have to put points up. I think the more points we put up, puts a lot more pressure on that offense."
The Bills are going to need to keep things fresh if they want to surprise Bill Belichick
Tyrod Taylor knows how big this game is:
"It would definitely be big for us. Each week is definitely a big opportunity for us to take a step in the right direction and getting a win on the road first time this year would definitely be big for us. We're putting in the work. Still dialing away at the game plan. Guys are still trying to get better, still trying to get better from last week, but definitely looking forward to the challenge we have ahead of us."
Let's finally get to the predictions.
Last week, I got all three of my predictions correct:
Bills' victory
LeSean McCoy's 2nd rushing TD on the season from 20+ yards out
Jerry Hughes, Lorenzo Alexander and Kyle Williams all finish with a sack
Those three predictions brought me to 4-of-10 on the season, with a 40% success rate.
Here are my predictions this week:
The Buffalo Bills will defeat the New England Patriots with a score of 31-27.
Tyrod Taylor will finish with 250+ yards passing, 45+ yards rushing and 3 total touchdowns.
Bills' defense will score 17 fantasy points or higher in the victory.
Here's a look at some predictions from other members of my team.
Dennis Moody: Co-Editor
Buffalo Bills win 19-16
Each team scores at least three field goals
Jonathan Williams records his first career touchdown
If Bills win, Belichick doesn't shake Ryan's hand
Pete Macias: Contributor
The Buffalo Bills will defeat the Patriots 21-17. 
Kickoff is at 1 PM. Be ready .. and.. Go Bills!
This article originally appeared on