Buffalo Bills vs. Dolphins: Odds, Injury/Weather Report, Predictions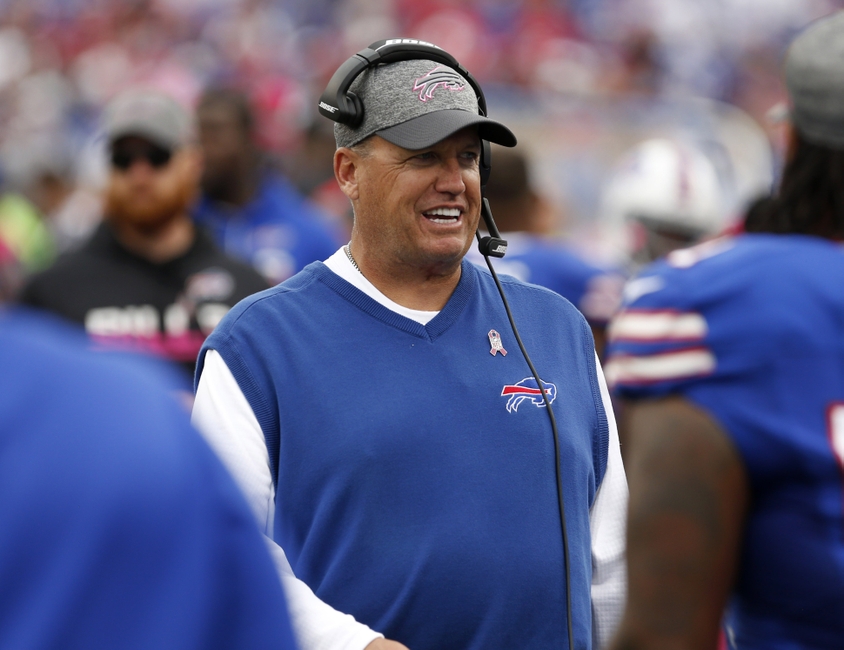 The Buffalo Bills travel to Miami for a chance to extend their winning streak to five games in a row. Kickoff is at 1:00 PM.
The Buffalo Bills will be looking to add another win to the column on Sunday when they take on one of their AFC East rivals — the Miami Dolphins.
With a rich history of "squishing the fish," Sunday's game is bound to be a good one to watch with each team having their fair share of injuries to deal with. For the Buffalo Bills, a lot of questions haven't even been answered, yet.
Buffalo Bills Fantasy Football: Week 6 Top Performers
Will LeSean McCoy suit up, can the defensive line hold up for one more game without Marcell Dareus, how will Shaq Lawson fit in with the team for his NFL debut, is this the game Justin Hunter breaks out, will the team win their fifth straight after an 0-2 start?
These are all questions that are on the minds of every Bills' fan right now and they will all be answered on Sunday.
The last time these two teams met was in Week 9 last season, when the Bills hosted the Dolphins at then-Ralph Wilson Stadium — now-New Era Field. The Bills squished out a 33-17 win in a game dominated by LeSean McCoy, Karlos Williams, Sammy Watkins and Jerry Hughes.
In the 33-17 victory, the Bills rushed for a total of 266 yards. McCoy finished with 16 carries and 112 yards, while Karlos Williams chipped in with 110 and Tyrod Taylor added 44 yards rushing. Looking at how the Bills have been running the ball, they should have no problem doing the same on Sunday — with or without McCoy.
On the other hand, the Buffalo Bills' passing attack was sort of what to expect from this team. Taylor was efficient when he did throw it, finishing Week 9 of last season 11/12 with 181 yards, one TD and no interceptions. Something to note, Watkins had 168 of those 181 yards, with McCoy and Charles Clay getting the other 13 yards.
With the Bills headed to Miami, let's take a look at the weather report for their Week 7 matchup with the Dolphins.
Weather Report
Mostly Sunny
Temperature: 78°
Wind: 13 mph
Precipitation: 1%
Humidity: 54%
Next, it's time to go over the injury reports for each team, which will prove to be a key part of this game for both sides.
Both the Buffalo Bills and Miami Dolphins are bound to be without key players in their Week 7 matchup.
The Buffalo Bills have done one thing in particular all season long and that's figure out how to win despite injuries coming from every which direction.
It didn't take long before the Bills started to hear bad news after bad news. Whether it was Marcell Dareus, Shaq Lawson, Reggie Ragland, Cordy Glenn, LeSean McCoy, IK Enemkpali, Sammy Watkins or Kolby Listenbee, people just kept dropping — or at least giving us a scare once or twice.
Buffalo Bills Fantasy Football: Week 6 Top Performers
Usually when a team is faced with so many injuries — and a lot of them being for an extended period of time if not all season long — they not only struggle out the gate, but have a tough time ever getting back on track. After the first two games of the season, many people were ready to say the same for the Bills this season.
Buffalo must've missed the memo.
They bounced back and did it in Rex-Ryan-fashion, winning four straight blowout games against the Arizona Cardinals, New England Patriots, Los Angeles Rams and San Francisco 49ers. During the win-streak, the Bills have gone 3-0 vs. teams in the NFC West and face the final opponent in that division (Seattle Seahawks) for Week 9's Monday Night Football right before their bye week.
Let's not get too far ahead of ourselves, though.
Here's a look at the final injury report for both teams.
Buffalo Bills' Injury Report
Doubtful
Marcell Dareus (hamstring)
Robert Woods (foot)
Questionable
Charles Clay (ankle)
Jerome Felton (back)
Cordy Glenn (ankle)
Patrick Lewis (knee)
LeSean McCoy (hamstring)
Kevon Seymour (shoulder)
Kyle Williams (neck)
Out
Seantrel Henderson (back)
Miami Dolphins' Injury Report
Questionable
Arian Foster (hamstring)
Jelani Jenkins (groin)
Tony Lippett (hamstring)
Spencer Paysinger (hamstring/calf)
Out
Jordan Cameron (concussion)
Xavien Howard (knee)
Dion Sims (concussion)
The Buffalo Bills haven't won five straight games since 2004 and will have a chance as light favorites vs. Miami.
That's right, the Buffalo Bills are favored in their Week 7 matchup, once again. However, it's not by much.
Here's a look at the Vegas Line for the game:
Spread: BUF by 3 points
Over/Under: 45
Money Line: BUF (-140) vs. MIA (+120)
As we do every week, me and my co-editor — Dennis Moody — share our predictions for the game. We usually try to go as detailed as possible, making it interesting to see how well we can do.
Here's a look at those predictions.
Dennis Moody's Take
Ryan Brennan's Take
Bills win 31-19
Another solid day from defense, stopping the opposing offense when it counts. They give up one big TD, but limit them to field goals the rest of the way.
Lorenzo Alexander gets 2 sacks, Jerry Hughes and Adolphus Washington get one sack each.
McCoy plays, but Gillislee sees majority of touches and Taylor carries it more than usual. With McCoy in limited role, the Bills will still find a way to rush for 160+ yards.
Tyrod Taylor goes his third straight game without an interception, throws two touchdowns — one to Clay and one to Justin Hunter.
BOLD PREDICTION: Rex Ryan guarantees playoffs with a win this week.
Kickoff starts at 1:00 PM in Miami. Go Bills!
Leave your predictions in the comments section located below the ads!
More from BuffaLowDown
This article originally appeared on