Buffalo Bills Roster Updates: Darby, Robey-Coleman, Harvin, Dareus & More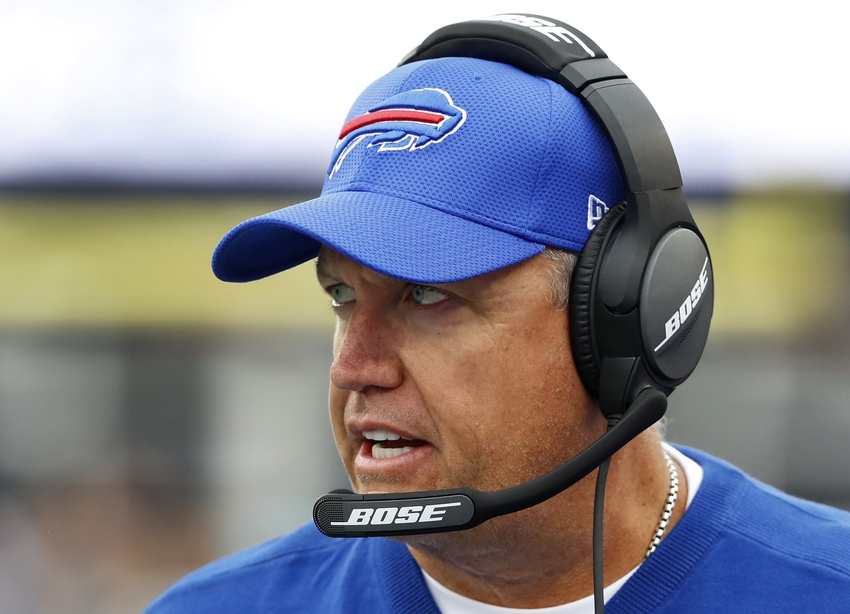 Rex Ryan knows that the Buffalo Bills' backs are up against the wall. That's why the team made several updates to the lineup this week.
Bills head coach Rex Ryan was very blunt in a recent press conference. Based on his responses, it's quite clear he knows the team is running out of playoff rope fast. In an attempt to shake things up on the team, the Bills cut a player, signed a new player, and are considering new starters at several positions on both offense and defense. According to New York Upstate, Ryan said:
"We're going to have competition in a lot of different spots this week and give guys opportunities to earn starting nods"
Part of the problem is the team's inability in coverage and plenty of the changes this week came in the secondary. The other problems according to Ryan are physicality and technique. According to ESPN he said:
"I'm tired of mistakes and I think we've got to get better physically as well and if that's through technique and all that, that's what it's going to be. I'm not here to make friends, man. I'm here to win."
Want your voice heard? Join the BuffaLowDown team!
Rex has had enough and he seems pretty angry. I don't expect him to all the sudden become a disciplinarian like Bill Belichick or Tom Coughlin but he's probably a little less tolerant for B.S. than he has been in the past. It's a positive thing that Ryan knows there is little room left for error this season and I applaud him for trying to shake up the roster a bit.
Some of the names involved in that shakeup are Darby, Robey-Coleman, White, Seymour, Groy, Lewis, Henderson, Kouandjio and Mills. In addition to covering that we'll also cover Percy Harvin and Marcell Dareus with updates on their status for Sunday and Duke Williams being cut and replaced with James Ihedigbo.
The battle for the nickel corner position between Nickell Robey-Coleman and Kevon Seymour goes to Seymour this week.
Over the early part of the season, Nickell Robey-Coleman was playing better than any other Bills secondary player and was among the top nickel cornerbacks in the league. His play has slipped since then, but it was still surprising that the Bills targeted him as the cornerback who wasn't performing, considering how Stephon Gilmore and Ronald Darby are struggling worse.
In a quote reported by ESPN, Robey-Coleman admits he lost the starting job this week to rookie Kevon Seymour.
"I ain't really get no reps today. Everything was all Kevon. I think it's pretty much gonna be all Kevon from here. That's where it's at right now. It's gonna be all Kevon Seymour."
It's encouraging that Rex Ryan has enough confidence in the rookie to thrust him into the starting nickel corner spot. Seymour has the potential to be a steal in the draft as he had unknown issues with his eyesight in college and that was corrected after the draft once they were identified. Now that he can see clearly, his ability to track the ball should improve greatly.
Robey-Coleman's assessment that it's Seymour's role for the year might not be so accurate. Part of the reason why he isn't starting this week is the height that the Bengals bring in their receiving corps. Their top four tight ends and receivers by yardage this year are A.J. Green (6'4″), Brandon LaFell (6'3″), Tyler Boyd (6'2″) and Tyler Eifert (6'6″). At 5'8″ Robey-Coleman would have had an uphill battle all game against any of those guys.
Kevon Seymour at 6'0″ stands a much better chance if he ends up matched up with the 6'6″ Eifert during the game. Nickel corner wasn't the only starting spot in the Bills secondary which was up for grabs this week. Find out more about whether Ronald Darby or Corey White will start this along with Stephon Gilmore.
The Buffalo Bills benched Ronald Darby last week in favor of Corey White. Who will start this week?
In the Bills' last game against the Seattle Seahawks, sophomore cornerback Ronald Darby struggled in the game. The Bills brought in Corey White to replace him and White ended up getting 45 snaps to Darby's 24 in the game. It opened up a debate about who would start this week against the Bengals.
Earlier in the week it looked like they were going to give Corey White the job. The team was serious about benching Darby who is not playing anywhere near the level he played last season. According to WKBW, Rex Ryan said:
"Ronald Darby is an outstanding talent. We need Ronald Darby to play the way he's capable of playing and what we think he's capable of playing."
Want your voice heard? Join the BuffaLowDown team!
There is no doubt that Darby needs to play better but out of the Bills two starting cornerbacks many would argue that Gilmore has been the worse player. So why sit down Darby instead of Gilmore? Part of the reason might be due to height. As cited on the last slide, the Bengals main receiving threats are all over 6'2″. Both White and Gilmore stand two inches taller than Darby and the Bills might have been thinking that they want to go with more height in the secondary.
Darby has responded well to the wake-up call and even had his best practice of the season on Wednesday according to Rex Ryan. Defensive coordinator Dennis Thurman's assessment dovetails with Ryan's. According to the team's own site, he said:
"He's responded well. You know, that's what it's all about. Everybody has a job to do. You've got to go out there and do your job. I mean to have competition is a good thing. You know, in this league, you don't ever want to ever get comfortable. If you get comfortable, somebody's looking to take your job. When you get comfortable, it's not a good thing."
It really is an open competition at this point and could go either way. No matter who starts they are going to be on a short leash because Rex is tired of seeing his defense get burned over the top. Based on the positive quotes coming from the coaches about Darby, we'd put him to be the small favorite to start on Sunday.
That's not it for all the secondary drama. Find out more about the Bills roster transactions at safety on the next slide.
The Bills aren't horsing around. They cut safety Duke Williams earlier this week and signed James Ihedigbo to the roster.
In addition to the potential changes at cornerback, the Bills also made two roster transactions in their secondary this week. They cut safety Duke Williams who has been with the team since 2013 and signed James Ihedigbo.
The Bills have struggled at safety all season. They've had communication issues with the cornerbacks and the team has given up many big plays due to the miscommunication. When their top performing safety Aaron Williams was cheap shotted by Jarvis Landry, it left them thin at the position.
Buffalo Bills vs. Seahawks Fantasy Football Passing Outlook
It made Corey Graham the Bills best safety and they have been rotating in Robert Blanton, Jonathan Meeks and Duke Williams into the other slot. All of these players have struggled and the Bills decided they needed fresh blood on the roster. After cutting Williams, they added James Ihedigbo to the roster.
Ihedigbo is a veteran player who has been in the league since 2008. He's had stints with the Jets, Patriots, Ravens, Lions and most recently his own couch before being signed by the Bills. Ihedigbo is a better run stuffing safety than he is in coverage. If he is playing on the field with Graham you can expect Graham to have more of the coverage responsibilities.
According to WKBW, the Bills' intentions seem to be that Ihedigbo is going to get some time this week along with Blanton and Meeks. Rex Ryan said:
"Yeah, I mean we can look at him but basically, as we say, he's coming in off the couch. He hasn't really had that, but James is a physical player, I think he started in, what, two Super Bowls as a safety, so he's got a proven track record. Very physical player, but we'll see what he can handle. We're not just going to give him a bunch of stuff, but we will get him in there somewhere."
Ihedigbo's stamina and ability to keep up with NFL game speed in his first week back, seems to be the only impediments to his playing time.
That's it for the drama in the Bills secondary this week. Let's move onto the offensive line where there are competitions for starting center and right tackle.
Ryan Groy named Buffalo Bills starting center against the Cincinnati Bengals
Last week against the Seahawks, the Bills center of eight years Eric Wood broke his leg ending his season. It was a huge blow to the Bills offensive line. Not only are the Bills thin at center but Woods was also one of the captains on the offense. He is a well-respected veteran in the locker room and it hurts to lose a presence like that. Similar to when Kyle Williams missed time last year on the defense.
Ryan Groy and Patrick Lewis have been battling it out this week to see who will replace Woods. Groy clearly had the advantage as he was the player who finished up the Seattle game getting 26 snaps on offense.
Combined, Groy and Lewis have started just 16 total games throughout their careers and neither have impressed much. Groy spent time on the Bears roster before being traded to the Patriots. He was waived with an injury designation by the Patriots and signed to the Tampa Bay practice squad. That's where the Bills picked him up in 2015, and he has been on their roster ever since.
Patrick Lewis has more experience playing than Groy. He started 13 out of the total 16 combined games between both players and those were with a very good Seattle team in 2014 and 2015. He also spent time on a few teams. Before Seattle, he was on the Jaguars, Browns and Packers.
Tyrod Taylor is comfortable with Groy who has gotten most of the work this week at center.
All reports indicate that Ryan Groy will start at center on Sunday against the Bengals. That's not the only spot where the Bills are having a competition for the starter on the offensive line. Check out the competition at right tackle on the next slide.
Right tackle has become a big question mark for the Bills. Who will start at right tackle this week and will they use a committee of players?
The Bills questions at right tackle date back to last season when their starting tackle, Seantrel Henderson discovered he had Crohn's disease which caused him to lose a tremendous amount of weight and undergo several surgeries in the offseason. He was replaced in the lineup by Jordan Mills who was signed off the Lions practice squad by Buffalo earlier in the year.
There is no known cure for Crohn's disease, only treatments. Henderson has admirably tried to battle his way back to the NFL while dealing with his issues but it's not easy. He's still about 15-20 pounds lighter than his weight before his issues. His return appears to be a lot closer as they opened up the competition at the right tackle spot to three players including Henderson, Mills and Cyrus Kouandjio. According to the Buffalo News, Ryan Said:
"We're going to work some guys in there. Obviously, at center, we have to make a decision there and then we've got to make one – I think Jordan Mills is a good player, but I think Seantrel Henderson has looked really good in practice so we'll see how he steps up. Get him some reps, and maybe [Cyrus] Kouandijo as well."
Want your voice heard? Join the BuffaLowDown team!
Offensive coordinator Anthony Lynn indicated that they could rotate in all three players if none of them stand out. Mills play at right tackle has been shaky at times just like it was last season when he filled in. They've been seeking answers ever since at the position and they still haven't found the answer they are looking for.
That's it for the roster transactions and competitions for starting jobs. On the next two slides, we'll update you on the status of Percy Harvin and Marcell Dareus for this week.
After signing recently with the Bills, how much time will Percy Harvin see this week?
The Bills have been searching for answers at wide receiver all season. Even when Sammy Watkins was in the lineup they struggled to move the ball through the air. They had their best overall game of the season passing last week when Tyrod Taylor completed 28 of his 37 passes for 289 yards with a touchdown and an interception.
Robert Woods had career-highs in both receptions (10) and yards (162). He finally found some chemistry with Taylor. Last week was the first time another receiver who Taylor has had chemistry with was in the lineup. Percy Harvin and Taylor worked well together last season connecting on at least four passes in each game that Harvin was in.
In 2015, Harvin played in just five weeks and then retired from football after struggling with injuries. The Bills, desperate for help at wide receiver, reached out to him and signed him just before the game against Seattle this year. He played 21 snaps against them but had zero catches and was never targeted.
The team admitted he was a bit limited against Seattle but this week against the Bengals they think he is ready to go after having three weeks to get in NFL game shape. He would be a huge addition to the passing game if he can regain that bond he shared with Tyrod Taylor last season, and if Robert Woods can continue to play like he did last week.
On the final slide, we'll ask a question we'd had to ask too many times this season. Will we see Marcell Dareus on the field this week?
It's been a question all year. Will Marcell Dareus play on Sunday?
The Bills most expensive defensive player has not done much for them this season. Marcell Dareus started off the year suspended for four games after testing positive for marijuana. While trying to get back in game shape he injured his hamstring and wasn't able to make it into the lineup until the Bills played the Patriots in Week 8, despite being eligible to return in Week 5. Before the Bills game in Week 9 he injured his groin and was unable to suit up.
He is currently listed as questionable for Sunday's game against the Bengals. That's especially concerning considering that Corbin Bryant will miss the game with a shoulder injury. The Bills remain optimistic about Dareus' chances of playing. According to the Buffalo News, head coach Rex Ryan said, "I don't want to cat myself, but I'm feeling pretty good about the big man".
Dareus has managed to play in just one game for Buffalo this season which has been a big blow to the defense. Sure it's the secondary that is mostly to blame for the units issues but not having your most talented player on defense will hurt any team.
The Bills lineup against the Cincinnati Bengals this weekend could look much different than it has earlier this year considering all the changes mentioned previously in this article. Only time will tell what type of effect it has on their performance but the fact that they are at least trying something to rectify the situation is an encouraging sign.
This article originally appeared on