Buffalo Bills Hall of Fame Inductees: Can you name them all?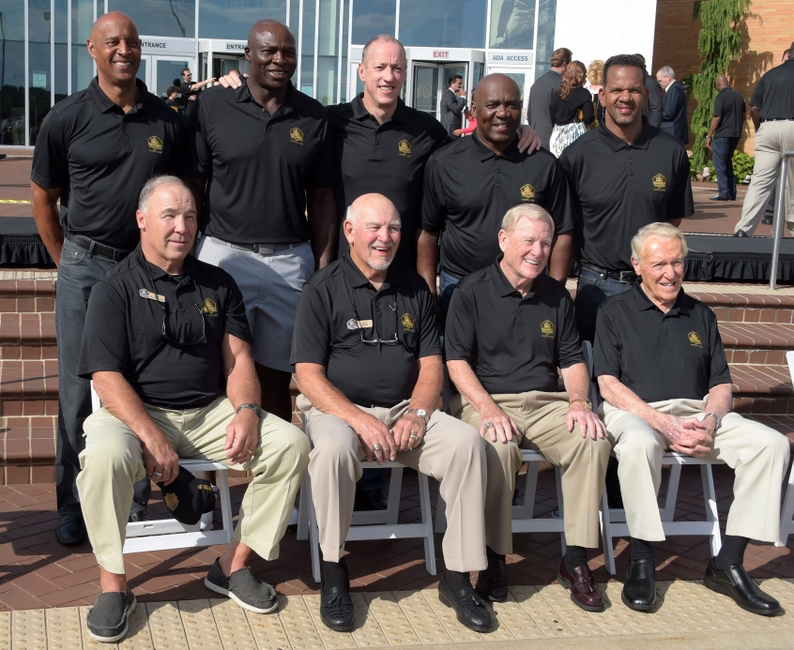 The Buffalo Bills have a very rich history in the NFL and it includes a handsome list of Hall of Fame inductees to go along with it.
The Buffalo Bills have been a hard team to hate ever since they joined the AFL in 1960.
We've definitely had our ups and downs as a franchise, but there's no doubt that we work and play just as hard as everyone else — if not harder — year in and year out. Looking back at the history of this team, there's so much to love about being a Bills' fan.
Ever since the Buffalo Bills were awarded to Ralph C. Wilson on October 28, 1959, he made it a mission to give this city what it was missing — a football team. For 55 years, he helped shape this franchise into a well-respected team across the league.
We've housed some of the best players to ever step foot on a football field. We've put ourselves in positions no one else has ever been in. We've even mounted some of the craziest comebacks the game of football has ever seen — the world of sports has ever seen. Not to mention our back-to-back AFL Championships in 1964 and 1965.
In Ralph C. Wilson's time with this team, the Buffalo Bills have witnessed 13 of their players, coaches or contributors be inducted into the Pro Football Hall of Fame — one of those being Wilson himself.
However, only 10 of those have made a majority of their contributions as a member of the Buffalo Bills.
Do you think you can name all 10 of those players, coaches or contributors? Well, let's put your Buffalo Bills' history to the test, starting with the first person to be inducted into the Pro Football Hall of Fame.
(click the blue box to continue to the next slide)
O.J. Simpson – Class of 1985
One of the greatest running backs to ever play the game, O.J. Simpson simply did things that other people couldn't. His nine seasons with the Buffalo Bills were special in so many different ways.
In his 112 games with the Buffalo Bills, Simpson totaled 10,183 yards on 2,132 rushing attempts — adding 57 touchdowns. He also caught 175 passes for 1,924 yards and 12 touchdowns on the receiving end.
His highlight season came in 1973 when he rushed for a whopping 2,003 yards in that season, becoming the first player to accomplish that feat in NFL history. Eric Dickerson would later break that record in 1984, but Simpson did it in less games — the NFL season was only 14 games in 1973.
Simpson added 12 touchdowns in that 1973 season.
2 years later, he accomplished another highlight to his career when he rushed for 16 touchdowns in the 1975 season, adding another 7 receiving touchdowns.
A Heisman Trophy winner, No. 1 overall draft pick, MVP, four-time rushing title holder, five Pro-Bowls, 1979 Pro Bowl player of the game, I mean the guy has done it all when it comes to football.
O.J. Simpson was inducted into the Pro Football Hall of Fame with the Class of 1985. Lou Saban — head coach of the Buffalo Bills for two different stints — from was the presenter. Simpson had high praise for Saban during his enshrinement speech:
You know, Lou came into my life at a very difficult time for me. I hadn't done anything for three years and I was really thinking about quitting and I will never forget the day when he first got there. He sat me down and told me, 'Son, I think you have gotten a raw deal here and I want you to know I think a lot of your ability. I am going to give you the ball and if you bear with me, I'll get the guys around you so that you can go on and be the star that you should be.' And it was just through his will, through his determination. He took a bunch of guys who were castoffs from other teams and a couple of rookies and with the help of the finest offensive line coach that I ever heard of, Jim Ringo, they took this group of misfits and young players and they turned them into the Electric Company. I want to tell you they turned on the Juice.
Jersey Number: 32 (No current Bills' players wear this number)
After O.J. Simpson, the Bills didn't have another inductee until 1999. Do you remember who it was?
Billy Shaw – Class of 1999
Billy Shaw is widely known as the first player to be inducted into the Hall of Fame without ever playing a game in the NFL.
Shaw was drafted in 1961 by both the Buffalo Bills of the AFL and the Dallas Cowboys of the NFL. He decided to sign with the Bills and it proved to be quite the move. In his 9 seasons with the Buffalo Bills, he only missed 7 games.
Shaw was the "driving force" of the Bills' offensive line that helped them become back-to-back AFL Champions in 1964 and 1965. Although he wasn't a member of the Buffalo Bills' squad that entered the NFL in 1970, his play in the AFL was dominant enough to earn him an induction into the Pro Football Hall of Fame in 1999.
He reminds us what the Bills mean to Buffalo — and what Buffalo means to the Bills — in his enshrinement speech:
The city of Buffalo, couldn't play in a better place. A lot of times the City of Buffalo gets a bad wrap. But that wrap is unjust because we learned to love that city, that city learned to love us, and we have some lasting friends. They took a young man, just out of college, put their arms around him a better citizen, a better father, and a better football player. I thank you, the City of Buffalo.
His 8 All-Star games in 9 seasons is admirable, but Shaw's ability to dominate with both the pass and rush blocking is rare to see these days.
Jersey Number: 66 (Seantrel Henderson currently wears this number)
Just two years after Billy Shaw was inducted, we had another legend inducted into the Pro Football Hall of Fame. Which non-player was in the Class of 2001?
Marv Levy – Class of 2001
The man, the legend, Marv Levy.
Levy joined the Buffalo Bills in 1986 after a 5-year stint as head coach for the Kansas City Chiefs that ended after the shortened lockout season. He started with the Bills midway through the 1986 season and had a rough start — finishing the season 2-5.
The following season, he finished with a 7-8 record and finished last in the AFC East again. Luckily, the Buffalo Bills stuck with him and his high-powered no-huddle offense. He would lead the Bills to four straight AFC East titles, bringing them to the Super Bowl each of those years. During that stint, the Bills went 47-17 in the regular season.
The following two seasons, he led the Bills to 5 more playoff wins, but still failed to bring home the big prize. After a year away from the playoffs in 1994, he brought them to two more playoff berths in 1995 and 1996 before missing the playoffs in his final season in 1997 — when Wade Phillips took over.
Since Marv Levy left the Buffalo Bills and became an analyst for NFL.com, only one other coach has brought the Bills to the playoffs: Wade Phillips in the two seasons after Levy left.
Levy reminds everyone how awesome this fanbase is during his enshrinement speech:
What an odyssey I lived with those men, with their teammates and coaches, with all the wonderful people in the Bills organization, and with those incomparable Buffalo Bills fans. For six consecutive years they led the NFL in attendance. Who cared if it was bitter cold or if an angry snowstorm was raging? Their spirits were as tough as linebackers; their hearts were as warm as the thermal underwear I wore during those January playoff games in Orchard Park. And what about those great players and coaches against whom we competed so fiercely? I'm so proud to have walked the opposite sideline from Hall of Fame coaches: Don Shula, Tom Landry, Bill Walsh, Bud Grant, Chuck Noll, Joe Gibbs. And to have walked the same sideline as an assistant to a coach from whom I learned so much and to whom I owe so much, the inimitable George Allen.
His no-huddle offense completely changed the game, he was the Coach of the Year in 1988, AFC Coach of the Year in '88, '93 and '95. He's the coach with the most wins in Buffalo Bills' history. Marv Levy is a legend and brought this franchise more glory than most.
One year after Levy was inducted, one of his famed players was inducted into the Pro Football Hall of Fame. Guess who?
Jim Kelly – Class of 2002
Jim Kelly was the man behind center for all four of the Buffalo Bills' trips to the Super Bowl and is known as the G.O.A.T. when it comes to Buffalo Bills' quarterbacks.
His consistency year-in and year-out was admirable to any team and the fact that he did it for 11 years — all for the Buffalo Bills — made him a legend to this city.
Jim Kelly was selected by the Bills in the 1983 NFL Draft with the 14th overall pick in the first round. However, he would end up playing two years in the United States Football League (USFL) with the Houston Gamblers before making his NFL debut in 1986.
When 1986 came, Kelly meant all business. For eleven straight seasons, he led this team and missed only 16 games — he played in 160 games.
Over those 160 games, he compiled a 101-59 record with the Buffalo Bills. For comparison, the Buffalo Bills have gone 142-162 since Jim Kelly retired from the NFL in 1996.
We've had 57 losses in the past six years — not including this year — and Jim Kelly had 59 losses in 11 seasons. We've had 105 wins in the past 16 years — playoff drought — and Kelly in 101 wins in 11 seasons.
I mean, the numbers say that he was the best quarterback we've ever had and the fans would say the same thing.
In his career, Jim Kelly totaled 35,467 yards, 237 touchdowns, 175 interceptions, 60.1 completion percentage and 84.4 rating. He added 1,049 rushing yards and 7 rushing touchdowns.
With 4 Pro Bowls, 8 postseason appearances, master of the no-huddle and 8 seasons of more than 3,000 passing yards, the Buffalo Bills sure could use him right now.
Jim Kelly ended his enshrinement speech with a tribute to his son, Hunter, who passed away in 2005 at the age of 8:
Then there is my only son, Hunter. Born on February 14, Valentine's Day, my birthday. The son I've always wanted. I've dreamt what every father dreams about, playing catch in the backyard, going fishing, camping, everything that fathers and sons do. But within four months my son was diagnosed with a fatal disease called Krabbe leukodystrophy. They told us to take him home, and make him comfortable. And from that day, my wife and I decided to fight this disease. And so, we made it our lifelong commitment to make sure that kids all over the world don't suffer like my son does. … Since the day I was selected, I prayed to God that my son would be here with me today. God has granted me that blessing. It has been written throughout my career that toughness is my trademark. Well, the toughest person I've ever met in my life is my hero, my soldier, my son, Hunter. I love you, buddy.
Jersey Number: 12 (this number has been retired by the Buffalo Bills)
Jim Kelly can still be seen pretty much everywhere, as he still resides in the area.
The following year (2003), the Buffalo Bills made it three straight years with a Hall of Fame inductee. Do you remember who?
Joe DeLamielleure – Class of 2003
Just 30 years after the Buffalo Bills drafted Joe DeLamielleure in the first round of the 1973 NFL Draft, the offensive guard was being inducted into the Pro Football Hall of Fame.
Joe D, as he became known as, was one of the few people that got the chance to lead O.J. Simpson off the line of scrimmage.
Joe D was a member of what was known as the 'Electric Company,' speaking of that offensive line that helped O.J. Simpson become one of the best running backs in the history of the game. With the way the Buffalo Bills run the ball today, our current offensive line strives to be like Joe D's line.
He spent his first seven years in this league with the Bills, his first with the team was the historic 2,003-yard rushing season by Simpson. He averaged 6.0 yards per carry on 332 attempts, scored 12 touchdowns, earned the MVP award and the Offensive Player of the Year award. He wouldn't have done any of that without the offensive line in front of him.
One of my favorite things about the Buffalo Bills' offense with the Electric Company was in 1977 — Joe D's fifth year with the Bills — when O.J. Simpson went down with an injury mid-season. This is where a great offensive line comes in handy because the Bills went on to lead the league in passing yards that season.
Joe DeLamielleure and his offensive line brought versatility to the Bills' offense and let them do whatever they wanted. He helped created one of the most dominant offenses to ever step foot on a field.
After his 7 years in Buffalo, he was traded to the Cleveland Browns where he continued his excellence — blocking for another MVP, this time a quarterback. He spent the next five years with the Browns, but would return to Buffalo for his final season in 1985.
I mean, the man has even competed in the NFL's Strongest Man Competition in 1982.
In his enshrinement speech, Joe D spoke about what it meant to be a part of the famed Electric Company:
Then, we had the "Electric Company," we ran the ball because we couldn't pass. We had Joe Ferguson so he wouldn't get his confidence shaken up, so we couldn't pass block. So, what we did, we took Paul Seymour, made him a tight end. We had tackles (Dave) Foley, and Donnie Greene – one from Purdue, one from Ohio State. The other guard – Reggie McKenzie, he could run like a deer. Center Mike Montler, and myself. Then, we had great wide receivers, nobody knew it. We had J.D. Hill, and the late Bobby Chandler. We had another tackle who was in the backfield – Jim Braxton. The guy was 260 pounds and the greatest blocker I've ever seen. And, we had the "Electric Company," and no other offensive line ever was dubbed a nickname, and I am proud to have played on that team.
Jersey Number: 68 (Cyril Richardson currently wears this number)
After Joe D was inducted, the Buffalo Bills didn't have another one until 2007, our second running  back to make the journey to Canton.
Thurman Thomas – Class of 2007
It was the Jim Kelly – Thurman Thomas – Andre Reed era in the Buffalo Bills' past that set this team apart from most. Specifically, the 1988 season (Thurman Thomas' rookie year) all the way up until the 1996 season (Jim Kelly retires).
In Thomas' first year with the team, he helped bring a 7-8 team to a 12-4 team. It was clear the difference he made to this team when he finished the season with 881 yards rushing and 2 TD in his rookie season. After that, things really started to click for this offense.
For the next 8 seasons, Thurman Thomas would crack the 1,000-yard mark and was a steady contributor in the passing attack, which was also starting to flourish with Jim Kelly and Andre Reed. Over that 8-year span for Thomas, he totaled 60 touchdowns on the ground and 20 touchdowns through the air.
In 1991, the Buffalo Bills' second consecutive trip to the Super Bowl, Thurman Thomas was named the NFL's MVP after becoming the 11th player in history to combine 2,000 all-purpose yards. He finished the season with 1,407 yards rushing and 631 yards receiving.
The following season, he ran for 1,487 yards and added 626 yards receiving — squashing his previous season-best.
Much like Jim Kelly and the rest of the players on this list, Thurman Thomas is heavily invested in this city and is adored by everyone. He is one of the greatest to do what he did and will forever be remembered for his dominance.
In Thomas' enshrinement speech, he boasted about the importance head coach Marv Levy had on his success:
But for real, Marv, you are my inspiration. I wanted to play my best because I never wanted to disappoint you. You made me feel like every extra effort I made for the Bills was appreciated. Marv, I remember my first game against the Houston Oilers, against the Minnesota Vikings, I spiked the ball. When I came over to the sideline, you had this look in your eye like you were very upset at me. You grabbed me by my jersey and said, Why did you spike the ball? I said, Coach, every little kid that ever watches football at least wants to do that at least one time in his career. He said, Well, that's great, don't ever do it again. Act like you've been there before. After that, I never spiked the ball again. So thank you, Marv.
Jersey Number: 34 (this number has been retired by the Buffalo Bills)
Two years later, the Buffalo Bills saw two more inductees join the list of Buffalo legends. One of them was here the same amount of time as Andre Reed, while the other one was here since the very beginning.
Bruce Smith – Class of 2009
One of the most dominant defensive players in the history of the NFL, Bruce Smith was another huge reason the Buffalo Bills were featured in four consecutive Super Bowls. He spent a total of 15 seasons with the Bills and they were all spectacular.
In 12 of those seasons, Bruce Smith managed to record a total of 10 or more sacks in the season — highlighted by his 15-sack total in his second year and 19-sack total in 1990 — the Bills' first trip to the Super Bowl).
The other three seasons where he didn't record 10 or more sacks were his rookie year (6.5 sacks), the 1991 season where he missed 11 games to a knee issue (1.5 sacks) and his final season with the Bills in 1999 (7 sacks).
In Bruce Smith's career, he totaled an even 200 sacks (171 sacks with Buffalo and 29 with Washington Redskins). That's not just an incredible number, it's a number no other player in the history of the NFL has ever reached. The closest anyone has gotten was 198 sacks (Reggie White). The closest active player is Julius Peppers at 142.5 sacks.
11 Pro Bowls, 9 First-Team All-Pro selections, 3-time NFL Defensive Player of the Year, a member of the 1980's and 1990's All-Decade teams, and an NFL record that still stands.
There's a reason we will never see another Buffalo Bills' player wear the No. 78.
Here's a snippet from Bruce Smith's enshrinement speech:
That was the golden era, but our beginnings were more humble. In 1985 we suffered through a 2-14 season. The team failed to improve until 1986 when Mr. Wilson decided to hire Marv Levy as head coach. In his efforts to restructure the team, Mr. Wilson also hired Bill Polian as the new general managers. These two would work in concert to orchestrate one of the greatest teams in NFL history. … Darryl Talley and I were on defense. Jim Kelly and Andre Reed were on offense. And Steve Tasker was in place other special teams. Then Cornelius Bennett, Nate Odomes and Thurman Thomas were added to the roster, and the nucleus of our team was formed.
Jersey Number: 78 (this number has been retired by the Buffalo Bills)
In the same year Bruce Smith was inducted into the Pro Football Hall of Fame, the founder of the Buffalo Bills did the same.
Ralph Wilson Jr. – Class of 2009
If Ralph Wilson Jr. hadn't left the NFL as minority owner of the Detroit Lions to become the owner of a new AFL team in Buffalo, the Buffalo Bills most likely wouldn't exist today. In 1959, the Bills officially became the 7th team to join the AFL — a league that was competing against the NFL.
After ten years in the AFL, which included back-to-back championships, Wilson kept the Buffalo Bills in tact when the NFL and AFL merged. Ever since then, the Buffalo Bills have become one of the most storied franchises in football history.
Wilson's Buffalo Bills would become the only team to appear in four straight Super Bowls, equipped with one of the most talented rosters in the history of the game.
In addition to that, Wilson was a very outspoken owner and didn't hesitate to voice his opinion on the league. As an original owner and one that had been with one team for the entire franchise's history, Ralph Wilson Jr. attracted a lot of respect and admiration from owners around the league.
When Ralph Wilson spoke, everyone listened.
On March 25, 2014, the NFL lost one of its greatest assets. At his home, Ralph Wilson Jr. passed away of natural causes. It was a sad day in Buffalo, which also embarked a new era for the Buffalo Bills.
The team would eventually be sold to Kim and Terrence Pegula — the owner of the Buffalo Sabres. The proceeds of the sale went to an endowment for the Ralph C. Wilson Jr. Foundation, funding charitable causes in both the Detroit and Buffalo area.
When Wilson was inducted into the Pro Football Hall of Fame, he showcased his personality when explaining the Bills' first season in the AFL:
And the first season in the exhibition we were playing terrible. Now towards the end of the exhibition season, we were playing the New York Titans. Now it's the New York Jets. And my friends in the stands said, Wilson, why don't you go down and talk to the team. You're behind 21-7. You can't do any worse. You've had a lousy start in your games up to date. And I said what am I gonna tell them? Well, tell them something. So at their urging, I went down and walked into our locker room, and there was our head coach, Buster Ramsey. With that expression on his face — what are you doing in here? I said I want to talk to the team, Buster said. "Go ahead, talk to them." And I gave that team one of the most inspiring fight talks. It was reminiscent of maybe Knute Rockne or Vince Lombardi. And we lost the game 51-7. Shortly there after, Buster said to me, hey, Ralph, next time talk to the other team.
The Buffalo Bills wouldn't have another Hall of Famer inducted until 2014 and he was another big part of the team that made it to four-straight Super Bowls.
Andre Reed – Class of 2014
Andre Reed helped create the magic that brought the Buffalo Bills to four consecutive Super Bowls from 1990-1993. Playing with Jim Kelly, Thurman Thomas, Bruce Smith, Cornelius Bennett, Darryl Talley and many others made it a memorable era for Buffalo.
Reed spent 15 of his 16 seasons with the Buffalo Bills, the same seasons as Bruce Smith. He was a highly consistent and reliable wide receiver and now sits near the top-ten in most statistical receiving categories.
In four of his seasons with the Bills, Reed caught for more than 1,000 yards and he also eclipsed the 10-touchdown mark in the 1991 season. As a Buffalo Bill, he totaled 941 receptions, 13,095 yards and 86 touchdowns, all of which rank first in Buffalo Bills' history. As far as NFL history goes, those numbers rank 16th, 17th and 14th, respectively.
One of Reed's most memorable games was 'The Comeback.' In a playoff game against the Houston Oilers in 1993, the Bills found themselves trailing 35-3 at one point during the third quarter. Thanks to Andre Reed, the game ended 41-38.
Three second-half touchdowns from Andre Reed would help complete the greatest comeback in sports' history and help move the Bills closer to their third-straight Super Bowl.
During his enshrinement speech, Reed reminisced on the time he first met Bruce Smith — a player that was drafted three rounds before Reed (Smith was the No. 1 overall pick).  Here's how Reed described that moment:
I introduced myself to him. I said, hey, "I'm Andre Reed." I'm a fourth round draft choice. He said, yeah, I know who you are. I said to him, I said, after we land, where we going to go? I said are we going to the hotel, you know, because we have to go to the hotel. He said no, we're not going to the hotel. I said where we going? He said don't worry about it. You're coming with me. It was that day that the Big Tree became etched in my life.
Jersey Number: 83 (no player currently wears this number)
In 2015, the Buffalo Bills saw their most recent inductee find his way to the Pro Football Hall of Fame and it was the GM that brought the most exciting team to Buffalo.
Bill Polian – Class of 2015
Bill Polian brought magic with him everywhere he went — anywhere he went.
His stint with the Buffalo Bills, which lasted from 1986 until 1992, marked his first shot at being the general manager of an NFL team. After originally signing with the team in 1984 as the director of pro personnel, he was promoted to GM shortly after signing Bruce Smith.
In his six years with the Buffalo Bills, he helped build one of the most dominant teams in NFL history — the same team that went to four-straight Super Bowls. He's a very smart football mind and his success as GM of the Bills brought him more jobs down the line.
He would have a three-year stint with the Carolina Panthers where he would try to make them the quickest team to enter the league and make it to the Super Bowl. His efforts were close, but he would lose in the NFC Championship game in the team's second season in the NFL.
He would then get another promotion, becoming the President of the Indianapolis Colts, where he would go on to draft Peyton Manning and turn the Colts into a storied franchise themselves. Like I said, he brought magic anywhere he went.
In his enshrinement speech, he embarked on his days working with Marv Levy and how special those days were:
In Buffalo, prior to every game, from the preseason to the Super Bowl, Marv and I would walk down the tunnel together side by side. We would wish each other luck and embark on another contest together. I am thrilled that on this great day I can take another walk, side by side, into these hallowed halls with the man who did so much to put me here. Thank you, Marv.
Bill Polian marked the 10th Buffalo Bill to be elected into the Pro Football Hall of Fame. However, there were three more people inducted that spent small stints with the Buffalo Bills. These three players had larger contributions elsewhere, though.
Jim Ringo – Class of 1981
Jim Ringo was inducted into the Hall of Fame due to a very successful playing career with the Green Bay Packers and Philadelphia Eagles. However, he would later have two stints with the Buffalo Bills on their coaching staff.
His first stint with the Bills lasted from 1972-1977. He was the team's offensive line coach and helped form one of the most dominant offensive lines in the history of the game — the line that eased O.J. Simpson into a Hall of Fame career. He would be promoted to head coach for the 1996-1997 season, but would be fired after a 3-13 season.
He would return to the Buffalo Bills in 1985 and serve as the team's offensive coordinator for three years. It would be his last days in the NFL and he would later pass away in 2007 after a short illness.
James Lofton – Class of 2003
James Lofton is one of the best wide receivers in the history of the game and although his glory days weren't spent with the Buffalo Bills, his 4-year stint with the team included three of the Bills' four Super Bowl appearances.
His first season with the Buffalo Bills in 1989 didn't see a whole lot of production. He finished the season with just 8 receptions, 166 yards and 3 TD. Sound similar to Justin Hunter's stats?
Lofton would come back stronger the following season, posting 35 catches, 712 yards and 4 TD in 1990. His third year with the Bills was his strongest season with the team, finishing with 57 catches, 1,072 yards and 8 TD. It was his sixth 1,000-yard season and also matched his career-high in touchdowns through one season.
Over his 16-season career, he totaled 764 catches, 14,004 yards and 75 TD.
Dick LeBeau – Class of 2010
Dick LeBeau was another player that wasn't named to the Hall of Fame for his stint with the Buffalo Bills, but would later coach the team in 2003. He has had a long coaching career that followed a 14-season career as a cornerback.
Those 14 years were spent with the Detroit Lions, where he would total 62 interceptions, 762 yards and 3 TD with the team. He had at least 3 INT in 12 of those seasons, the two he didn't were his rookie season and final season in the league. He had 7 INT in 1965 and 9 INT in 1970.
As a coach, he has spent time with the Eagles, Packers, Bengals, Steelers, Bills and Titans. Almost all of that time was spent coaching defense, whether it be coordinator, defensive backs coach or special teams. He was the Bills' assistant coach, as well as the head coach for the Cincinnati Bengals.
He has coached some of the greatest defenses and has done it on a consistent basis for a long time. He currently spends his days as the defensive coordinator and assistant head coach for the Tennessee Titans.
That's the last of the Buffalo Bills' Hall of Fame inductees. Hopefully, we see this list continue to grow. 
How many Hall of Famers did you guess right off the top of your head? Who's your favorite? Leave your comments below!
This article originally appeared on