Buffalo Bills Fantasy Football: Top Week 2 Performers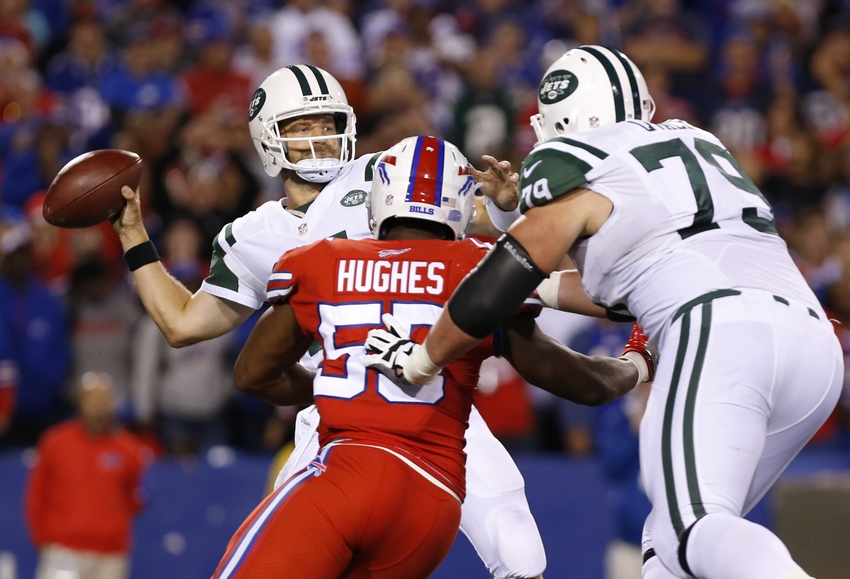 The Buffalo Bills lost their home opener vs. the Jets, starting their season off 0-2. Who were the top fantasy performers for the Bills on Thursday?
It hasn't exactly been the start Buffalo Bills' fans were expecting for the 2016 season. Despite all of our injuries and off-the-field distractions during training camp and preseason, there was still a lot of faith in this Bills' squad when they first took the field on September 11th vs. the Baltimore Ravens.
After a strong performance by the defense and a horrific performance by the offense, the Bills walked away with a 13-7 loss Week 1 in Baltimore. It showed that our defense can be productive and limit the opponent's point total, but it also showed that we couldn't rely on our defense to bring us wins. We would need a better outing from Tyrod Taylor and LeSean McCoy.
Just four days after their first game, the Bills had to suit up against the New York Jets for Thursday Night Football. It was expected to be a great game and sure enough, that's what NFL fans got on Thursday. Unfortunately, the Bills' pass defense was so horrific that it led to a 37-31 loss in Week 2. We saw the defense take a step back after a strong Week 1, but saw the offense take a step forward — although it was a baby step.
No In-Editor Preview for 120 Sports Videos
Video Details
ID: 202130142
Source: 120 Sports
It's no question that Bills' fans didn't want their season to start like this. I mean, this was supposed to be the year we figured everything out, right?
That's true, but hold your horses. We are only two games into the season and we know this team can roll with the best of them. This team will find their groove and although it must come very soon, that doesn't give us the right to give up on them. We have 14 games left to prove we belong in the playoffs and if you ask anyone in this league — that's more than enough time.
For Week 1, it was a bad day for anyone that had any Buffalo Bills' players starting on their fantasy football team. Although not much changed this week vs. the Jets, we did in fact see more production from the offense. Here's a recap of the top three fantasy performers during Week 1 vs. the Ravens:
LeSean McCoy – 12 points
Buffalo Bills D/ST – 9 points
Tyrod Taylor – 5 points
Without further ado, let's take a look at this week's top three fantasy football performers for the Bills.
The Bills saw better fantasy numbers from their key players on Thursday, but it wasn't enough for the win. Here are the top 3 performers vs. the Jets.
Let's dive right into it.
In Week 1, our top fantasy point-getter was LeSean McCoy, who finished with 12 points. Keep in mind, 6 of those came from a 1-yard touchdown run, meaning he only had 6 points come from actual yardage.
Behind McCoy, the Bills' defense had an okay outing with 9 points and Tyrod Taylor had a very disappointing day with just 5 points.
Week 2 was a bit different in that regard. We had one player get more than 20 points, another two get above 14 points and another three get above 7 points. Although those numbers still aren't where fantasy owners would like, it's a step toward the right direction.
Let's begin with the third-best fantasy performance from the Bills on Thursday.
Greg Salas
WR, Buffalo Bills
14
On a team where Sammy Watkins and Robert Woods are your top-two receivers, it should be rare to see a receiver other than those two score more points. On Thursday, the Bills saw two receivers do exactly that. In fact, Watkins and Woods combined for just 3 fantasy points on Thursday after scoring just 6 combined vs. the Ravens. That paved the way for receivers like Greg Salas and Marquise Goodwin to shine.
Salas finished the game with 49 yards on four receptions and five targets, adding a touchdown to his season stat-line. He had a total of 14 points, but in PPR leagues he finished with 18 points. He was a fan-and-coach-favorite throughout training camp before injuries kept him sidelined. Now with the regular season in full swing, it's nice to see the young receiver have success against his former team. It's a confidence boost that the team should benefit from as a whole.
Look for Salas to have an expanded role on this offense moving forward. He creates a threat in the slot that very few receivers can create in this league. He is owned by 0% of fantasy owners in ESPN leagues, but that will change if he is given more opportunities moving forward.
Marquise Goodwin
WR, Buffalo Bills
17
Marquise Goodwin made a lot of headlines throughout training camp and preseason as this team's clear No. 3 wide receiver. On Thursday, he showed why we shouldn't forget about him. In fact, to be honest he looks like he could be the Bills' best receiver this season if Watkins and Woods keep struggling to be found by Taylor.
Goodwin finished the game with 112 yards and two receptions on five targets, also adding a touchdown to his resume. If he had found a way to bring in more of his targets, he would've had an even more monstrous game. In PPR leagues, he totaled 19 points.
Goodwin is another wide receiver that isn't owned by anyone in ESPN leagues. Of course, that makes sense due to what Watkins and Woods should be offering. However, if they continue to decline and make it hard for Taylor, then Tyrod will easily look to Goodwin, Salas or another receiver. Keep an eye on Goodwin moving forward.
Greg Salas finished 12th this week in fantasy points compared to the rest of the receivers around the league. Goodwin finished 7th, behind just DeAndre Hopkins (17 points), Eric Decker (18), Corey Coleman (22), Kelvin Benjamin (22), Travis Benjamin (23) and Stefon Diggs (24).
Tyrod Taylor
QB, Buffalo Bills
23
Tyrod Taylor had one of the worst performances as a starting quarterback in his career for the Bills' season opener vs. the Ravens. After posting just 5 fantasy points and 111 yards passing, the only good thing to say about it was he didn't turn the ball over at all.
Bills Lose Home Opener On Thursday Night Football
It's obvious that wins are hard to come by for a football team without a productive quarterback. The same reigns true for fantasy football owners.
On Thursday, Tyrod had a much better performance. He still left A LOT of opportunities on the field with missed plays, but had enough big plays to make him a worthy starter for Week 2 of fantasy football. Ending the game with three touchdowns and just one interception, on top of 297 yards and 25 yards rushing, Tyrod Taylor finished with a total of 23 points, 21 of them coming through the air. Owned in 68.2 percent of ESPN leagues, his performance should give that number an increase.
Compared to other quarterbacks in the league, he ranked with the sixth bet fantasy performance. Ahead of him were Philip Rivers (23 points), Derek Carr (24), Carson Palmer (24), Matt Ryan (27) and Cam Newton (29). That's not bad compared to his 31st ranking in Week 1 — only 32 quarterbacks scored fantasy point in Week 1.
The Buffalo Bills prepare for another home game on Sunday, September 25th vs. the Arizona Cardinals and will have their work cut out for them. With a long week to get ready, the Bills should use the time to their advantage.
Stay tuned for more fantasy football coverage on the Buffalo Bills and hopefully the rest of you are doing better than my 0-2 fantasy team. There's still hope!
More from BuffaLowDown
This article originally appeared on