Buffalo Bills: Draft Prospects in the East-West Shrine Game
Daniel Hahn/FanSided via BuffaLowDown

Fansided
The Buffalo Bills need to have a solid draft, so scouting the East-West Shrine Game on Saturday would be a smart move.
The Buffalo Bills have a lot of free agents and not a lot of money to work with this offseason. Thus, if you are looking for substantial improvements, they will need to do it through the draft. Each round can produce starters and the East-West Shrine Game is the first chance for NFL team to evaluate players in an NFL-like setting.
Game day is January 21 at 3 pm EDT and it will be aired on the NFL Network.
History of the Game
The East-West Shrine Game dates back to 1925 and is sponsored by Shriners Hospitals for Children. The game still includes visits to hospitals and community service for the participants with Shriners.
The Shrine Game on Saturday features a variety of players who will be selected in the later rounds, as opposed to players invited to the Senior Bowl or other larger all-star games leading up to the draft.
Several of the players from this game will be drafted in days 2 and 3 of the draft, but also trickle in as key undrafted free agents.

Notable Alumni
Cardinals WR John Brown, Redskins CB Josh Norman and Patriots QB Tom Brady have all been featured in the Shrine Game. In addition, Hall of Famers Brett Favre and John Elway also played in the Shrine Game.
Now lets take a look at some of the key players you should be watching out for when you tune in — players that could help fill some big roster holes for the Buffalo Bills.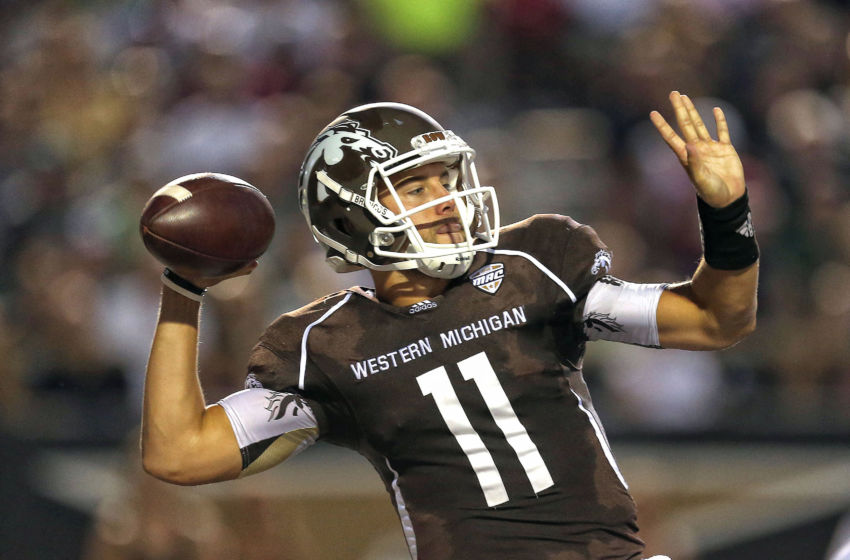 West Team QB Zach Terrell – Western Michigan
Regardless of what happens with the Tyrod Taylor situation and in free agency, the Bills will be scouting quarterbacks heavily. While the top-tier QBs won't be in this game, there is still one QB I will have my eye on.
Enter Zach Terrell who will play for the West team.
Terrell isn't going to be your Day 1 or 2 draft pick, but he brings a winning background having played for a one-loss team at WMU this past year. He mirrors what a coach should want, in that he has proven to be a smart decision maker.
2016 Stats: 3,533 passing yards, 69.8% Completion, 33 TD, 4 INTs
In Terrell's college career, his touchdown to interception ratio is an astonishing 96 to 31 and his lowest completion percentage was 53 percent during his freshmen year. WMU is a program that was built on his shoulders, as well as WR Corey Davis' shoulders.
He isn't "Captain Check-Down" Trent Edwards either. In each year after his freshman season, he averaged over 9 yards per attempt.
The knock on him will probably be his size and the small conference he played in. Had he performed better in his bowl game vs. Wisconsin, his stock would be much hotter entering the draft.
As a Buffalo Bills fan, while of course I want the QB of the future, I would also gladly take a competent QB that can backup an injured No. 1 starter — or a struggling No. 1 starter. Cardale Jones may not be ready next year and E.J. Manuel isn't coming back. You do the math.
Could Terrell be the next Trevor Simien? Would you be ok with that? I would project him to be better than Simien, as his numbers and record are very impressive.
West WR Trey Griffey – Arizona
Griffey's stats won't jump off the page at you, but his size at 6-3 and 209 pounds means he can come in day one and compete for a slot position within an NFL roster. He isn't Marquise Goodwin fast, but if he can get open on short routes, he will do just fine.
I am interested in seeing how he plays in an NFL scheme, as opposed to the Rich Rodriguez spread offense. His career stats just don't show the results a player in this bowl should have, but here he is so maybe there are physical attributes that NFL teams want to utilize.
Career: 70 Rec, 1,241yds, 6 TDs
It also won't hurt to see Ken Griffey Jr. at Buffalo Bills' games (okay, maybe that's a big reason he made this list).
All his interviews have to feature a backwards hat, right?
East WR DeAngelo Yancey – Purdue
The size is comparable to Griffey's (6-2, 205 pounds), but the stats are much more superior. Yancey was the No. 1 — and maybe only — target for Purdue this season.
Playing in the Big 10 meant he faced top corners each week of conference play.
2016 Stats: 49 Rec, 951yds, and 10TDs
My theory is No. 1 wide-receivers on their college teams who become No. 2 or No. 3 wide-receviers on an NFL roster should be successful. They are now facing single coverage and have been forced into big pressure situations throughout college.
Yancey won't project to have a greater upside than his current attributes, which will make him a lower draft pick. He will be a smart receiver right out of the gate.
For a team with only 1 signed WR at the moment, the Buffalo Bills will need a healthy mix of potential (Griffey) and consistency (Yancey).
East WR Kermit Whitfield – Florida State
If there is one thing that has been constant about the Doug Whaley drafts, it's that he loves his big college program selections — and ACC players.
Whitfield lacks ideal NFL size (5-8, 182lbs), but he played at Florida State. I hope he shows me something because you know the Buffalo Bills will like his "winning culture" from college.
2016 Stats: 34 Rec, 395yds, and 1TD
The stats don't show very well, which you would expect with a Freshman QB this year. What he will need to show, since he lacks size, is the ability to get open and settle into the open parts of zone coverage.
These all-star games will feature a lot of base defenses, where zones can be exploited by the smart QBs and WRs.
Offensive Linemen
I am going to be watching for one thing when it comes to the offensive linemen: How easily do they pull blocks?
The Bills are the two-time rushing champions on offense and just hired a new offensive coordinator that will bring in more zone-blocking rushing plays.
What is one of the main features of zone blocking? Pulling offensive linemen. In other words, a right guard will backtrack and run to the left side on some plays to act as a pseudo fullback.
The Bills could use improvement at the right tackle position and depth at Guard, so here's who you should listen and watch for:
East OT Dan Skipper – Wisconsin – 6-10, 319 pounds
West OT Storm Norton – Toledo – 6-8, 306 pounds
East OT Erik Magnuson – Michigan – 6-6, 305 pounds
West OG Zach Johnson – North Dakota State – 6-6, 301 pounds
As a side note, with a Skipper as the RB Coach, can the Bills have too many Skippers?
If Zach Johnson doesn't make a NFL roster, will he try golfing?
Is Storm Norton not the perfect WWE character name?
I will stop, but the game will be sloppy, so find ways to enjoy watching what is one of the biggest job interviews in these young men's lives.
Defensive Linemen
The Buffalo Bills face an uncertain future at defensive line dominance. Kyle Williams is one of the best players at the position — that maybe only we know about and appreciate. With the news that he is mulling retirement, we are clearly on borrowed time with him — even if he returns.
Let's look at building depth at this position, with guys who can come in and be solid rotational players from day one.
West DT Josh Tupou – Colorado
2016 Stats: 45 tackles, and 2 sacks
At 6'3, 325 pounds, Tupou will have size to make him effective early against the run. What will be important in the McDermott 4-3 defense are defensive tackles who can take on multiple blockers to free up the linebackers.
East DT DeAngelo Brown – Louisville
2016 Stats: 40 tackles, 3 sacks, and 1 FF
Brown is 6'1 and 310 pounds, which is smaller than Tupou and may appear quicker and sleeker. While I don't expect McDermott to make the DTs shift as much pre-snap like Rex Ryan, having a DT who is smart at reading screens and will have faced several of the top QB prospects coming out would be a nice asset for a role player on defense.
Defensive Playmakers
The Buffalo Bills will be infusing some new talent on defense that will fit what McDermott deems as 'his' culture. Thus far what we know is that McDermott himself is detail-oriented, extremely hard-working (having been a walk-on in college and Andy Reid's EA to start) and aggressive.
These guys will bring the attitude McDermott wants in the locker room and on the field.
East LB Andrew King – Army
2016 Stats: 97 tackles, 5 sacks, and 2 FF
What I like about Andrew King are the obvious intangibles.
A Captain of the Army team should speak highly of his character and leadership abilities. I do tend to favor captains when it comes to drafting because these were the leaders who had the most responsibility in college.
Give them a harder workload, but lesser in the NFL, they should be at an early advantage.
East CB Nate Hairston – Temple
2016 Stats: 25 tackles, and 2 INTs
Temple is starting to put together a nice string of late draft picks who make rosters and contribute on special teams. I put Hairston on this list because the Bills have already interviewed him at practices this week.
Hairston is only 6'0 tall, so he would need to be a slot DB and make special teams to make the Buffalo Bills' roster.
East S Xavier Woods – Louisiana Tech
2016 Stats: 89 tackles, 3 sacks, 1 FF, and 5 INTs
The Bills have to address the Safety position. Corey Graham is getting older and Aaron Williams is no guarantee to make it through a full season.
Woods will add potential to be a smart playmaking safety that would serve as a ball-hawk. This Saturday, he needs to show how he breaks on the ball and whether or not he gets tricked by the quarterback's eyes — or is he watching the WRs and making smart decisions?
West S Weston Steelhammer – Air Force
2016 Stats: 76 tackles, 1 sack, 1 FF, and 7 INTs
Let's start off with the obvious, that's a name every fan who buys a jersey would want, right? Outside of one of the best names in the draft, Steelhammer will add another high character player.
Steelhammer did a bit of everything for Air Force this season, both in the run game and pass defense. I want to see how aggressive he is vs. the run on Saturday and if the West defense tries to disguise him.
At 6'2 he has the height the Buffalo Bills will want at Safety.
Summary
There will be several draft picks from the East-West Shrine Game. The Buffalo Bills' 2017 success will be critical on finding depth in the draft and undrafted signings.
Fact is, there isn't enough cap space to sign 24+ veteran free agents.
While there are going to be flaws with all of these players, what you can find are depth and rotational pieces who will can contribute on a playoff team. Injuries happen in the NFL and if you don't have depth, you have no shot.
Most of these players do not have the measurements draft gurus want to make them 1st round picks. What they can show are high grades in technique and intelligence which can trump talent in the NFL.
Sean McDermott was a walk-on at William & Mary. McDermott is now an NFL Head Coach who turned down a job at Price Waterhouse Cooper to try his hand at coaching.
These guys have the makeup McDermott wants in his locker room, as they too are starting off their careers underrated.
Only hard work will push them to the levels of success they all crave.
Who will you be watching during the East-West Shrine Game? Leave your comments below!
This article originally appeared on