Buffalo Bills: Can Tyrod Taylor Turn the Corner in Week 4?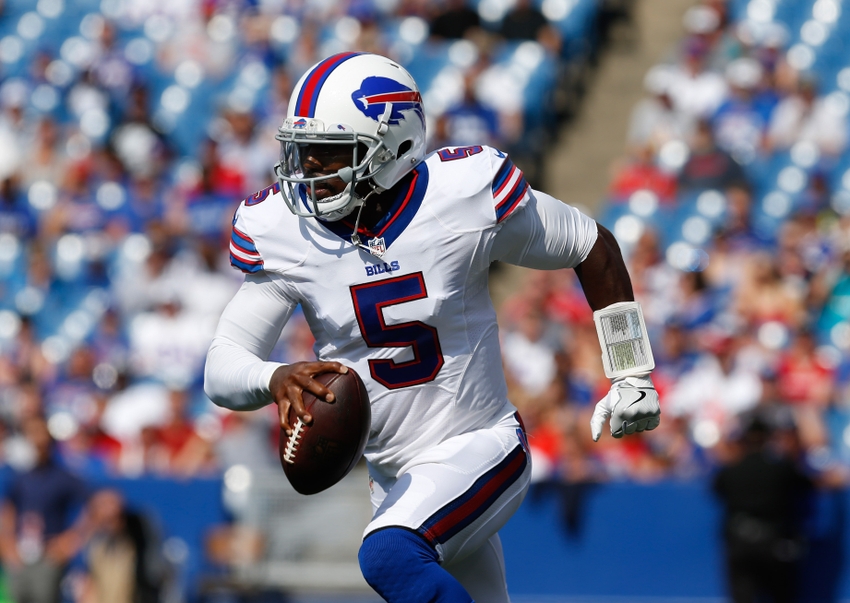 Buffalo Bills quarterback Tyrod Taylor hasn't quite been the catalyst he was in 2015 when he emerged as a legitimate NFL starter. Can he turn the corner?
Last season, Tyrod Taylor was one of the most surprising and entertaining quarterbacks to watch in the NFL. His penchant for the big play while being able to keep the ball safe (20 touchdowns to six interceptions) made him sneak up among the best quarterbacks in the NFL.
Sitting at sixth in yards per attempt (8.3), fifth in yards per completion (12.5), and boasting a respectable 63.7 completion percentage, it looked like the quarterback may be ready to turn the corner.
But through three games in 2016, the Buffalo Bills and Taylor have to be scratching their heads a little bit. The team is just 1-2 and the quarterback play has been shaky in all three games, even with the blowout in Week 3 as noted by Andre Vergara at Fox Sports.
Compared to last season, Taylor's completion percentage (61), yards per attempt (6.8, 22nd in the NFL), and yards per completion (11.2, 22nd in the NFL) have all taken a hit. It isn't so much that he's regressed, but the numbers aren't backing up any claims that he should be considered better.
Spin Zone's Andrew Long may have been perfectly correct when he called Taylor a "flash in the pan" and compared him to Russell Wilson III, saying:
The similarities in their game are evident, and if I'm a member of the Buffalo Bills managerial staff, that scares me. Taylor, like Griffin has done throughout his career, missed time in 2015. It wasn't a major injury for the quarterback, and he only missed a couple of games, but it's still disheartening to see the leader of your offense on the sideline due to injury.

Very rarely do quarterbacks with that play style last in the league. Players like Cam Newton and Russell Wilson are few and far between, and while that's the type of player franchises wish to land in mobile quarterbacks, rarely does it workout in their favor.
Long is absolutely correct that players like Newton and Wilson are few and far between. Finding the next one is exciting, but Taylor may be proving in 2016 that he simply isn't that next player. He showed he has the potential to be so in 2015, but he hasn't been able to display the required step forward that NFL teams need on a year to year basis. It's too early to tell and the sample size is too small through just three games. But Taylor certainly seems a tad off from his previous performances.
The problem for Taylor and the Buffalo Bills is that the road gets a lot tougher in the coming weeks. Aside from numerous injuries plaguing the team, the Bills have tough team after tough team on the schedule.
Week 4 brings the New England Patriots, followed by the stout Los Angeles Rams defense in Week 5, and then Week 6 brings a surprisingly steady San Francisco 49ers team. These are followed by the Miami Dolphins, Patriots again, and then the Seattle Seahawks before their bye week.
When the bye comes in Week 10, will Taylor look even remotely similar to the player he was in 2015 or will we all be wondering just what head coach Rex Ryan was thinking? Right now, Taylor looks competent (and competent quarterbacks are valuable), but he doesn't look like a threat. He could waffle between mediocre and threatening all season and, if that is the case, the Bills will be in rough shape.
A modern NFL team can only go as far as the quarterback. The Bills were impressively tenacious in Week 3 but they will need Taylor to turn the corner in Week 4 and the coming weeks if they want to win more.
This article originally appeared on