Buffalo Bills at New England Patriots: Three Keys to the Game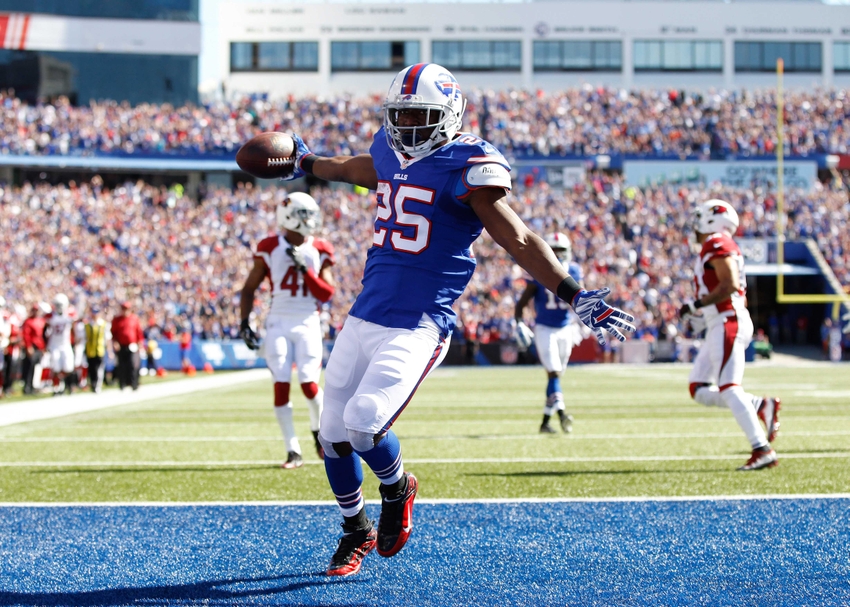 The Buffalo Bills vs. New England Patriots Week 4 matchup kicks off on Sunday at 1 p.m. in Foxborough.
Normally, after an upset win over a talented team like the Arizona Cardinals a week ago you'd expect things to be pretty bright on the Buffalo Bills front heading into a big game against the New England Patriots.
However, after losing Sammy Watkins to the injured reserve Friday evening, Bills fans are uneasy heading into New England.
Even though things do look bleak, there should be some optimism for Bills fans.
While Bill Belichick can do almost anything as a head coach and still find success, it's worth noting that the Cardinals do pose more of an offensive threat than the Patriots right now. I think anyone would take Carson Palmer, David Johnson and Larry Fitzgerald, plus a stable of other wide receivers over Jimmy Garoppolo/Jacoby Brissett, LeGarrette Blount, a less than 100 percent Rob Gronkowski and a stable of slot receivers any day.
Want your voice heard? Join the BuffaLowDown team!
This week's matchup is going to come down to the Bills' offense versus the New England defense. Will players like Robert Woods and Charles Clay step up and help out LeSean McCoy and Tyrod Taylor? That is the question.
Each week during the regular season, this column will provide the three ways the Bills can secure a victory. So, without further ado, here's the Three Keys to the Game for the matchup against the Patriots, which kicks off Sunday at 1 p.m. from New Era Field.
Let LeSean McCoy and the Run Game Do the Heavy Lifting
LeSean McCoy and the Bills running game might be the biggest key of this matchup.
Even though the Patriots are without Tom Brady, New England has still scored points at will against its opponents.
With that being said, it is crucial that the Bills control the time of possession. And the best way to control time of possession is with a good running game.
Bills vs. Cardinals Fantasy Football Outlook
McCoy, and even Tyrod Taylor's, ability to run the ball will be huge. If there's one way you can take advantage of the New England defense, it's on the ground. The Patriots give up 4.4 yards per attempt, which is good for 22nd in the league. It's arguably their biggest weakness.
The Bills ran the ball for 208 yards last week against the Cardinals and while they didn't win the time of possession battle, losing 34:00-26:00, they kept it close. That's what they'll need to do against New England.
The read option worked well against Arizona, aside from the play that saw Tyrann Mathieu disrupt a pitch between Taylor and McCoy, and could work again against the Patriots. The read option allows Taylor the ability to make plays with his legs. If the second-year starter can flip the field at least once or twice it'll go a long way.
Without Sammy Watkins, McCoy will have to step up and help carry the load. Considering he's finally healthy and seems to be hitting stride, he should be up to the job.
Robert Woods and Charles Clay Need to Step Up
Robert Woods is in a contract year and Charles Clay is one of the league's highest paid tight ends, yet both have been almost non-existent this season.
Through three games, Woods has 81 yards receiving while Clay has 67 yards. Without Sammy Watkins, that can't happen against a talented New England defense Sunday. Averaging 20 yards a game isn't going to cut it.
However, it looks like things are going to change offensively for Buffalo.
Bills offensive coordinator Anthony Lynn told ESPN's Dan Graziano that the Bills would like to get the ball to Woods more moving forward.
"He said, 'You know, this is a guy we'd really like to reward with some opportunity because he's done such a good job as a blocker in the run game,'" Graziano said.
Lynn went on to tell Graziano how Woods reminded him of former Denver Broncos wide receiver Rod Smith.
With such a hefty contract, the Bills should give Clay more than just four targets a game, which is what he's averaging coming into Sunday.
Like Woods, Lynn told BuffaloBills.com that the Bills need to get Clay the ball more often as well.
"We had targets to Charles Clay last week. We missed him on one. One time the protection didn't hold up," said Lynn. "We do have Charles in mind and we know that he's a playmaker so we're trying to get him the football."
Aside from Woods and Clay, the recently signed Justin Hunter is an interesting option.
Hunter was claimed off of waivers Friday, and if he suits up, he could be someone to keep an eye on. The former second rounder has a 6-foot-4 frame that nobody else on the roster possesses. He could be a nice red zone target.
Stop the Run
The Patriots have won their first three games because their running game has been excellent and their defense has been stout, not because of their quarterback play.
If the Bills want to win this game, they have to force New England to beat them with its quarterback play.
LeGarrette Blount is a talented running back, and has had the Bills' number lately, but he's not a world beater. He's certainly not as talented as David Johnson, and the Bills kept the Cardinals running back under 100 yards last week.
Upcoming

Schedule

10/2

at

New England Patriots
10/9
at
Los Angeles Rams
10/16

San Francisco 49ers
10/23
at

Miami Dolphins
10/30

New England Patriots
With the way the Bills front has played lately, they should have the New England offensive line's number.
It'll be interesting to see what defense the Bills line up in. Last week they often used one defensive lineman, three linebackers and seven defensive backs, and it worked really well. Considering both teams have a good running game, it's possible that the Bills could use that defense against New England, too.
It does help that Kyle Williams has seven run stops, which is good for first among 3-4 defensive ends. Zach Brown was the top middle/inside linebacker in run stops heading into last week, according to Pro Football Focus. William's run stopping ability was highlighted in this week's 30 PFF Stats To Know For NFL Week 4.
Despite Kyle Williams being one of the oldest defensive players in the NFL, he is still producing at a high level against the run. His 82.6 run-defense grade is fourth-best among interior linemen in the NFL this season. He is facing a New England offense that has both quarterbacks hurting. The Patriots' run game is going to be very important, and Williams will be one of the most imperative players in stopping it.
Prediction: Bills 24, Patriots 21
If the Bills can pull off back-to-back upsets, the NFL world will be forced to take notice.
It's not as hard of a task as it might seem. Rex Ryan is known as a defensive mastermind, and this is the week he has to prove it. A strong run game, a few big plays from guys like Robert Woods and Charles Clay and a stout run defense should be enough for the Bills to pull out the three-point win.
This article originally appeared on