Buffalo Bills at Cincinnati Bengals: Three Keys to the Game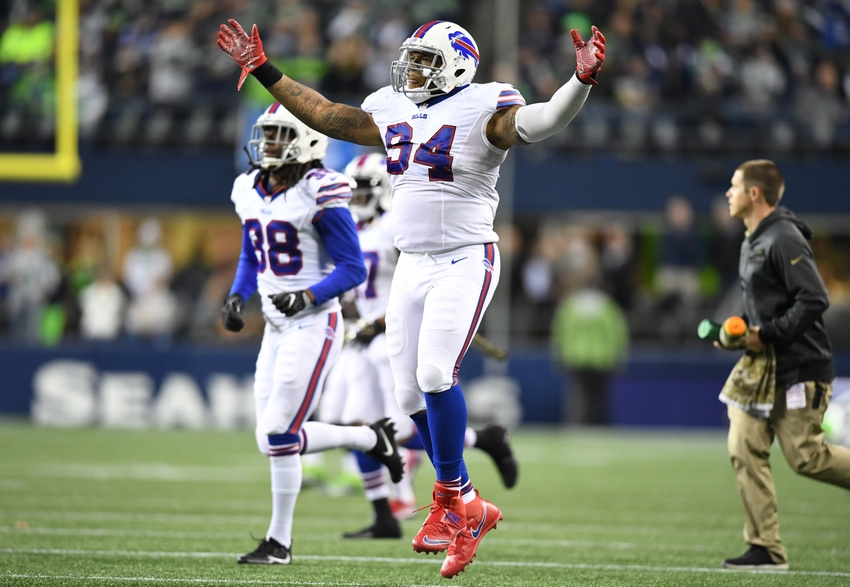 The Buffalo Bills' Week 11 matchup against the Cincinnati Bengals kicks off on Sunday at 1 p.m. in Cincinnati.
After a week off, the Buffalo Bills have had an opportunity to get healthy, regroup and refocus for the final seven weeks of the regular season.
Sitting at 4-5 and 11th place in the AFC heading into the Week 11 games, the Bills are going to need to run the table if they plan on extending their season for the first time in 16 years. And it all starts Sunday against the Cincinnati Bengals.
For a team that has struggled in coverage this season, the Bengals present an awfully tough task. However, the Cincinnati defense is one that can be taken advantage of as well. It should be a fun matchup, to say the very least.
The Bills have a favorable schedule down the stretch, but if they can't pull off the upset, sitting as a three-point underdog Friday afternoon, in Cincinnati Sunday it might be too tough of a hole to dig out of. Because aside from matchups against the Pittsburgh Steelers and Oakland Raiders, there isn't a team that should scare the Bills the rest of the way.
Want your voice heard? Join the BuffaLowDown team!
Each week during the regular season, this column will provide the three ways the Bills can secure a victory. So, without further ado, here's the Three Keys to the Game for the matchup against the Bengals, which kicks off Sunday at 1 p.m. at Paul Brown Stadium on FOX.
A Big Day From the Secondary
In a showdown with the pass-happy Bengals, the Buffalo secondary needs to have one of its best games of the season.
Buffalo Bills vs. Seahawks Fantasy Football Passing Outlook
If there's one thing we have been able to draw from Rex Ryan this week, it's that the head coach is not happy with the play of his secondary, specifically Ronald Darby, Nickell Robey-Coleman and the strong safety position, which has been a mix of Robert Blanton, Jonathan Meeks and Duke Williams. Each of the three positions were up for grabs this week, and while it looks like Darby has kept his starting role, Robey-Coleman has not and strong safety is an old fashion toss-up. Oh, and Williams was cut earlier in the week.
The benching of Robey-Coleman is a bit shocking. Heading into the Week 9 matchup with the Seattle Seahawks, the nickel corner was giving up a passer rating of 52.9, according to Pro Football Focus, and didn't give up any glaring big plays. If anything, this speaks to the talent of rookie Kevon Seymour.
Facing A.J. Green, Tyler Eifert and a potent Bengals passing attack would be a tough ask for any secondary, but considering the Bills are in flux, they'll need an even bigger effort Sunday.
The biggest thing opposing offenses have been able to do to the Bills secondary has been by taking deep shots. Buffalo has given up seven plays of 50 yards or more this season. Green's best quality is his ability to go up and get jump balls. Buffalo cannot let Green and Eifert dictate this game on Sunday.
If they do, Buffalo will be in trouble.
Let Tyrod Taylor Build Off Of His Monday Night Football Performance
If there was one positive from the Bills' Week 9 Monday Night Football performance, it was the play of Tyrod Taylor. Taylor proved that he has the ability to be Buffalo's franchise quarterback. Now he just has to do it on a consistent basis, and it all starts Sunday.
While Taylor wasn't able to lead the Bills to a monster comeback in Seattle, he did play his best game as a pro. Going 27-for-38 for 289 yards, a touchdown, an interception and a QBR of 68.1 against the vaunted Seahawks defense is extremely impressive. Taylor's performance was so impressive that he drew some praise from members of the Seattle defense, according to ESPN's John Clayton.
"If there's any debate about the quarterbacking future of Tyrod Taylor, stop. They said he was as hard to handle as a running quarterback as anything they've seen. They just raved about him. They said he was a supreme challenge, he was good, he's gained their respect. Remember, this is a defense and a team who will rip you. If they don't like you, if you're Michael Crabtree, if you're Colin Kaepernick, they will rip you. They will give you their honest opinion. They came out with high reviews of Tyrod Taylor." – Clayton with Mike Schopp and the Bulldog Wednesday on WGR 550.
Along with Taylor, Robert Woods also had a big game in Week 9, hauling in 10 passes for an impressive 162 yards. The chemistry is starting to grow between Taylor and Woods, and considering Woods is two more weeks healthier than the last time he was on the field, big things could be in store Sunday.
It's also worth keeping an eye out for Percy Harvin. The chemistry between Harvin and Taylor is evident, and Harvin told WGR 550's Sal Capaccio this week that he's feeling "good" and his legs are feeling "amazing."
Harvin could even start on Sunday.
"From what I'm hearing, I think I'm going to be full-go," Harvin said. "How many plays? I don't know yet. I definitely practiced the whole time today. Got a lot more reps and a lot of reps with the (first team). So I'm just going to keep doing what I'm doing and keep preparing myself. When game time comes, I'll let the coaches handle that part."
The Bengals' weakest part of their defense is their secondary, and Buffalo will need to take advantage of it Sunday. With Harvin back in the fold, Woods and Marquise Goodwin healthy and an underrated Charles Clay, the Bills have more than enough weapons to have success in the passing game.
Get After Andy Dalton
If the Buffalo secondary is going to have success Sunday, it'll need some help from the front seven.
There's no denying that Andy Dalton has been a turnover-prone quarterback at points in his career, and in order to help force some of those turnovers Rex and Co. are going to have to ramp up the pass rush.
The Bills have one of the best rushes in the league, and they'll need it in full force in Cincinnati. The Bengals feature a talented offensive line. Leading the way is left tackle Andrew Whitworth, who leads the league in pass-blocking efficiency among offensive tackles. He owns a pass-blocking efficiency of 97.8, according to PFF.
If the Bills are going to capitalize on mismatches, it's going to have to come from Jerry Hughes. The former TCU star will have the task of taking on right tackle Cedric Ogbuehi, who ranks 70th among offensive tackles with a PFF grade of 41.4. It's a matchup that strongly favors Hughes.
If Buffalo can create a pass rush, life will be easier on the mix-and-match backend.
Prediction: Bills 27, Bengals 21
There were a lot of encouraging signs from Buffalo's loss in Seattle Week 9. If the Bills can create the same offensive success they had against the Seahawks, they should be able to score more than enough points to take down the Bengals.
The big task comes on defense.
The secondary was put on blast this week and will need to respond, because if it can't, it'll be a long day at Paul Brown Stadium.
More from BuffaLowDown
This article originally appeared on