Buccaneers vs Falcons: Preview, Where to Watch and Listen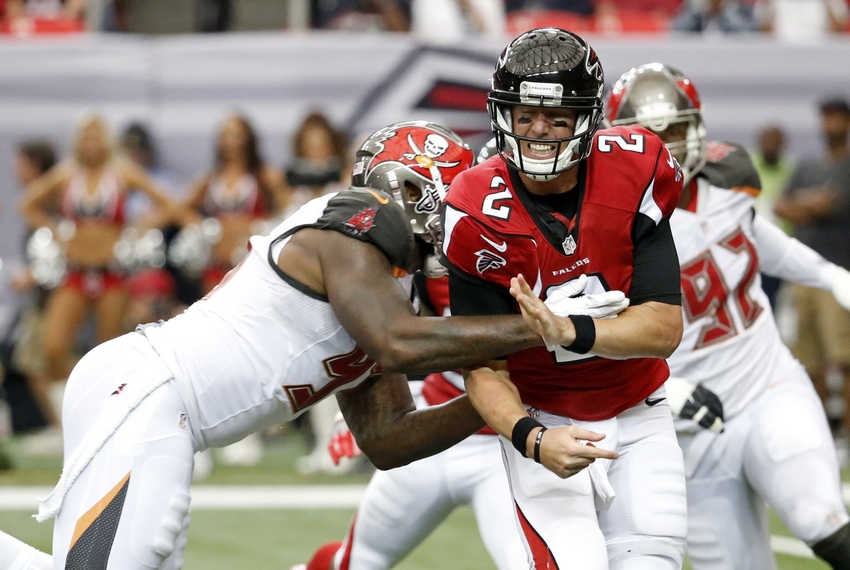 The Atlanta Falcons (5-3) come to town this week to face the Buccaneers (3-4)in a prime-time matchup on Thursday night. Here, we preview the game and tell you where to watch and listen to it.
Needing a big win to gain back some favor with the home fans, the Buccaneers welcome in the division-leading Falcons on Thursday night. Both teams are facing the challenge of a short week, but the lack of travel should help the Bucs. Coming off of a game that almost went five quarters, however, will be a big challenge for Tampa Bay as it gears up for the 8:25 kickoff.
In some ways, the short week might be good for the Bucs, as it will give them less time to think back on Sunday's frustrating loss. The defense gave up 30 points and 626 yards, while the offense struggled heavily after a quick start. Both units will have to turn it around quickly if the team wants to avoid falling further out of the playoff picture.
More from The Pewter Plank
The Bucs took another injury hit in Sunday's game, with leading rusher (and third running back) Jacquizz Rodgers leaving with a foot injury. He will be out for Thursday's game, which leaves Peyton Barber, Antone Smith and the recently re-signed Mike James to man the backfield for Tampa Bay.
The Falcons are coming off of a big 33-32 win over the Packers on Sunday. Their week one loss to the Bucs seems like a distant memory, as they now lead the NFC South by a game and a half. Matt Ryan has put together a huge season to this point, leading the NFL in passing yards (2,636) and passing touchdowns (19).
Atlanta will be without some of its big producers. Running back Tevin Coleman, tight end Jacob Tamme and defensive end Dwight Freeney will be out for Thursday's game. Per Greg Auman of the Tampa Bay Times, Coleman and Tamme being out means the Falcons are without 168 yards of offense from their week one matchup with the Bucs. On the other hand, Tampa Bay is missing 175 yards, with Doug Martin, Charles Sims and Vincent Jackson injured and Austin Seferian-Jenkins gone.
Tampa Bay picked up a 31-24 win over Atlanta in week one, which marked a third straight over its division rival. Jameis Winston threw for 281 yards and four touchdowns, hitting Mike Evans five times for 99 yards and a touchdown. In three career games against the Falcons, Winston hasn't lost. In the week one meeting, Matt Ryan connected on 27 of his 39 passes for 334 yards and two scores. Overall, the Bucs lead the all-time regular season series 24-22.
Where to Watch
The Thursday night matchup will be televised nationally by NBC. Al Michaels will have the play-by-play, joined in the booth by Cris Collinsworth. Heather Cox will have reports from the sideline.
Where to Listen
As usual, fans can hear the game on 103.5 FM or 620 AM. Gene Deckerhoff will have play-by-play, while former Buc Dave Moore takes the color commentary. T.J. Rives will be providing the sideline reports.
Satellite radio subscribers can hear Tampa Bay's broadcast on Sirius 81. Atlanta's broadcast will be on Sirius 83.
For in-game and postgame coverage, follow @ThePewterPlank on Twitter.
This article originally appeared on