Buccaneers: Looking At the Chris Conte Interception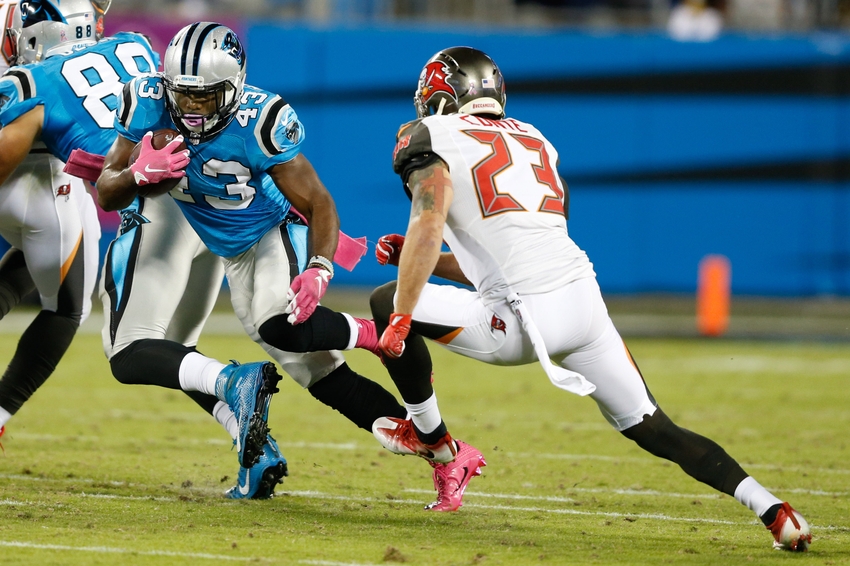 The Buccaneers can thank Chris Conte, in part, for last Sunday's win over the Chiefs. Let's look at the huge play that he made.
More from The Pewter Plank
The Buccaneers are playing their best football at the right time of year. They are coming on as we head to December, and the teams that play well in December often have games in January.
A much-maligned position group of the Bucs is the secondary. It's understandable, as they haven't done much to stop the pass all year long. We all remember the game that David Carr had against Tampa.
But things have been better over the last two weeks, and the Bucs sit at 5-5, just one game out of the NFC South lead. They beat up on the Bears and held on to top the first place Chiefs.
A player that has taken a lot of flack from all of us is Chris Conte. He has looked lost at times, so it's understandable. But as Zach Sauers pointed out, Conte has played well and earned well-deserved redemption over the last two weeks.
Against the Chiefs, he came up with a big play. The Chiefs were driving for a potential go-ahead touchdown, but a red zone interception by Conte saved the day.
Go with the "Eye in the Sky" as we take a look at a breakdown of the play. As usual, all screenshots courtesy of NFL Game Pass (subscription required).
Alex Smith is under center with his wide receiver, Chris Conley, spread out wide to the left. Vernon Hargreaves is lineup opposite him, off of the line, and Conte is in the circle.
At the snap, Conley is going to run a "post" pattern, outlined by the arrows. Instead of getting faked out, Chris Conte stays home. Let's move ahead and see.
As the play unfolds, you can see that Conte is locked right in on Alex Smith. But let's look at it from behind Conte in the end zone.
If you look from behind Conte, you can really tell that he is watching Smith's every move. He has cheated to the left a bit and Smith thinks he has gotten him out of position. He rears back to hit Conley on the post.
Right on the throw, Conte breaks on the ball.
He makes a great play on the ball, and runs the ball back 53 yards. It was a big time play that ended up saving the day for Tampa Bay.
The Bucs are playing good football, and so is Chris Conte. Isn't it exciting?
This article originally appeared on