Buccaneers: Grading Dirk Koetter Halfway Through Year One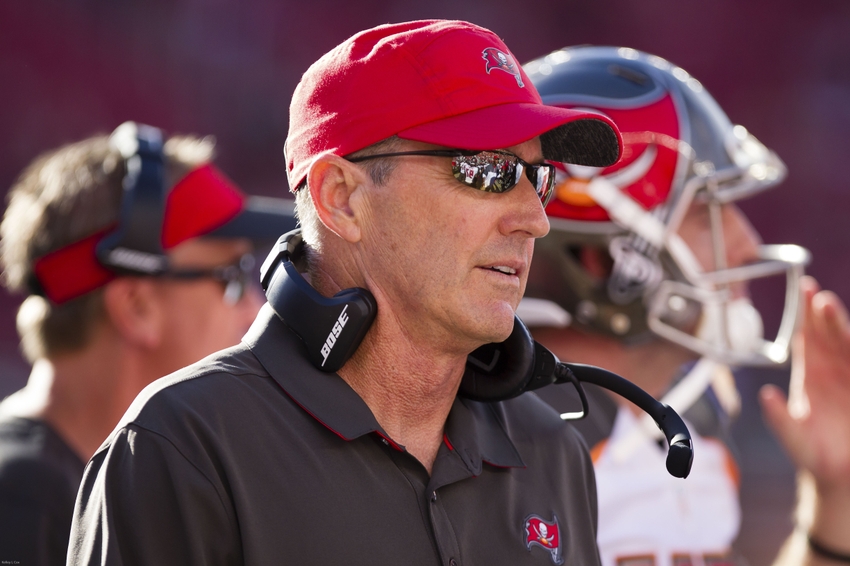 How would you grade Buccaneers coach Dirk Koetter, eight games into his first season at the helm?
More from The Pewter Plank
When Lovie Smith was relieved of his duties after last year, the Buccaneers targeted Dirk Koetter almost immediately. Some believed that Dirk was going to get away, so they let Lovie go in order to promote him quickly. Nobody wanted him to interview for other teams so he quickly got the job.
Well here his team sits at 3-5. Halfway through the year, the Bucs are two games behind in the division race and on the outside looking in on the wild card race.
So with that, we take a look at Dirk Koetter's first eight games as a head coach. What grade would you give him?
That is the question we decided to undertake as our roundtable discussion for the week. As always, each Pewter Plank writer gets one slide with their opinion and grade. Click on their names to follow them on Twitter.
Average Record, Average Grade: C+
Sure, the Bucs went 3-5 in the first half of the season. That's not good enough, but a lot of that isn't on Dirk Koetter. The average grade is pretty much based on the team's record. He has made some mistakes in-game management and play-calling, but Tampa Bay's issues are more complex than that.
Game management mistakes are made by the league's best head coaches, so a first-year head coach is bound to make his fair share. As far as play-calling, he's been limited in what he can do. Four injuries in the backfield, along with the absence of two top targets for Jameis Winston, have made Koetter's job incredibly difficult. 
He's still figuring some things out, but I don't think there's much of a question about if he's the right guy to lead this team. He almost certainly is. The rest of the season can prove that, especially if a healthy Doug Martin can get the offense on track and Mike Smith can get his defense together. 
You Play the Hand You Are Dealt: B-
A lot of people are critical of Dirk thus far in his first year, hut let's be honest; the guy isn't exactly playing with a full deck. The injuries this team has sustained so far would cripple any team, but especially a young one trying to rebuild.
I don't want to hear the whole "don't use injuries as an excuse" nonsense, either. They aren't an excuse – they're a legitimate reason why the offensive playbook has been vanilla. They don't have the same talent on the field they did last season when it was working so well.
Koetter is going to make rookie coach mistakes. We've seen some poor clock management, some hesitancy in key moments, and a guy trying to find his way. That's OK. Again, they're rebuilding from essentially the ground up.
At 3-5, the Bucs are in the same position they were this time last year with less overall talent on the field. That's not Dirk Koetter's fault. He's playing with the hand he's been dealt and has assembled a pretty solid staff. Most of us had expectations that were far too high heading into the season, and that's okay.
At the end of the day, Koetter is doing a pretty darn good job teaching these guys how to compete. You have to crawl before you can walk, walk before you can run. Bucs are about where they should be and can still make a second half push.
He's Learning: C
The Bucs are through eight games now and Dirk Koetter is halfway through his first season as a head coach. The Bucs have looked great in some games but horrible in others. The Bucs are 3-5 and are still technically in the hunt, even after the past two weeks where they've looked as bad as any other in the league.
Their defense is just as bad if not worse as last season and they are a quarter of what they were offensively due to a rash of injuries. Injuries happen but when four running backs and your number two wide receiver go down for an extended period of time the offense is going to be relatively bland.
The only good that has come out of past few weeks is the emergence of Mike Evans as elite and the lack of turnovers from Winston. The defense really isn't Koetter's doing as he hired his close friend Mike Smith to run that aspect of the team.
The offense and lack of game management is on him. The Bucs have not been aggressive ending halves, poor penalty accepts and declines, and committed penalties at the most inopportune times. That is on Koetter's end. He's learning and it will take time for him to develop but if he doesn't get aggressive things will stay the same. Over a few more years this team can definitely develop into a contender but it's a process. I give the Bucs head coach a C for his first eight games because that's what this team is, pretty average.
They Are Just There: C
This team is on pace to go 6-10 at the mid-way point, which is exactly where the team was one year ago. Not better, not worse, just there.
Simply put, I don't think Koetter calling the plays and managing the offense while trying to be the head coach is working. I like him, don't get me wrong, and I'm far from calling for him or Mike Smith to be fired.
It just seems to me there's no quality control or consistent spirit in this team. We see it every week. One game the defense is on fire but the offense can't score.
The next it's the opposite, and around we go again. This team is not unified, instead it's two units with a mix of both on special teams.
A head coach is supposed to be a manager to ensure the coaches are doing their jobs. He can't do it when he's running half the game plan himself and leaving the rest to a defensive coordinator who has less than a year with these players.
A Mediocre Product: C
The only fair way to grade a coach is by what he's put on the field, and Dirk Koetter's grade of "C" reflects the mediocre football team he's coaching. After a Thursday night blowout loss to Atlanta, the Bucs sit at 3-5, and calling them mediocre seems generous. They're as bad or worse in many of the same departments that they struggled in last season, and the promise of improvement has fallen flat.
Penalties are still a problem but the personal fouls that haunted the Bucs last season have mostly been cleaned up. Koetter has struggled with when to challenge, as well as when to decline penalties.
For the most part Koetter is working with a lot of the same players from last year's team, and he's failed so far to significantly improve the team. In fairness to Koetter, the Bucs have been hit pretty hard by the injury bug. The offense has declined since last season, but much of that has to do with injury to Doug Martin and the unexpected decline of
Vincent Jackson
.
Overall there's no reason to worry about Koetter yet. He's learning on the fly and most first time head coaches struggle in the early goings with clock management.
Great Job: B+
Personally, I believe Coach Koetter has done a great job this season. Many of you may argue that his play calls and clock management have been bad, but it's also easy to be a couch coach. If you look at the lack of talent and amount of injuries he has had to play with on the offensive side of the ball, it honestly is no surprise.
Losing Doug Martin in an offense that is essentially designed around him has been brutal to the team. As fans saw, once Jacquizz Rodgers was brought off the streets to play the offense began to have a spark. That's due to the fact that Rodgers has that patience and running type similar to Martin. Let us not forget to mention we have ONE wide receiver to throw to with a sophomore quarterback that is having growing pains.
This goes along with his game management skills. Let's not force things with an offense that is below average. So if everyone could take a step back… breath… and let the man do his job, that would be great. Koetter coached a top five offense last season and his coaching talent did not just disappear.
He Has This Team: B
There is no doubt where this team is right now. One of Bill Parcells' most famous sayings was "You are what your record says you are". The Bucs are 3-5. So far, the defense hasn't been able to stop a nosebleed, especially in the passing game. The pass rush has been inconsistent. On offense, they have taken significant steps backwards. There have been flashes, but they haven't been able to achieve cohesiveness from week to week.
But Koetter has to get a lot of credit for the fact that this team even has three wins. James is right, injuries are not an excuse. They are a mitigating factor, because these aren't just injuries, they are key injuries. The entire running back depth chart has fallen to injury, and veteran free agent signee Robert Ayers, brought in to take quarterbacks down, has missed time. Now, Mike Evans is in concussion protocol.
Losing that much talent makes even three wins an accomplishment. It means the Bucs are buying in. Dirk believes in his players and the players believe in him. Establishing that relationship in eight games earns the higher grade.
We have had our say, now we want to hear from you. Assess Dirk Koetter and his first eight games. What say you? Sound off below.
This article originally appeared on