Buccaneers Game Day Spotlight: Noah Spence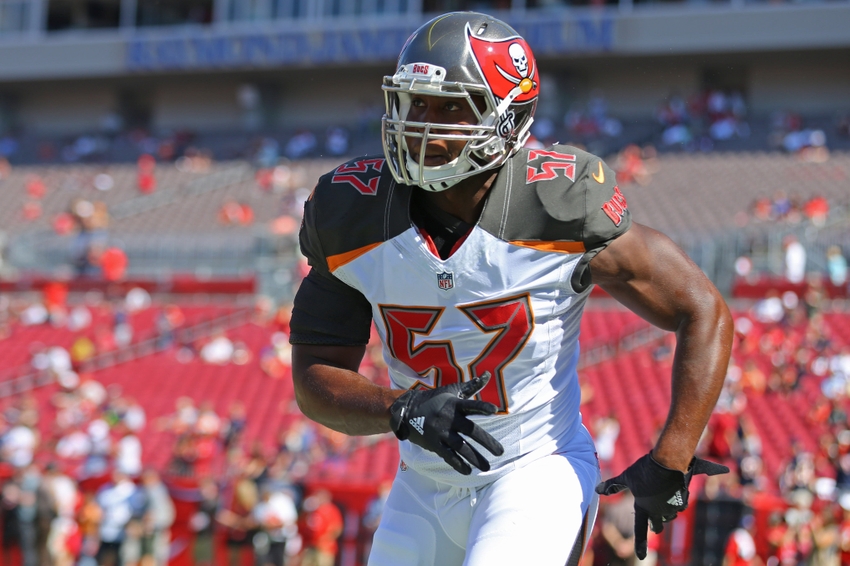 The Buccaneers face their biggest test of the year today when Seattle comes to town. Time for Noah Spence to step up in a big way to contain Russell Wilson.
We've seen remarkable game by game improvement from second round pick Noah Spence. That being said, Spence will have his work cut out for him going up against Russell Wilson inside Raymond James this afternoon.
Wilson, who is getting healthier by the week, is a nightmare of a quarterback. He always provides that running threat, but is dangerous whether he is inside the pocket or scrambling to buy more time to throw the ball. Noah Spence will have the difficult task of keeping Wilson contained and preventing a big pass – or a big run – by the captain of the Seahawks.
On the year, Wilson has been sacked 20 times and is playing behind one of the worst offensive lines in football. His ability to move and elude defenders is what makes him so great. That is why it is vital to the Buccaneers to keep him inside the collapsing pocket and get pressure, hits, and sacks on him.
Noah Spence has four sacks and two forced fumbles on the season but genuinely only sees the field on pure passing downs. That'll be put to the test today considering with Wilson at quarterback, there's no such thing as a pure passing down. His run defense has improved some, but Spence has a long way to go before he becomes the every down defensive end the Buccaneers are hoping he will.
We say the defensive line step up in a big way two weeks ago, the secondary step up in a big way last week. The Bucs will need both to play nearly flawless football to have a chance at the upset. The Bucs will have to get after Wilson and it all starts with the edge rushers keeping Wilson inside the pocket and not letting him extend plays or run the ball.
More from The Pewter Plank
This article originally appeared on