Buccaneers Free Agent Outlook Part II
James Yarcho/FanSided via The Pewter Plank

Fansided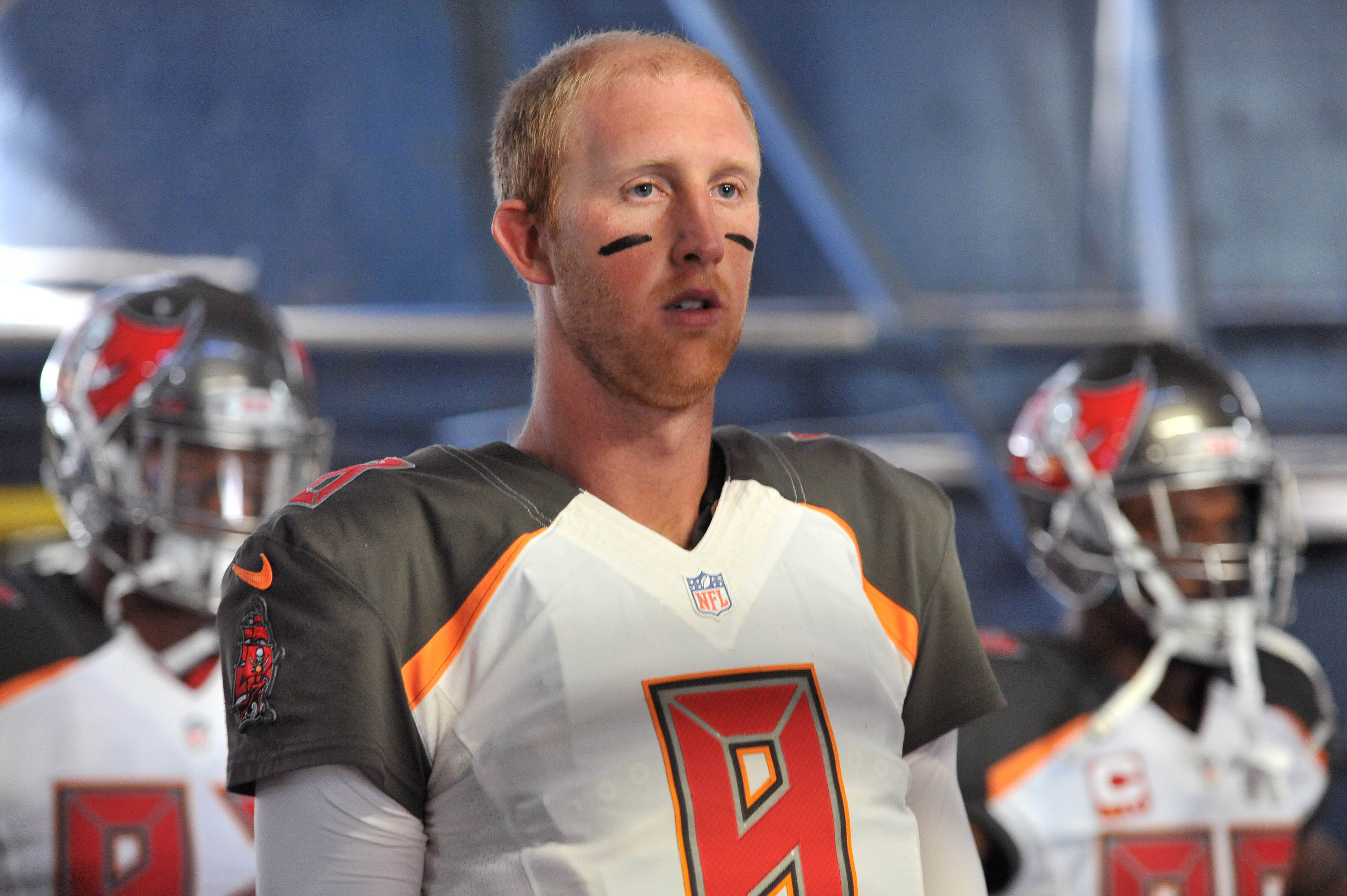 We've gone through half of the Buccaneers free agents so far, attempting to understand what the Bucs will do with them once the time approaches. Now, we dive in to the rest.
Some of the more prominent names as far as Buccaneers pending free agents are concerned appear here. We covered Vincent Jackson, Gosder Cherilus, Chris Conte, Bradley McDougald, Daryl Smith, Brandon Myers, Josh Robinson, and Russell Shepard. Of those, we believe four will be retained, four will not.
None of them will command huge deals and none of them are marquee players. They're role players, but pivotal ones at that. There won't be any players the Bucs bring back that will make headlines outside of Bucs oriented outlets.
There is one player, however, that is sure to make headlines once he agrees to a deal no matter where it is. Quite simply, because of the position that he plays and the rumor mills going crazy over him during the last two off-seasons.
Mike Glennon – Quarterback
The Glennon mob is still – somehow – in full force. Many believe the Bucs would have already made the playoffs had Glennon been the quarterback instead of Jameis Winston. As laughable as that notion may be, Mike Glennon stands a very good chance of getting paid.
Adam Schefter beleives Glennon could get anywhere from $13-$15 million per year as a free agent, a premium the Buccaneers certainly won't be willing to pay for a backup quarterback. More than that, Glennon is going to want to go somewhere with a legitimate chance of starting – something there is zero chance of in Tampa.
Sure the Bucs would love to keep Glennon on as a backup to Winston, but they won't get the chance. Glennon won't sign anything with them until he sees what he's worth on the open market and what opportunities are out there. Cleveland, Houston, New York (Jets), San Francisco, and potentially Arizona should Carson Palmer leave would all be potential landing spots and starting opportunities for Glennon.
Like it or not, he's gone.
Verdict: Not Retained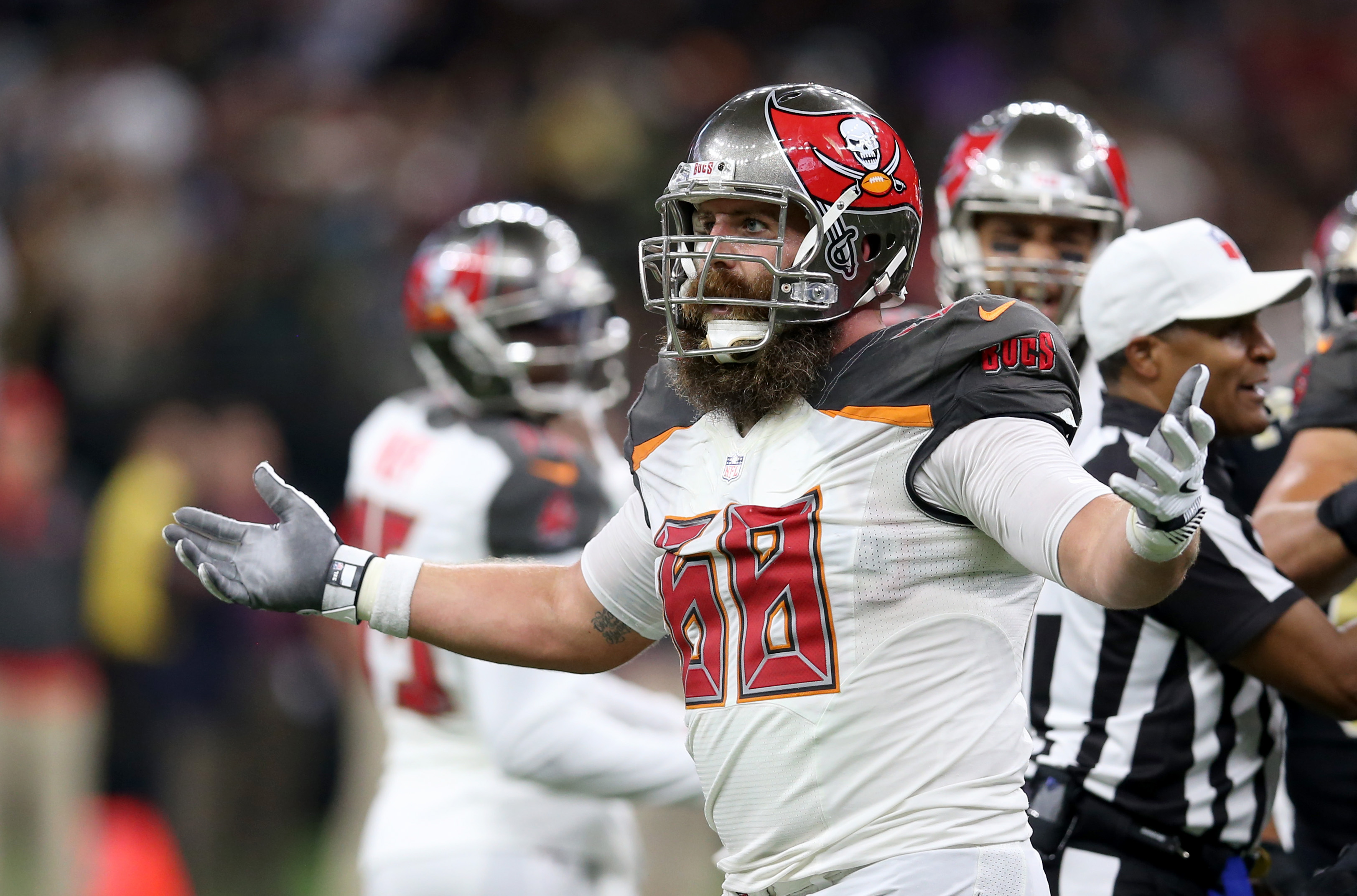 Joe Hawley – Center
Joe Hawley filling in for an injured Evan Smith in 2015 turned out to be a good thing for Jameis and the offense. The chemistry along the offensive line truly began to gel once Hawley entered the lineup and the offense became the best in franchise history.
Unfortunately, given the loss of Logan Mankins and the injuries that plagued the rest of the line throughout 2016, the line wasn't nearly as good. Hawley was the recipient of quite a few of those injuries and missed one game as well as multiple plays throughout the year in various games.
One thing is certain – Hawley is one tough dude. No matter how many times he would leave the game, he consistently toughed it out and came back in.
That being said, the Buccaneers seem likely to look elsewhere for a starting center. Koetter has speculated himself at the possibility of Ali Marpet or Kevin Pamphile sliding over to center with the medical clearance of J.R. Sweezy allowing him to return to football activities. I'm certain the Buccaneers would love to bring Hawley back as a depth piece as well as the leader he is. The big question is, would he accept a smaller deal to be a depth piece?
That would be the ideal situation, and Hawley is enough of a team guy that he seems like he would like to stay here and continue to work towards what is being built. Also given the offensive line's injury history, he'd likely get to be back in the starting lineup by week five.
In the end, both sides want to get something done and they will.
Verdict: Re-Signed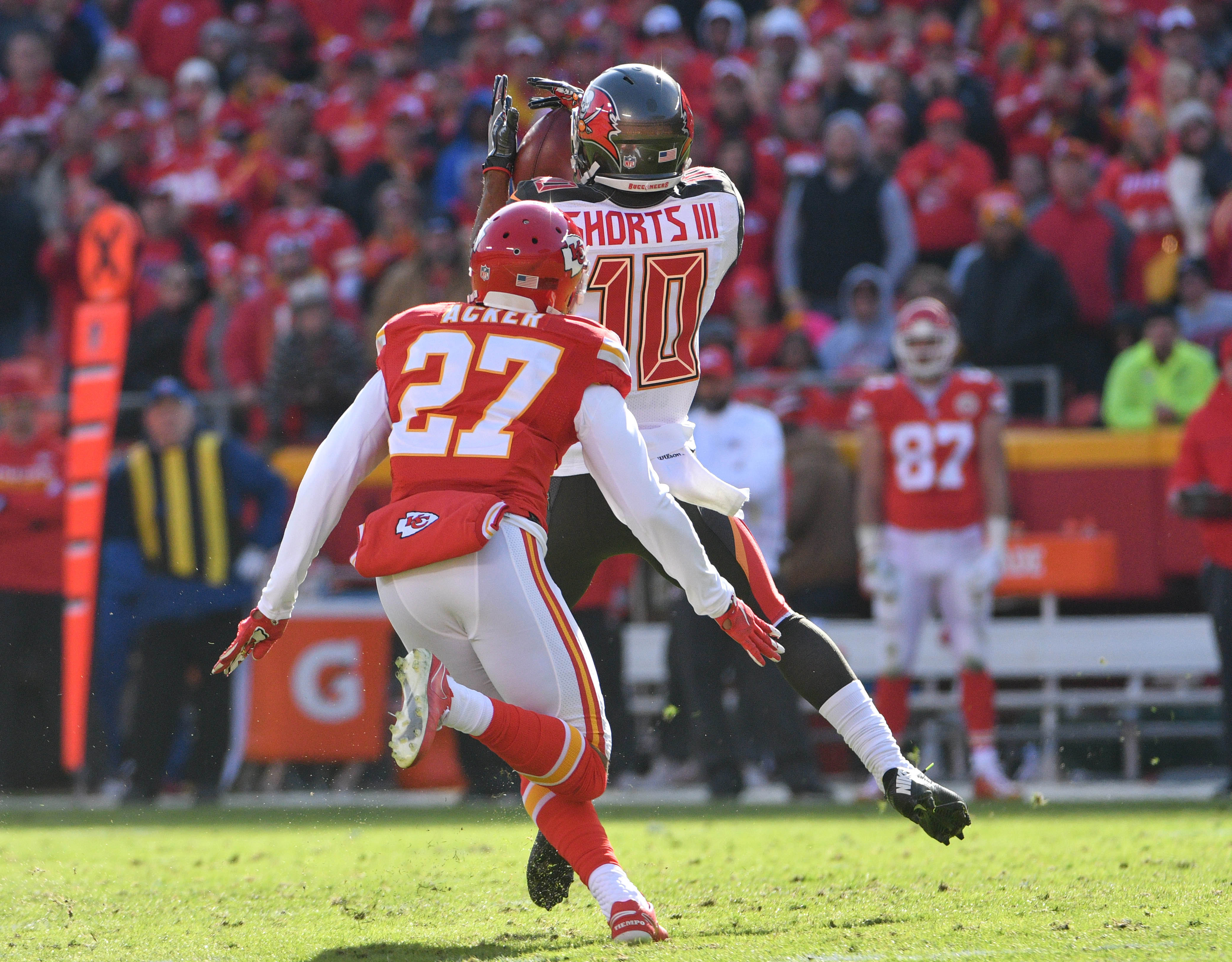 Cecil Shorts III – Wide Receiver
Shorts was a late addition to the team, then in the blink of an eye was out with a gruesome knee injury. Shorts started five games for the Bucs, but only got eleven receptions for 152 yards in seven games in which he was targeted.
Not stellar.
Add to that his torn ACL, MCL, PCL, and dislocated knee and Shorts' time in the NFL is likely done. Shorts had a few very productive seasons under Koetter in Jacksonville and the Bucs' staff was hoping to rekindle some of that Jaguar magic while trying to fill a need at receiver. Unfortunately, things with Shorts never seemed to click on offense and he was largely unproductive.
His standout Bucs performance came in an upset victory at Kansas City where he caught five passes for 62 yards. Two weeks later in San Diego, he'd suffer the knee injury while making his lone catch of the game.
We wish Shorts the best in his recovery and should he attempt to return to football we wish him the best in that. However, it won't be with the Buccaneers.
Verdict: Not Retained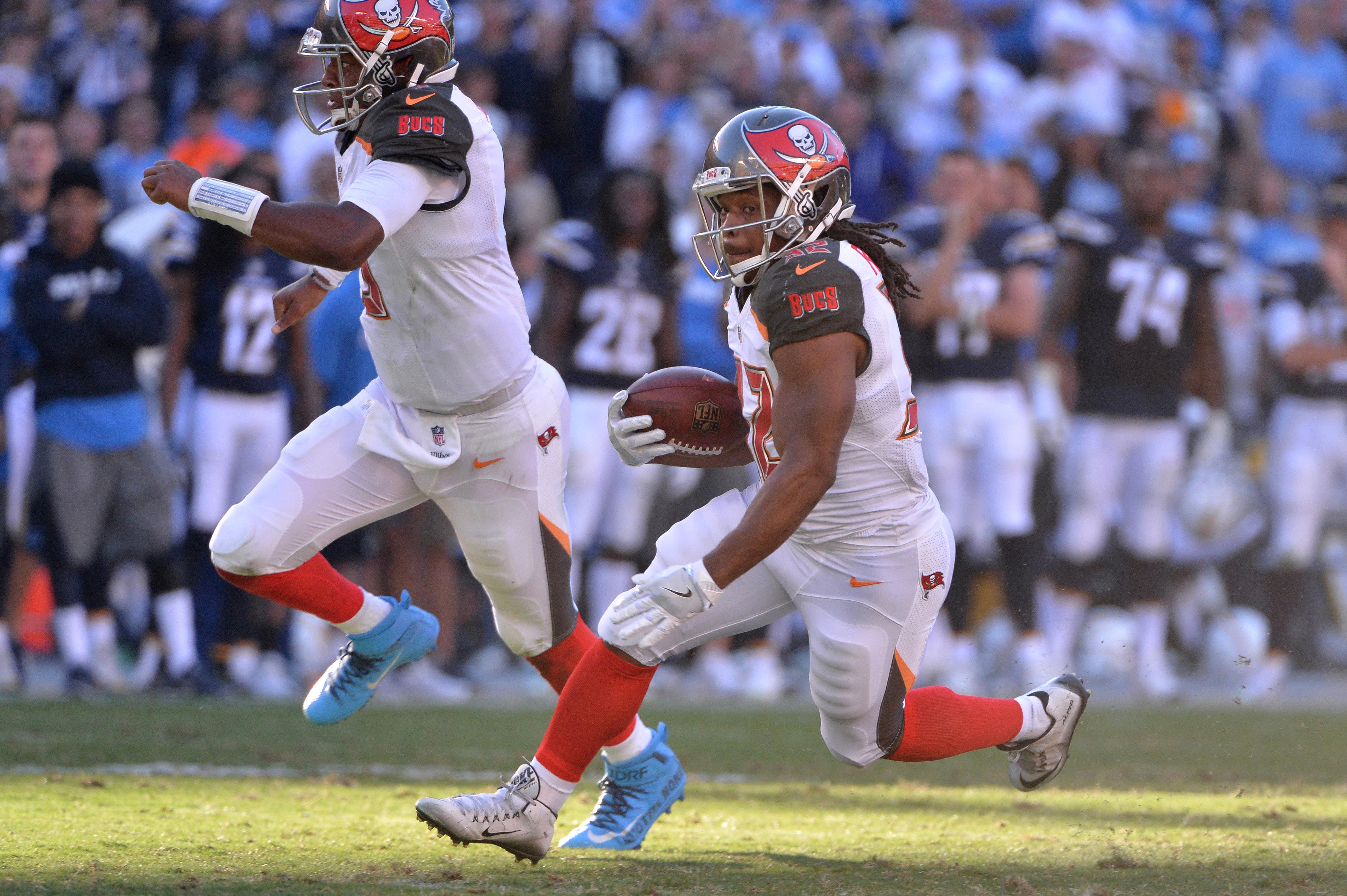 Jacquizz Rodgers – Running Back
The Buccaneers' leading rusher in 2016 with 560 yards, Jacquizz Rodgers was signed after the first week as a depth piece at running back. Figuring that Doug Martin would continue to thrive in Koetter's offense, Rodgers was not expected to see much playing time at all.
Oops.
Martin went down with an injury in week two, opening the door for Charles Sims who proved equally ineffective and completely inept at running between the tackles. Rosgers finally got the start in week five when the Bucs traveled to Carolina for Monday Night Football where he proceeded to run the ball thirty times for 101 yards. The following week he thrashed the incompetent 49ers defense for 154 yards.
With Doug Martin's status in question and Sims having only one year left on his deal, it seems like Rodgers is extremely likely to return as someone to share carries. He won't be the feature guy – that will come via free agency or draft – but he should continue to be part of this team and this offense.
Unless there is a team out there that saw what he did for the Bucs and they make him an offer to be the feature guy in their offense, the Bucs will get a deal done with him.
Verdict: Re-Signed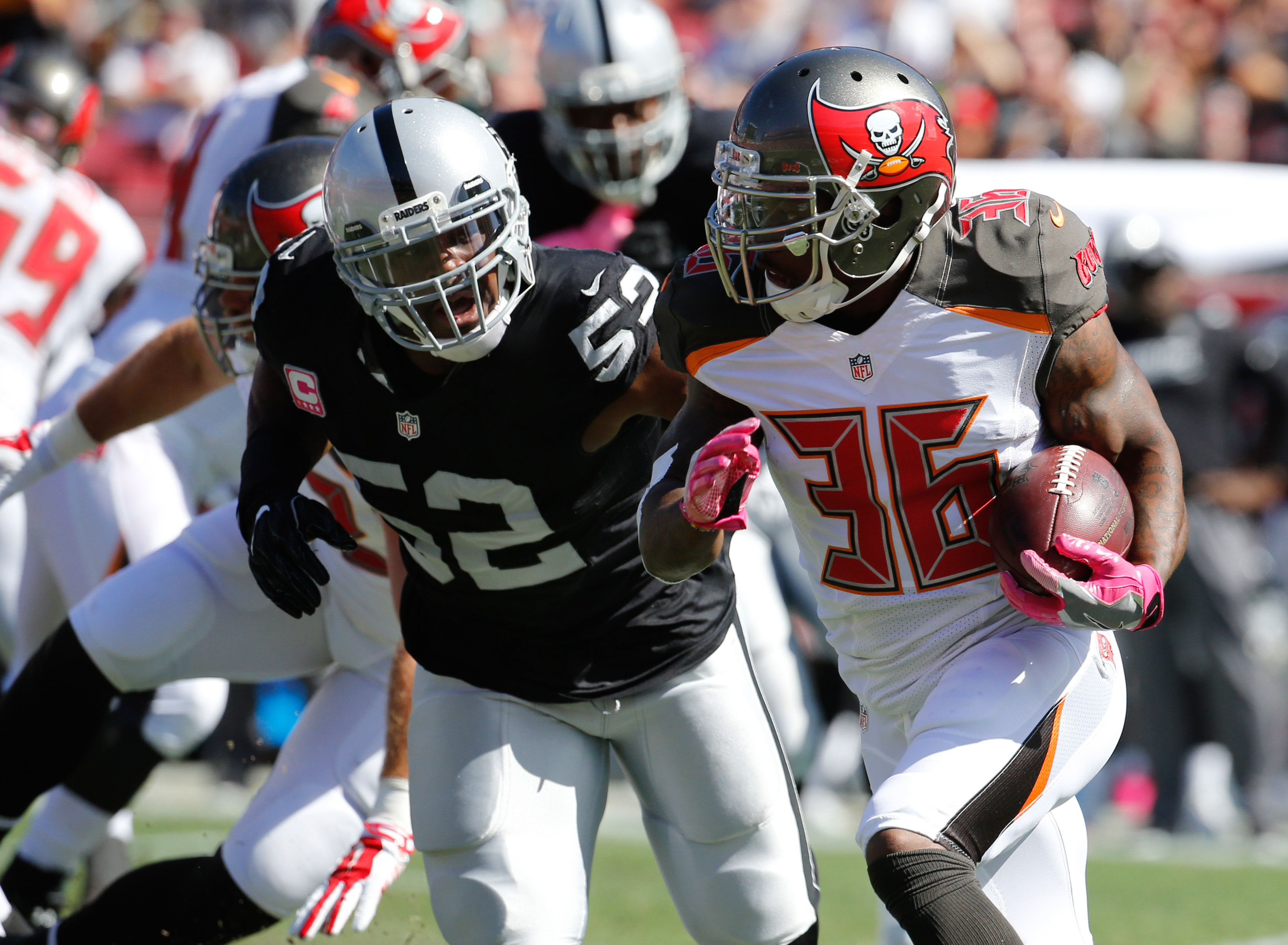 Antone Smith – Running Back
Antone Smith was another depth piece the Buccaneers brought in after losing Martin and Sims. He was an easy choice for Koetter given his familiarity with the offense and could get in right away if needed.
Smith finished the season for the Bucs with ten carries for 47 yards. On Thursday Night Football against the Falcons, Smith suffered a season ending knee injury – the second time in his career his season was ended with a leg injury.
Smith is another player who, sad as it is, may have seen the last of their playing days. At 31 years old, he isn't going to be in high demand already. Mix in a severe knee injury and teams are likely going to avoid him like the plague.
Smith was nothing more than an insurance policy and depth to begin with so the likelihood that the Bucs were going to bring him back to begin with was slim-to-none. Now? Zero percent chance.
Verdict: Not Retained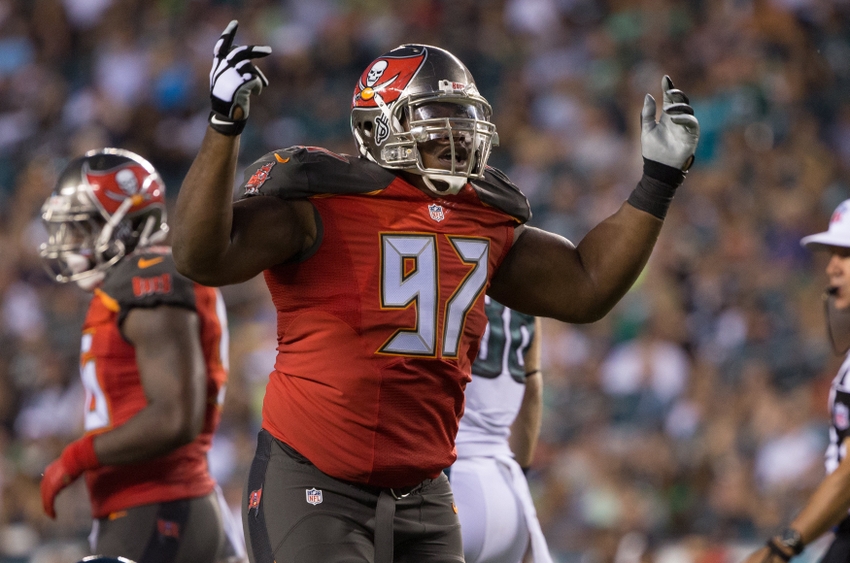 Akeem Spence – Defensive Tackle
Akeem Spence seems like one of the most sure returns on this list. His ability to be able to rotate to various spots along the defensive line provides depth across the board that the Bucs still desperately need.
Thanks to performance escalators in 2016, Spence increased his income from $675,000 to $1.671-million dollars. A new contract with the Bucs certainly won't break the bank, but Spence fills a role that the Buccaneers have to address one way or another.
A fourth round pick out of Illinois in 2013, Spence will likely be one of those rare breeds at One Buc that is drafted and retained by the Bucs. They've had issues retaining their own players for one reason or another but to keep Spence would show emphasis on the draft and develop philosophy they've been preaching.
One thing that may cause a bit of a snafu is that Spence was part of the final draft class pre-Licht, so there isn't that tie to the GM of being one of "his guys". Now, that's not a sole reason Spence won't be retained, but it is something to keep in mind.
It seems unlikely Spence will go elsewhere. He won't garner big money on the open market and would benefit more from staying put under Jay Hayes and Mike Smith than venturing elsewhere.
Verdict: Re-Signed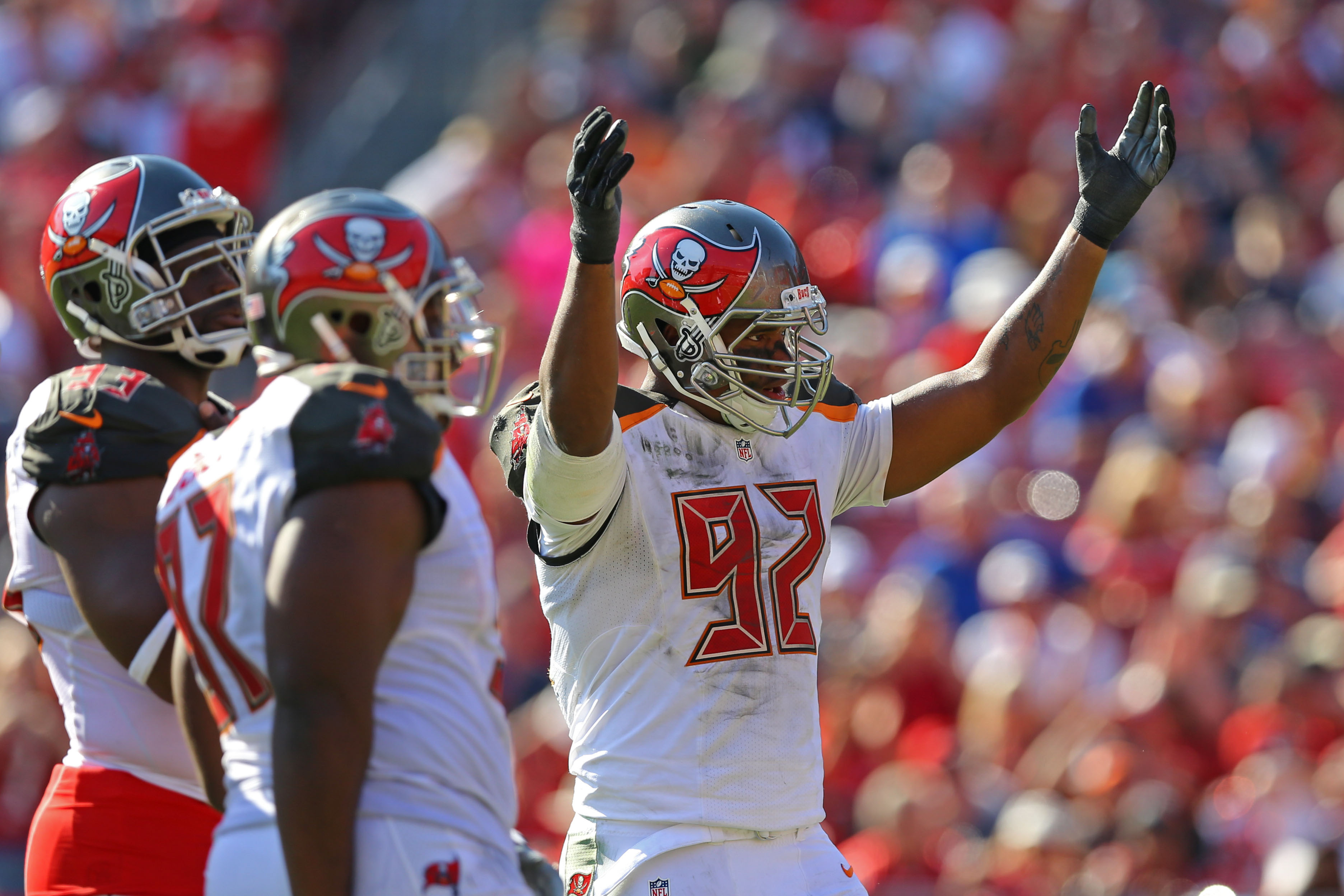 William Gholston – Defensive End/Defensive Tackle
William Gholston is going to get PAID. NOw, he doesn't have the sack numbers to get a mega-deal, but he's certainly going to get some hefty offers from teams when the time comes. Gholston finished the season with 50 tackles, 3.5 sacks, a forced fumble, and a fumble recovery – marking career highs almost across the board.
The best thing about Gholston is his run defense. His abilities in the run game are what are going to get him the money he's looking for – but will the Buccaneers be the ones willing to pay it?
They're certainly going to try to lock him up before free agency kicks off, but Gholston knows he's likely going to get one big deal in his career and he'd be wise to see what else is out there – and that's exactly what he'll do.
Like Spence, Gholston was a fourth round pick in 2013 out of the Big Ten (Michigan State rather than Illinois in this case) and was a pre-Licht guy. Even Jason Licht knows how important it will be to keep Gholston, but that doesn't mean it is going to happen.
We do know that the Glazers have never had a player they truly wanted get away due to money. It doesn't happen. So if Licht is banging the table for Gholston, the Glazers will open the checkbook and tell him to do what it takes.
Licht's a smart guy and he puts a value on everyone so if the bidding war gets too high, he'll walk away. I certainly anticipate that happening. Teams throw around crazy money in free agency and Gholston will greatly benefit from that process this season.
The Bucs won't leave defensive line unattended. With the Calais Campbell rumors heating up, as well as the potential for Dontari Poe to hit the market, there are also guys like Nick Fairley, Kawaan Short, Terrell McClain, and Bennie Logan set to hit the market – and those are just some of the guys who are under thirty.
Gholston is a solid player and a well liked teammate, but the team won't fall into a downward spiral if he walks. Chances are, someone will offer him money that is higher than Licht feels is adequate and he won't be part of the Bucs moving forward.
Verdict: Not Retained
Conclusion
Out of fifteen pending free agents from the Buccaneers' 2016 roster, I see the Bucs keeping seven and losing eight. The biggest names on this list – as far as many Bucs fans are concerned – are Vincent Jackson, Mike Glennon, and William Gholston, none of which appear to be returning to the team.
The seven free agents that appear poised for a new deal with the team will collectively cost less than someone like Mike Evans, Eric Berry, or Dontari Poe would for one season, so this is a prime example of how rosters are built. It's not all about flash and glamour, marquee names, and headlines.
This is about the role players, the grinders, and the unsung heroes. The players like Shep and Robinson who do whatever is asked and helped make the Bucs' punt team one of the best in football. It's about Hawley being the type of person that would take on whatever role the team needs him to because he's a selfless guy and puts team success over personal accolades.
Those are the players that create championship rosters. You need your stars at the top. Your Winstons, your Evans, your Alexanders, Davids, and McCoys, but out of the 53-men in those uniforms, you can't have 53 stars. It doesn't work.
We saw the foundation laid, the culture changed, and the start of something special in the Koetter-Licht era in 2016. Now, it's time to bring back those who helped that happen before filling in holes with outsiders and inviting young men to begin their career as the new wave of Bucs.
This article originally appeared on