Buccaneers Draft Comparative: Corey Davis and John Ross
David Harrison/FanSided via The Pewter Plank

Fansided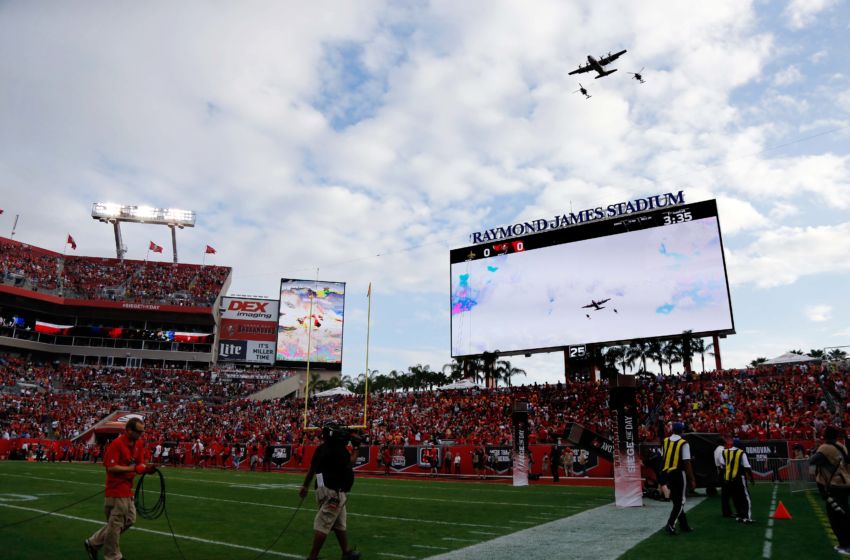 The Buccaneers were one win away from making the playoffs this season, and it has them and their fans all the more excited to see what the 2017 season has to bring. Another successful draft would go a long way, and pundits have been speculating plenty on who Jason Licht may add to the roster this spring.
Most seem to agree the biggest need when the Buccaneers go on the clock in the first round is likely to be at wide receiver or safety.
While free-agency has yet to stake it's claim to these needs, it's certain the team has to add speed to their offense and more consistent coverage to their defensive unit.
Mike Williams from Clemson University seems to be the number one rated wide receiver in the upcoming class, and while he may go Top-10, there's some room for debate on whether Corey Davis or John Ross will be the second receiver taken.
Let's assume the Tennessee Titans take Williams to pair him with quarterback Marcus Mariota who is coming off his second season-ending injury and would certainly benefit from a receiver to throw to so he doesn't have to run or hold the ball so often.
The next teams projected to need a receiver as one of their top needs are the Buffalo Bills, Philadelphia Eagles, Baltimore Ravens and well – the Titans again.
If the chips fall correctly, then the Bucs will have their choice between either Corey Davis or John Ross. One is a speedster with little height but tons of playmaking ability. The other is a taller, albeit slower, option who looks to be capable of running a full route tree at the NFL level but lacks some of the "lighting-strikes" ability of his counter-part.
So, who's the pick? Let's evaluate.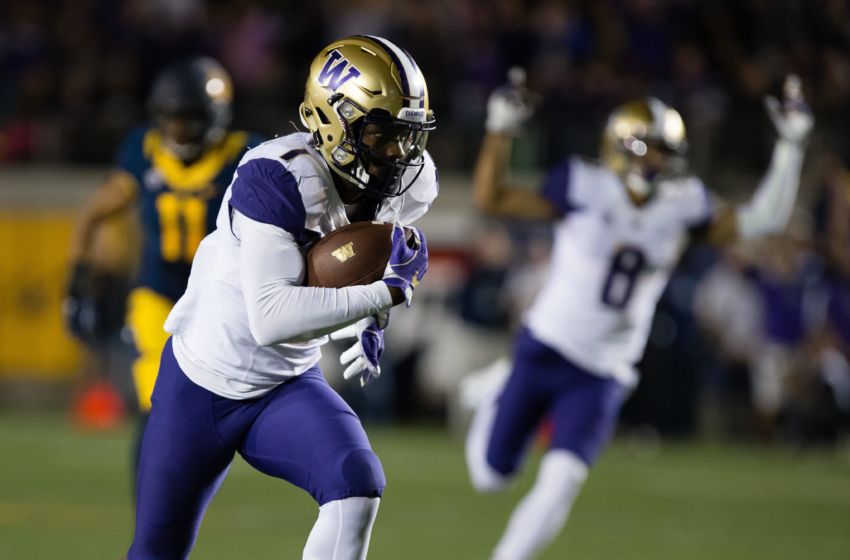 Speed
40-yd dash times are still to come of course, but we can pretty much call this one. John Ross is obviously the superior prospect when it comes to speed as he gets off the line quickly and gets into his routes before his quarterback finishes his drop.
More from The Pewter Plank
While the Buccaneers are clearly looking to add speed, Davis isn't exactly the tortoise here, and definitely has some deceptive downfield juice himself. The NFL doesn't always give a young receiver the runway he'll need to get it going though, and this fact will keep the separation speed we saw so often in college in check a bit at the pro level.
At the end of the regular season, Dirk Koetter made it clear the team needed more speed and the ability to make explosive plays.
He referenced the ability to take a 10-yard pass and turn it into a 30-yard gain.
In this light, it seems the coach's words would be better suited to Ross out of Washington who can easily turn a 10-yard slant into a 30-yard gain with one juke or missed tackle aiding in his escape from tackle.
Davis has shown the ability in his career to turn a quick screen or a curl route into big chunk plays, but those almost always required a bad tackling effort or bad angle from the defender. Besides, in the NFL, most of the screen plays you see broken for big yards come from players with Ross' speed.
ADVANTAGE: John Ross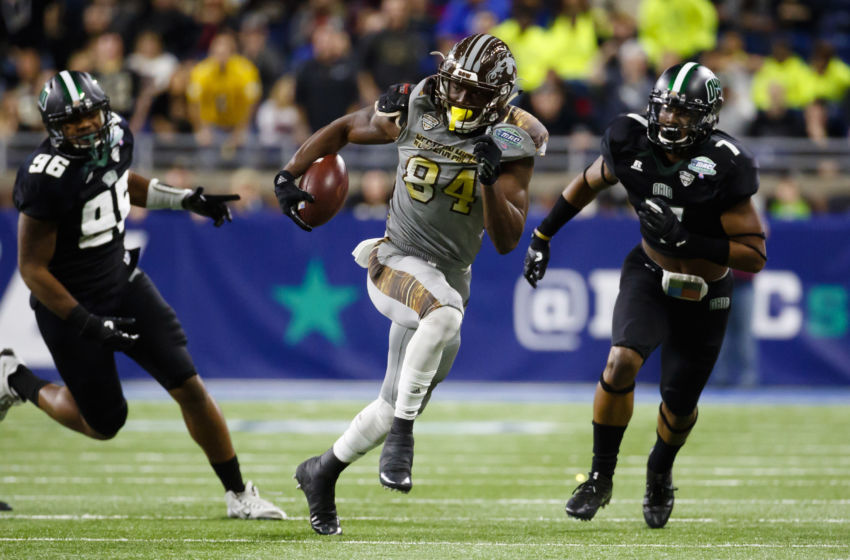 Route Running
Route running in the NFL is crucial, because timing is critical in pro passing offenses. We've all seen what Jameis Winston can do when improvising for the Buccaneers, but this certainly isn't the preferred method of getting his guys the ball.
Instead, this team needs to forge relationships between passer and receiver where the thrower can rely on his guy to be where he needs to be, and the guy catching the ball can get there for his gunslinger to be able to trust him.
Ross is certainly quicker off the line, as Davis has a tell-tale stutter step at the line of scrimmage before he gets off.
This natural delay in Davis' release creates a self-inflicted delay which means he has to get into his route cleanly or the entire play is thrown off and the quarterback will almost always have to look elsewhere.
However, the Broncos receiver has added some size and strength to his resume in the last year and this helps him ensure he's on time for his passer. Adding some more size and some more strength can turn him into more of the Demaryius Thomas mold I compared him to in my scouting report of the Senior receiver.
Also, he was taught to stutter step out of the blocks, he can be coached not to as well if Koetter's offense deems it necessary to eliminate.
The speedier University of Washington product would bring the Buccaneers a faster release off the line as most defenders see it fit to back their corners off of Ross because he is so capable of taking advantage of overly aggressive coverage.
However, at the NFL level, aggressive corner play is often times done with over-the-top safety help and against teams with effective coverage at both positions Ross will certainly struggle.
Look at the Peach Bowl for a prime example of this. Against Alabama the Crimson Tide used press coverage to delay Ross off the line of scrimmage which was effective due to his lack of size and inherent strength.
Once the timing was knocked off balance, they also had the deep help necessary to prevent him from getting a free release down field where his quarterback could simply loft the ball downfield for him to run under.
The result: 5 catches, 28 yards and no touchdowns.
ADVANTAGE: Corey Davis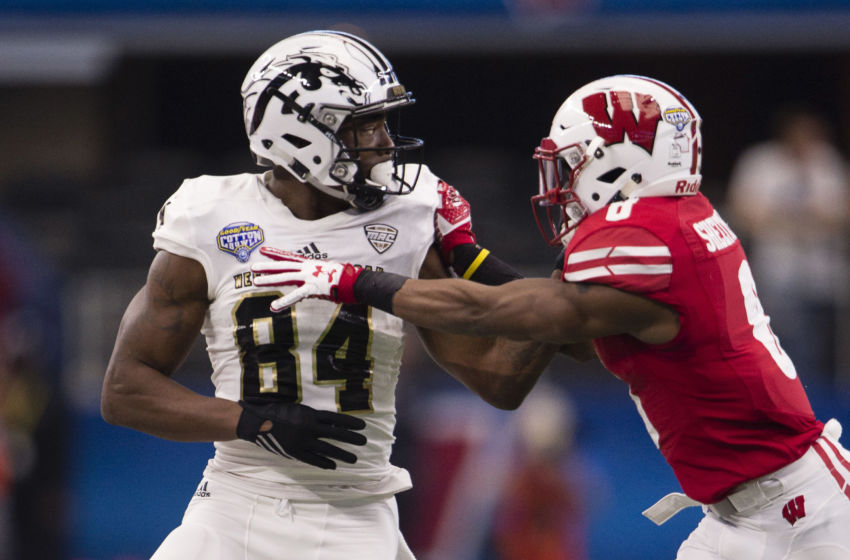 Hands
The last thing the Buccaneers need is another receiver who is going to drop the ball more times than any pro receiver should.
Mike Evans went through some deserved bashing from the fan base for the drops he had in 2015, although the level of bashing went above and beyond in my opinion.
This year, he was still up there amongst the league leader in drops, but I think fans have come to appreciate the load the former Texas A&M giant carries for his franchise.
When you look at the game tape of Ross, one things pops out almost immediately, and that is his lack of hands use when he's catching the ball.
Look up any highlight or game film and he almost never uses his hands exclusively to make a catch. Even on deep passes where he flashes his great ability to track the flight path of the ball, it tends to bounce off his hands into his chest and arms where he secures the pass.
In the NFL, these passes are normally met with a defensive back's hands raking at the receiver's arms meaning if the ball is bouncing around in there, it's going to get knocked out.
Davis on the other hand (no pun intended), uses his two to secure the ball on most of his routes, but also tends to let the ball get into his body on deep routes instead of reaching up and plucking it out of the sky.
Neither man had to deal with too many jump balls in their time, an aspect of the game Davis' coaches will certainly ask him to work on, but one which Ross will not have to deal with for the most part.
At the end of the day, the fact Davis uses his hands for his short and intermediate catches is a plus while Ross' use of his chest to field most of his catches is a definite draw back considering the regularity with which bang-bang plays occur at the pro level.
ADVANTAGE: Corey Davis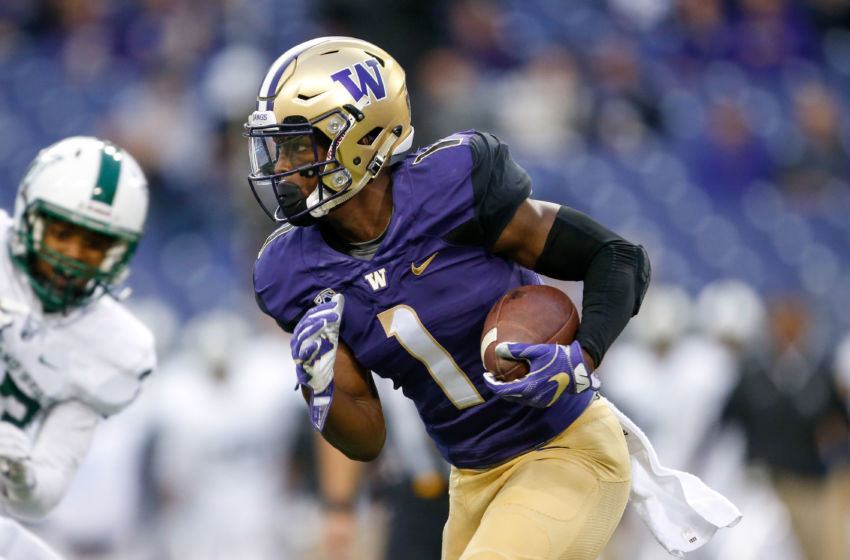 Special Teams
Most first-round picks aren't asked to contribute on special teams as they are leaned on for a big chunk of snaps whether they're on offense or defense, and the Buccaneers don't seem to feel too differently about it.
Still, it's nice to have the option if it would come up, and in a league where there's always some team getting hit hard by the injury bug, you'll definitely have it come up at some point.
John Ross has return experience and success doing it. With four career return touchdowns as a Huskie the speedy receiver has multiple returns of 100-yards and had a 92-yarder in 2016 while filling starting receiver duties.
He's a touchdown in a can, and anytime he gets his hands on the ball he's a threat to take it to the house. Which is really good considering his perceived limitations entering his first pro season.
Not unlike Brandin Cooks of the New Orleans Saints, size and route running are all going to be concerns for this young man and likely won't go away for his entire career.
If you look at it the way Steve Smith did, then you can show the league there's no reason for him to do anything other than what he does best, because he does it better than anyone in the league.
If not, then Ross will need to lean on his special teams abilities to stay on rosters while he develops his game fully.
Davis on the other hand, has little to no special teams experience with one return of zero yards to his record.
Being the type of prospect who figures to get on the field with the offense early and often makes it seem irrelevant, but if a team drafts him and he can't translate his college film to NFL play, then they'll be left with a first-round bench player who will have to learn how to play special teams if they're going to get anything from him at all.
ADVANTAGE: John Ross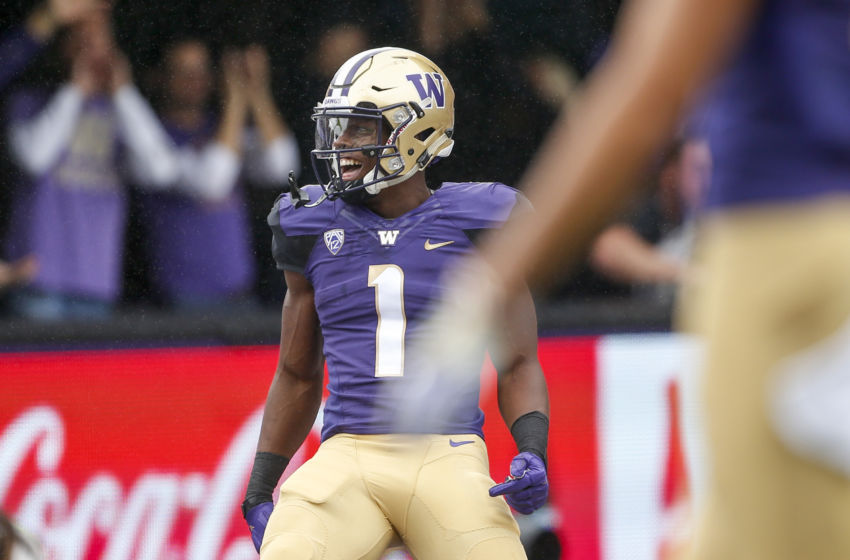 WINNER: JOHN ROSS, WR, UNIVERSITY OF WASHINGTON
By the math of these four areas of evaluation it would look to be a tie, but we can't do that because we aren't covering the Redskins we're talking about the Buccaneers. Believe me, this is tighter than it might look to most.
Davis presents the better package of receiver skills entering his first season, and his record setting production at Western Michigan is no joke.
Ross has blazing speed which can transform an offense overnight and open the field for guys like Mike Evans and Cameron Brate to run in with less traffic holding them up.
In addition, Adam Humphries would be more effective from the slot with Ross lining up next to him as defenders play back to contain the speedster allowing Humph some space to get into the open field where he does his best work.
For me, this comes down to doppelgangers. While he's not as tall as Evans or as slow, Davis is more like Evans than he is like a Cooks or DeSean Jackson. The Broncos have one of the most lethal duos in the NFL with Demaryius Thomas and Emmanuel Sanders, but they're so successful together because they complement each other.
With nearly the same amount of yards and touchdowns this season, Sanders did it with 11 fewer receptions while Thomas filled the role of the more reliable – and taller – target for his young quarterback.
The Buccaneers have their tall and reliable target in Evans, now they need their speedy Sanders clone who can go out and take 79 catches for over 1,000 yards. Now, it won't happen overnight by any means, but given two or three years and we could be looking at the best receiver duo in the league because of how they make defenses easier for each other.
When the Cleveland Browns drafted Corey Coleman from Baylor last season they were looking to combine his speed and downfield acumen with the talents of Josh Gordon and Terrelle Pryor.
The open spaces Coleman should have been able to find with those other two on the field would all but assure him the room to make catches and turn them into big plays.
Instead, Gordon was suspended, the quarterback was injured and even the rookie himself played in just 10 games netting 33 catches for 413 yards and a longest play of 58-yards.
Winston has proven to be more durable than he probably should as he has survived a barrage of hits early in his career due to the lack of quick play ability and up-front protection.
Corey Davis simply doesn't provide what's missing to this offense, while John Ross has the inside release to exploit soft coverage and the downfield speed to burn press. Winston's longest passes of the season in 2016 went for just 45-yards.
With Ross, the chances are pretty good he breaks that number easily in 2017.
So who do you want in 2017 and why? Let me know in the comments or on Twitter to discuss.
This article originally appeared on