Buccaneers: Can They Get on Track with Doug Martin and Clinton McDonald Back?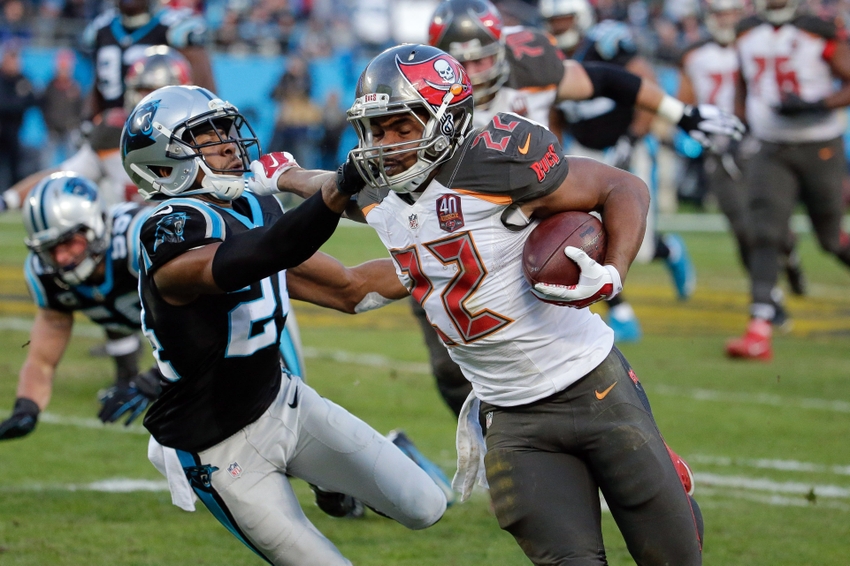 Can the Buccaneers get back on track, now that Clinton McDonald and Doug Martin are healthy?
More from The Pewter Plank
Time for the second half, Buccaneers fans. We sit at 3-5, coming off of a two game losing streak. This weekend, the Bucs are looking to right the ship as the Chicago Bears come to town. It's going to take a solid second half for the Bucs to find their way back into playoff contention.
One of the biggest issues of the first half of the year was health. The Bucs went through an entire depth chart of running backs. Think about that for a minute. Dirk has done a pretty fine job getting this team to three wins.
And now they seem to be getting healthy.
The defense has come back, and now two big names, Clinton McDonald and Doug Martin, are back as well. Martin is a game-time decision but odds are he will be out there.
So for this week's roundtable, we discuss if the Bucs can turn things around with these guys back in the fold. Here is what we came up with. One slide per writer, as usual.
Tough Schedule
Sure, the Bucs can get back on track in the second half, but only to an extent. The impending returns of Doug Martin and Clinton McDonald will give the team a spark, but to think that they will turn things around enough to make the playoffs is a stretch. Not only does the roster lack depth, but the schedule from here on out remains pretty tough.
The Bucs should  be able to beat the Bears, but the following stretch will be scary. Tampa Bay will see top contenders in back-to-back weeks, facing Kansas City (6-2) and Seattle (5-2-1). A trip to take on San Diego (4-5) on the West Coast follows, which always gives fits. The final quarter of the season includes two matchups with New Orleans (4-4), a trip to Dallas (7-1) and then a home game against Carolina (3-5). It's hard to see a major turnaround with that schedule.
With the defense's current play, Tampa Bay would be lucky to win two or three games the rest of the way. While I do believe the Bucs will start playing better football soon, it doesn't seem too realistic to expect this team to get back into the playoff conversation.
Two Guys, Big Help
Despite two straight losses at home there is some reason for optimism with the Bucs.
Doug Martin and Clinton McDonald are two massively important cogs in the Buc machine that are poised to return this week, or at the latest next week. With Martin the Bucs can get back to their primary goal: pounding the football and allowing
Jameis Winston
to create big plays from playaction.
With
McDonald
the Bucs can deepen their rotation at defensive tackle and get a surplus in pass rush potential. McDonald will also help a run defense that has been leaky as of late. It can't be over-stated how important both of these players are, and they should noticeably help the Bucs keep their heads above water in the second half of the season. They won't be enough to fuel a playoff run, but with winnable games versus Chicago, Kansas City, and San Diego coming up, the Bucs should have enough fire power to get to seven or perhaps eight wins.
With Health Comes Hope
As Clinton McDonald and Doug Martin return from injuries so does the hope for the Bucs 2016 season. Our offensive center piece finally seems to be on his way back to the field. With Martin returning, it gives the Bucs a shot of having an offense outside of throwing to Mike Evans. Coach Dirk Koetter loves him Doug and it's about to show. To have Martin show any remembrance of the 2015 season would be a blessing.
As for the return of McDonald, it brings some much-needed help to the defensive line. Coach Mike Smith picked his starters for a reason, and to finally have them all healthy, it  may help give the team the boost they need. This Bucs season is currently on a downward slope. To have these two key returning starters back may propel them back into the right direction.
Main Issues Won't Change
Do I think the return of Doug Martin and Clinton McDonald will help get this team back on track, my short answer is no. Doug Martin returning this week will be a boost for the offense but honestly how much more productive would he have been in the three games that Jacquizz started? Rodgers put up 324 yards in his three starts without Doug playing. Yes, they weren't stacking the box and yes they ran it 75 times but I feel that Doug couldn't have put up better numbers than that. The offense will have a better option than the Thursday Night game but with the limited other options at the other skill positions, the offense will remain relatively similar.
The addition of Clinton McDonald is huge because Gerald McCoy can actually get some rest without losing a ton of quality on the field. Also in the pass game, not being known for an elite rusher, McDonald will take up space. Offensive linemen will have to focus on him allowing other speedier guys like Spence and Ayers to get after the passer. This will greatly assist their defense but it still won't fix the main issue. The secondary is the issue, and when you can't cover receivers even when the quarterback is hurried you will give up 300 plus passing yards per game. The Bucs aren't adding a game changer in the secondary and a speedy playmaker on offense and while they will be a little better overall, it won't make them a playoff contender.
Strong Passing Offenses Coming Up
With Doug Martin and Clinton McDonald nearing their return to the field for the Bucs this team needs a spark more than ever.
Will it be enough to get the team back on track? Unfortunately, it will not.
Four of this team's eight remaining games are against teams in the top half of the NFL in passing including two against Saints who are second in yards and touchdowns.
McDonald's return may help shore up the front, but it won't stop these quarterbacks from taking advantage of suspect secondary play.
Martin's return may make a bigger impact, but with hamstrings, you never know. It took Mike Evans more than a year to be the same as he was before his hamstring problems, and even longer to look better.
I think Martin is two or three weeks away from carrying a full workload, and when he does he'll find five teams in the top half of the league against RBs.
This year has been disappointing, not because of the record alone, but how they've gotten there.
Martin and McDonald will be welcome returns, but this ship's course is set and doesn't look like it's changing routes this year.
Too Little Too Late
The fact that Doug Martin and Clinton McDonald are back to being full participants in practice is a great sign. They've both been missed on their sides of the ball and both will provide a much-needed boost.
However, many Bucs fans – myself included – appear to have believed this team was closer than it actually is. Secondary and pass rush issues are still plaguing this team defensively. No legitimate threat, especially one with speed, opposite Mike Evans is plaguing this team.
Although Martin can provide a spark and McDonald can bolster the pass rush, you have to think their contributions are good for one, maybe two, additional wins. Unless the Bucs run the table, this season appears to be yet another lost one. It's great to have them back, but it likely won't make a huge difference for the rest of 2016.
Get To The Passer
Martin and McDonald are huge additions. Especially if Martin can get back to form, the Bucs offense adds a deadly weapon that will only make them better. Depth on the defensive line is always a good thing as well.
But, if the Bucs are going to get back into it, they must get to the passer. They have the ability to run off some wins, but not if they can't get rush the quarterback. The pass defense has been bad. They added Brent Grimes and he hasn't helped the way he was expected to. They have to help the defensive backs out, and that is done by getting to the quarterback. Noah Spence has looked better in recent weeks. Spence and company will have to get some work done to improve the second half. Martin and McDonald are not enough.
We have had our say, now it's your turn. Can the Bucs turn it around with these guys back?
This article originally appeared on