Buccaneers Blow It In Epic Fashion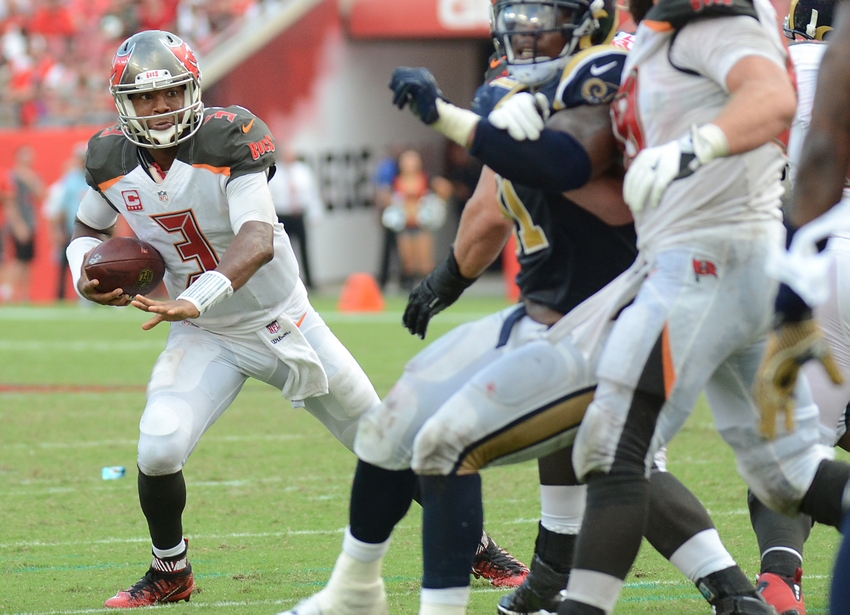 You kidding me with this?! We waited for a rebound game and through a lengthy weather delay for that?! There is no excuse for the Buccaneers to play the way they did.
It wasn't supposed to go down that way. The Buccaneers, coming off an embarrassing loss to the Cardinals, were supposed to come home to their fans and take care of business against Los Angeles. Instead, we got more of the same crap we always have – stupid penalties, blown coverage, poor clock management, and heartbreak.
After being up 20-10, the Buccaneers found a way to give up 21 unanswered points, fight back, let it slip away, fight back again, then finally put together the most pitiful final four plays with the game on the line we've seen in recent memory. Let's pick six;
Six Topics Suitable For Discussion
What is wrong with this team? How can a team look so good and so bad in the same game? How can we watch the most prolific offense in team history yet the defense can't seem to ever shut down even the most pedestrian of offenses? How can a team that is supposed to have turned the corner and have new leadership on the defensive side of the ball still look like the same pack of frauds we've dealt with for nearly a decade? I can't even begin to fathom where to start with what's wrong with them. Too long of a list…
Roberto Aguayo – Do your damn job! You were drafted way higher than you should have to begin with, but I defended you. You struggled in preseason, but I went to great lengths to defend you. You got your act together at the end of preseason and in week one against the Falcons, I praised you. Now? You miss a field goal in Arizona, then miss an extra point and field goal in the home opener that proved to be the difference. Despite the atrocious defense, this loss can honestly be blamed solely on you. So what are the Bucs supposed to do? They drafted you so they wouldn't have this problem, yet here we are! A kicker that can't make freaking kicks! Either get your head right or get off the field. You are not the asset Jason Licht thought he took. You're arguably the biggest liability on this team.
Secondary deja vu. Alterraun Verner was burnt, Chris Conte can't cover anyone, Brent Grimes still gets schooled in the end zone. When will this get fixed?! It's the same thing over and over and over and over. There is zero confidence that this team can stop anyone. It was honestly amazing they got the stop on third down for even a chance to win. Once again, the defense makes Case Keenum look like he should be fitted for a gold jacket.

Mike Evans: Elite I don't care how premature it seems after his struggles last season; Mike Evans deserves to be in the conversation with Julio Jones, Odell Beckham Jr., and A.J. Green. He is the most sure handed receiver on this team along with Adam Humphries. There is no receiver I would trust more in any situation than Evans at this point. He and Jameis have developed an incredible rapport after last season and Evans can not be overlooked anymore.
Bounce back day for LaKwonte Lavonte David and Kwon Alexander were machines out there. David was flying all over the field making plays, forcing a fumble, and dominating in the run game. Kwon gets a pick six, wasn't missing tackles, and was a key contributor. For as poorly as they played last week they were two of the few on defense that were ready to go today.
Dirk Koetter went to Lovie Smith's school of clock management? What kind of crap was that? You let that clock tick and tick and tick with two timeouts left and what happened? The Bucs run out of time with a third down at the five yard line. It was the dumbest use, or lack thereof, of timeouts we've seen maybe ever. You lost the game by five points with a timeout left when the clock hit 0:00. No excuse for that. None. I get trying to keep the Rams from substituting, keeping the rhythm going. But for God's sake be smart! Letting that clock tick away on the off chance the Rams got the ball back was not playing to win. It was playing not to lose. Get points on the board first! Worry about their offense later! Instead, you end up with Jameis scrambling on the last play with no chance of getting in the end zone, breaking the hearts of Bucs fans yet again.
Six Numbers To Consider
405 – Yards passing by Jameis Winston – a career high
3 – Consecutive games to open the season with a touchdown by Mike Evans – a franchise record
.900 – Jeff Fisher's career winning percentage vs. Bucs, 5-0 with the Rams
4 – Consecutive losses in the Bucs' home opener
14 – Career sacks by Lavonte David, third most in Bucs' history for a linebacker, passing Derrick Brooks (13.5)
301 – Receiving yards through three games by Mike Evans, a franchise record over that span
Six Springsteen Songs To Describe This Game
For those who read it and noticed, read it and didn't notice, or didn't read it, as a tribute to my favorite musical artist turning 67 years old this past Friday I hid as many Springsteen song into my column as I could. I ended up with 52 as you can attempt to find them all here. In keeping with that theme, here are six Springsteen songs that describe this game;
This Depression – Exactly what Buccaneers fans will be in for a while
Dry Lightning – Because, y'know, the delay
Two Faces – Exactly what this team has. They're good, then bad, then good…
I Wish I Were Blind – …after watching that game
One Step Up – "and two steps back." Every week with these guys…
Countin On A Miracle – That they get their act together. And soon!
Six Ways The Buccaneers Can Beat The Broncos
6.) Pray the Broncos miss their flight and are forced to forfeit
5.) Rub Old Spice in Von Miller's eyes, rendering him useless
4.) Aqib Talib is due for a run in with the law, isn't he? That would be mighty convenient.
3.) Robert Ayers returns to help the pass rush while Luke Stocker returns to help the run game.
2.) Vincent Jackson took that butt chewing he got from Jameis to heart and actually shows he still has one…
1.) Stop shooting yourselves in the foot, take advantage of opportunities, don't miss field goals, don't blow coverages, and actually play up to the level you are capable of instead of putting forth this crap effort and getting your butts handed to you like the last two weeks!
Six Super Bowl Contenders
Ranking the most likely Super Bowl LI contestants
1.) Denver Broncos – There is no hangover or drop off with this team whatsoever
2.) New England Patriots – About to go 4-0 without Tom Brady. I bet Goodell is pissed.
3.) Green Bay Packers – They're starting to click offensively. Could be dangerous when Sam Shields returns
4.) Minnesota Vikings – Didn't want to admit it, but they look for real
5.) Philadelphia Eagles – See "Minnesota Vikings"
27) Tampa Bay Buccaneers – Can't make heads or tails of this team, but they just look bad.
Six Final Words
Is it the bye week, yet?
More from The Pewter Plank
This article originally appeared on