Buccaneers at Chiefs: Five Game-Changing Players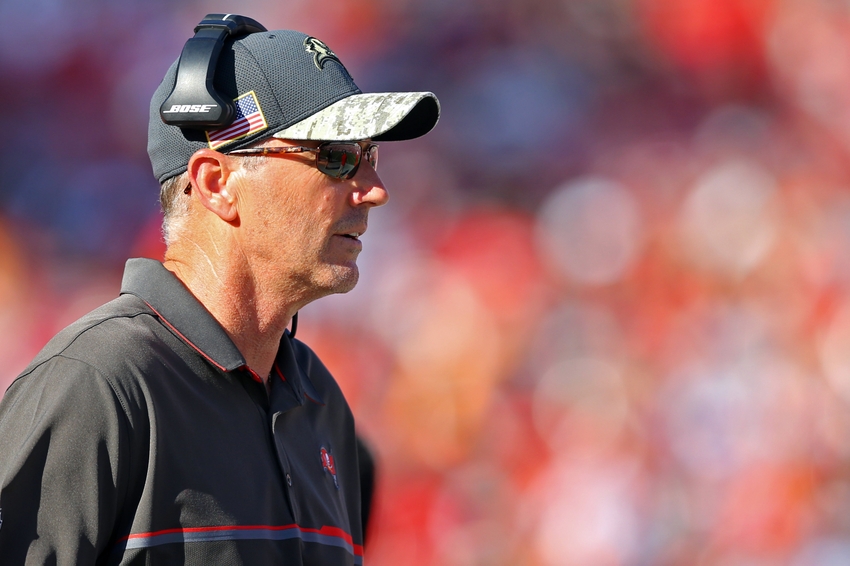 At long last, the Buccaneers (4-5) won a game at Raymond James Stadium last Sunday. Next, they'll hit the road this week to take on the Kansas City Chiefs (7-2). Here, we break down five players that can impact the final score on Sunday.
The Buccaneers desperately needed a win this past Sunday, and they got it. With a 36-10 victory over the Bears, they moved within one game of a .500 record. Tampa Bay now heads into a tough two-game stretch against Kansas City and Seattle, first visiting the Chiefs this Sunday at 1:00.
The Chiefs have been one of the most consistent teams in the last two years, going 18-7 in the regular season since the start of the 2015 season. Even with Jamaal Charles missing significant time, they have put together a solid start to this season. At 7-2, they sit tied with the Oakland Raiders for first place in the AFC West.
This week, it might be all about defense. Kansas City is averaging just 22.8 points per game, but has allowed just 18.7 points per game. That average would be even lower if it weren't for a 43-point performance by Pittsburgh in week four. Tampa Bay, on the other hand, has been inconsistent on defense all year. The unit did have its best game of the season on Sunday against Chicago, so there's a chance this week to prove that it truly has improved.
The Chiefs will be heavy favorites on Sunday. But, the Bucs will be out to prove that they're still fighting for playoff contention. Who can change the game this Sunday?
It took some time, but Noah Spence has developed into a threat off the edge of the Tampa Bay defensive line. With the returns of Robert Ayers and Clinton McDonald, Spence doesn't have to be relied on as heavily, which helps him as a 22-year-old rookie. He's up to four sacks on the year, recording one in three of the last four weeks. His sack of Jay Cutler on Sunday knocked the ball loose, getting the ball back to the Bucs at a crucial time.
More from The Pewter Plank
Tampa Bay will likely be heavy underdogs in Kansas City this week, and the biggest key to an upset will be a strong defensive performance. Mike Smith's unit was outstanding on Sunday against Chicago. The Chiefs' offense isn't as bad as the Bears', but it also isn't on the same level as that of the Raiders and Falcons. The Bucs can win this game, but only if their defense steps up with a performance like it had against the Bears.
Spence, who is still somewhat unproven, is likely someone that can fly under the radar as the Chiefs prepare for this game. If he can disrupt the quarterback, it would be big for Tampa Bay. He's forced two fumbles in the last three games, making a big impact for the defense in terms of momentum. The Bucs will need to force some turnovers this week if they want to win, and they might want to turn to the rookie to do so.
The Bucs have a history of struggling against tight ends. They'll face one of the NFL's best on Sunday: Travis Kelce. The Chiefs' offense isn't unstoppable, but their biggest weapon is Kelce. The tight end is the team's leading receiver, catching 42 passes for 466 yards and three touchdowns. Jeremy Maclin and rookie Tyreek Hill have been solid enough for Kansas City, but Kelce is Alex Smith's top target.
The Bucs have allowed 55.7 yards per game to opposing tight ends this season. Greg Olsen is someone that they always struggle with, and he put up 181 yards on nine catches against them in week five. Kelce is a similar weapon, being his quarterback's go-to guy in crucial situations. Looking at the Tampa Bay defense, it's hard to figure out who is going to be able to cover him consistently. At six-foot-five and 260 pounds, he is physically dominant. Which Buccaneer is going to be able to line up and cover him this Sunday? Whoever is tasked with covering him is going to have an incredibly demanding job to do.
It's not too reasonable to expect the Bucs to shut down Kelce completely. If they can keep him out of the end zone, that would be sufficient. Tampa Bay has only allowed three touchdowns to opposing tight ends this year. It would be a big step toward a victory if they can keep that number right where it is this Sunday.
For the first time since week one, Doug Martin's name makes this weekly list of game-changing players. Of course, that's because he was sidelined with a hamstring injury up until last week. In his long-awaited return, he rushed for just 33 yards on 16 carries. However, he was limited in touches and did find the end zone late in the game. If Martin's workload can be increased on Sunday against the Chiefs, the Bucs' offense will have an added dimension.
The Kansas City defense is pretty strong, but it has been ineffective against the run this year. The unit ranks 27th in the league in rushing yards allowed per game (121.7). That could open the door for Martin to have a big day, should his carries increase. If he's still operating with a limited workload, Tampa Bay may not be able to take advantage of the Chiefs' run defense.
Jameis Winston has done an admirable job this season, especially considering the injuries in the backfield. But now, Martin is back. As a result, the Tampa Bay offense should be back to its 2015 form. With a solid run game, the Bucs will be able to dial back its tendency to throw the ball. That should eliminate predictability of the offense, especially against a strong Chiefs defense.
Tampa Bay's Jameis Winston can only hope he doesn't see a lot of Kansas City's Dee Ford on Sunday. Ford is tied for the league lead in sacks with 10, recording at least one in five games this year. He has six and a half sacks in the last three games. In week eight, he torched the Colts, picking up three and a half sacks. His hot streak could continue on Sunday, which would make live very difficult for the Bucs.
The Tampa Bay offensive line hasn't been at its best lately. Joe Hawley, Kevin Pamphile and Evan Smith are all banged up, which leaves some inexperience on the line. Ben Gottschalk filled in at center when Smith went down, while Caleb Benenoch filled in for Pamphile. The Bucs will need their line to step up on Sunday, especially facing some heavy blitzes from Ford.
Keeping Winston upright is obviously a priority for Tampa Bay. He is the franchise's future, and making sure he stays healthy is key to any success it wants to have. Ford has 10 of the Cheifs' 18 sacks this year. He will be a tough man to stop on Sunday, but he must be contained if the Bucs want any shot at winning on the road.
The Bucs are starting to see their defensive draft picks pay off, with Noah Spence and Vernon Hargreaves stepping up in recent weeks. Last week, VHIII had his best game as a Buc. He was thrown at five times, and only allowed one catch for 13 yards. He is still without an interception this season, but has five passes defended and 42 total tackles (37 solo).
The Chiefs' roster features some smaller receivers, so Sunday could be a good matchup for the 5-foot-11 Hargreaves. He has put up a couple of solid performances this year against much bigger receivers, so it should be interesting to see him line up against players that are closer to his size. Kansas City's offense is fairly average, which gives the Tampa Bay defense reasons to be confident. Especially coming off of a big day against the Bears, the Bucs will head into this week looking to stay hot on the defensive side of the ball.
Forcing turnovers was one of the main reasons the Bucs were so effective on defense this past week. Brent Grimes and Chris Conte came up with interceptions, yet Chicago still only went toward Hargreaves five times. He is still finding his footing in the NFL, but he has the ability to come up with some big plays this Sunday. Whether he comes up with a turnover or just holds his man down, the rookie could be a big difference-maker this week.
Who do you think changes the game this Sunday, Bucs fans? Let us know in the comments, on Twitter, or on Facebook.
This article originally appeared on