Buccaneers: Addressing The Salary Cap
James Yarcho/FanSided via The Pewter Plank

Fansided
The Tampa Bay Buccaneers are in a great situation regarding their salary cap heading into free agency. However, it can be even better.
There aren't many fan bases with as much hope and optimism heading into the 2017 season as the Buccaneers'. Not only did they see their team go from 2-14 in 2014 to 9-7 in 2016, but they see the young core in place to build around for the long term. The franchise quarterback, the elite receiver, the game changing middle linebacker, and a number one corner in the making. However, they also see the glaring holes that must be filled in order to take that next step.
And the Bucs have the money to address that.
The Buccaneers are currently sitting with $65.5 million dollars in cap space. That's a big chunk of change. They need to look at help at safety, running back, receiver, tight end, offensive line, and defensive line. Now, they don't need starters at all these positions, but as we saw when the injury bug hit, they do need depth at a lot of them.
There are players that we all know have become dispensable, freeing up more cap space without taking on much – if any – dead money.
The first of which is Alterraun Verner. Verner was a big free agent acquisition in 2014, signing a four year, $27.5 million dollar deal. Unfortunately, Verner never lived up to the contract and has been nothing more than a role player the last two seasons. Cutting him would free up $6.5 million in cap space for 2017. There aren't many people who dislike Verner, in fact many fans like him as a person, but realize he just has no role on this team worth that price tag. Cutting him is likely the best move for both the Bucs and Alterraun.
Cap Space: $72 million
Next is Doug Martin. Martin – who will be suspended the first three weeks of the season due to a failed drug test – is one of the most polarizing players on this team. Some fans love him, some fans hate him, very few if any are in between. Martin had a very difficult season in 2016 between the hamstring injury and the lack of production. Dirk Koetter was adamant about Martin returning in 2016 and Jason Licht made that happen. Unfortunately, it looks like this drug test and suspension will allow the Bucs to get out from under a bad contract and move on at the running back position.
Martin signed a five year, $37.75 million dollar deal last March and the Buccaneers can now cut him with no penalty whatsoever. He was guaranteed his seven million dollars this season, but the positive drug test voided all guaranteed money. Now, the Bucs can save that seven million in 2017, as well as $6.75 million in 2018, $7 million in 2019, and $7 million in 2020. The Bucs are already viewed as a team looking to draft a running back this year or could also address it in free agency with a player like Latavius Murray. It seems the writing is on the wall and Martin will be gone.
Cap Space: $79 million dollars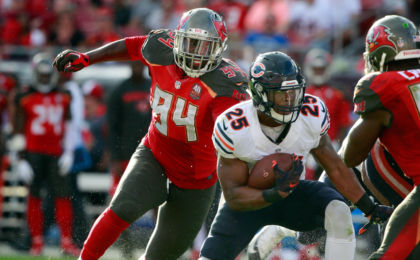 George Johnson was a player the Bucs traded for after attempting to sign him as a free agent. The Detroit Lions contested the Bucs' offer sheet, leading to a rare sign and trade between the two teams. Johnson, however, has done absolutely nothing in his two seasons with the Bucs and is in prime position to be a cap casualty.
Johnson's deal was three years, $7 million. Cutting him would free up $2.25 million dollars this season and makes a lot of sense given that he's collecting a paycheck without contributing at all on the field. In two seasons, Johnson has played in eleven games and accumulated six tackles.
Cap Space: $81.25 million dolalrs
The wild card is J.R. Sweezy. Sweezy missed all of 2016 with an injury that we never really got any information about. We don't know if it was there when he signed, if it happened during off-season workouts with the Bucs, workouts away from the facility, we just don't know. What we do know is that Sweezy signed a five year, $32.5 million dollar contract with the Bucs and was guaranteed $14.5 million of that – most of which he's already collected without even so much as a training camp snap.
The Buccaneers are still thin along the offensive line, so releasing Sweezy seems counter-productive. However, if they feel he won't be able to return ala Carl Nicks, they can cut him now. They'll save $2.5 million against the cap, but also accrue $2.5 million in dead money. The remaining cap savings for the duration of his contract are as follows; $6.5 million in 2018, $5.75 million in 2019, and $5.75 million in 2020.
Cutting their losses now would allow them to move forward and continue to build the offensive line without wondering when – or if – Sweezy ever returns.
Cap Space: $83.75 million dollars
In the swing of just four players, I added $18.25 million to the salary cap. Jason Licht will likely do far more than that as the Buccaneers appear to be all-in in 2017. The money is there, the foundation has been built, the coaching staff is intact. The time is now for the Buccaneers to make that jump.
This kind of money allows the Buccaneers to have free reign in free agency. They can bring back Will Gholston and Akeem Spence, sign Mike Evans to a big extension, sign whatever players they want or need to fill the holes on the team, and still have rollover for 2018 when they have to look into extending Jameis Winston, Kwon Alexander, Donovan Smith, and Ali Marpet.
Don't expect any of those crazy spending sprees like we've seen in previous years, but it's cetainly not out of the question for the Buccaneers to bring in one big, marquee free agent like Eric Berry this year.
More from The Pewter Plank
This article originally appeared on