Buccaneers 36, Bears 10: Immediate Reactions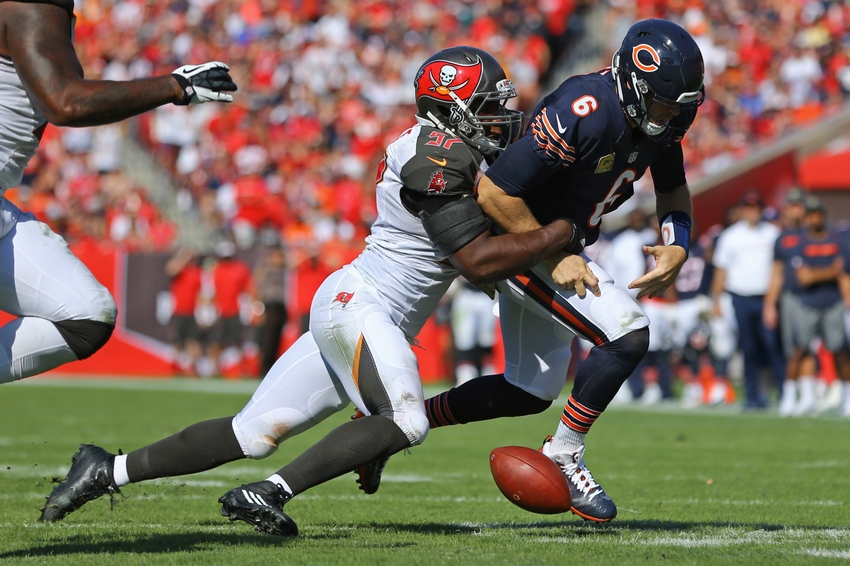 The Buccaneers (4-5) snapped their six-game home losing streak on Sunday, beating the Bears (2-7) by a score of 36-10. Here, we have immediate observations and reactions from Tampa Bay's big win.

36

10
The Buccaneers started slow on offense, but an outstanding defensive effort and a complete game the rest of the way led to a 36-10 win over the Bears. The win marked Tampa Bay's first at Raymond James Stadium since December 6, 2015.
Observations and Reactions- General
-This was a game that the Bucs needed to win, and they came out with a good all-around performance. It was a rare complete game for Tampa Bay.
-Penalties were somewhat of a problem throughout the game. The Bucs were flagged nine times for 85 yards, which would've been a much bigger problem against a better opponent.
-Tampa Bay finally controlled possession after weeks of being worked in that category. It held possession for 37:09, compared to Chicago's 22:51. The offense did a great job of sustaining drives, while the defense did a solid job of getting off the field.
Observations and Reactions- Offense
-The Bucs' offense took a while to get going on Sunday. What was most frustrating about it was that whenever it looked like things were picking up, a penalty would set them back.
-Speaking of penalties… The offensive line is bad enough without getting flagged every other play. When Donovan Smith and Demar Dotson weren't getting beaten by their opponents, they were getting called for penalties. They're not bad players, but they certainly haven't stepped up this season.
-Sure, part of the struggles on the offensive line were due to injuries. Joe Hawley sat out with a knee injury, and Evan Smith went down early. That left the Bucs with some untested youth on the offensive line, which allowed four sacks on the afternoon.
–Jameis Winston had another good day. He finished 23 of 33 for 312 yards and two touchdowns. His one interception came off of the hands of a receiver, but the Bears couldn't convert it into points. His quarterback rating was 107.1.
-If people are still refusing to accept him as the Bucs' quarterback of the future, I don't know what to say. He's doing an admirable job with an inconsistent offensive line and a fairly depleted receiving corps. Also, he did this today. It's a good thing there's a video, because I don't even know how to explain what happened:
.@Jaboowins escapes the ENTIRE Bears pass rush.
And still finds Mike Evans for 39 yards.

Hoowwwwwww?! #SeigeTheDay https://t.co/5cyOrPqjqZ

— NFL (@NFL) November 13, 2016
-Winston's 10-yard touchdown pass to Cameron Brate in the second quarter was the 40th of his career. At 22 years and 312 days old, he became the youngest quarterback in NFL history to throw for 40 touchdowns.
-Mike Evans was held without a catch in the first half, but still finished with 66 yards on four catches. Chicago made covering him a priority, which allowed Brate to have a big day. The Harvard grad caught seven passes on seven targets for 84 yards and a score.
-It was great to see Doug Martin back on the field, even if he wasn't at his best. He ran for just 33 yards on 16 carries, but he did find the end zone late in the game. There's no doubt he'll be back to his usual production once he gets back into the swing of things in the coming weeks.
–Freddie Martino made his first career touchdown catch in the fourth quarter, hauling in a 43-yard pass from Winston.
-Tampa Bay's scoring drive in the fourth quarter was a beauty. They went 62 yards for the score, running 17 plays in 9:56.
Observations and Reactions- Defense
-The Tampa Bay defense set the tone early. A Brent Grimes interception was followed on the next drive by a Chris Conte pick six. Both guys have had their issues this year, so that had to feel great for them.
-Those were just two of Chicago's four turnovers. With the Bears threatening in the second quarter, Noah Spence forced a fumble while sacking Jay Cutler. Kwon Alexander made the recovery. Later on in the quarter, William Gholston forced a fumble that was recovered by Bradley McDougald.
-Overall, Sunday was the best day of the season for the Buccaneer defense. It came at a good time, considering the recent performances they had against Oakland and Atlanta. Chicago managed just 283 yards on the day.
-Tampa Bay sacked Cutler four times. Clinton McDonald, making his return from an injury, picked up the first. Spence also picked one up, while Robert Ayers totaled one and a half. Gerald McCoy was credited with the other half. In total, the Bucs had seven hits on Cutler.
-The lone blemish for the defense was a 50-yard hail mary at the end of the first half. If that's the biggest issue that they had, there's not a lot to complain about.
Observations and Reactions- Special Teams
-Good for Roberto Aguayo. The second-rounder connected on all four of his extra points and made field goals from 30 and 27 yards out.
-How good is Bryan Anger? He punted just five times, but averaged 42.8 yards per punt. Two of his punts were downed inside the 20.
–Josh Robinson hasn't received enough credit for his special teams play this year. Especially with Russell Shepard sidelined, it's great to see him come up big.
Final Thoughts
Well, that was certainly fun. The Bucs played their best game of the season on Sunday afternoon, finally giving the home fans something to get excited about. Sure, the Bears aren't the toughest team in the league, but Tampa Bay needed this win. The defense played lights out for the first time in what seems like forever, the offense picked up the slack after a slow start and special teams was a strong point as well.
Tampa Bay doesn't have an easy schedule the rest of the way. That makes Sunday's win even bigger, as it gets them to 4-5 ahead of a tough stretch against Kansas City, Seattle and eventually Dallas. I'm still not convinced that the Bucs have enough to sneak into the playoffs, but a strong finish to the season would leave a satisfying feeling heading into next season. If the defense continues to play the way it did on Sunday, Tampa Bay will have a chance to upset some top contenders in the coming weeks.
In other good news, the rest of the NFC South lost on Sunday. That gets the 4-5 Buccaneers into a tie for second with the Saints, just a game and a half back of the first-place Falcons.
The Bucs won a game at Raymond James Stadium. They needed a win in so many ways, and they got it. Cheers, Tampa Bay.
The Bucs head to Kansas City next Sunday for a 1:00 matchup against the Chiefs (7-2).
More from The Pewter Plank
This article originally appeared on